Chinese Nuclear Submarines, 'Boomers' Missiles Could Hit Hawaii, Alaska: Report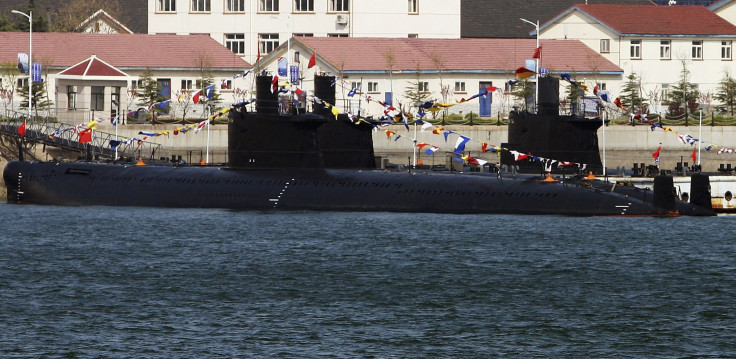 China may launch this year a new class of submarines carrying fully armed nuclear missiles for the first time -- so-called boomers -- according to the Wall Street Journal, which cited a report by the U.S. Office of Naval Intelligence, or ONI. The new submarines would be equipped with missiles that could potentially hit either the continental U.S. from the mid-Pacific Ocean or Alaska and Hawaii from East Asia.
The Journal detailed a few of the latest milestones in the growth of China's nuclear submarine fleet, including the first known trip taken by one of its subs to the Indian Ocean from the Pacific Ocean. Its account of the ONI report indicated China has four boomers, three of which could be seen at a base recently close to a resort for tourists in the country's Hainan province. Based on available evidence, the ONI concluded the additions to China's sub fleet could voyage beyond coastal waters into the Pacific Ocean, which would open the possibility of a potential strike on the U.S.
"I think they've watched the U.S. submarine force and its ability to operate globally for many, many years -- and the potential influence that can have in various places around the globe and they've decided to go after that model," Vice Adm. Robert Thomas, commander of the U.S. Seventh Fleet, told the Journal. With the addition of the boomers, China joins the U.S. and Russia as the only countries capable of nuclear strikes from land, air and sea, the newspaper said.
While its ability to strike the U.S. from the sea may be a concern, China's sub fleet may be primarily focused on territorial disputes. Recently, tensions between the country and Japan escalated with Chinese military vessels around disputed territory in the East China Sea, islands known as Diaoyu in China and Senkaku in Japan. Since a diplomatic meeting in September, the number of Chinese surveillance ships in the area has been cut, but the number of Chinese fishing boats there remains high. China also has territorial disputes in the South China Sea with countries such as Vietnam, Taiwan, the Philippines, Malaysia and Brunei.
In its potential responses to the Chinese boomers, the U.S. could launch P-8 anti-submarine aircraft from Okinawa, Japan, or use underwater drones with microphones to monitor their activity, according to the Journal.
© Copyright IBTimes 2023. All rights reserved.