CNBC Touts 1.1 Million Viewers For 'Jay Leno's Garage,' But Nielsen Tells A Different Story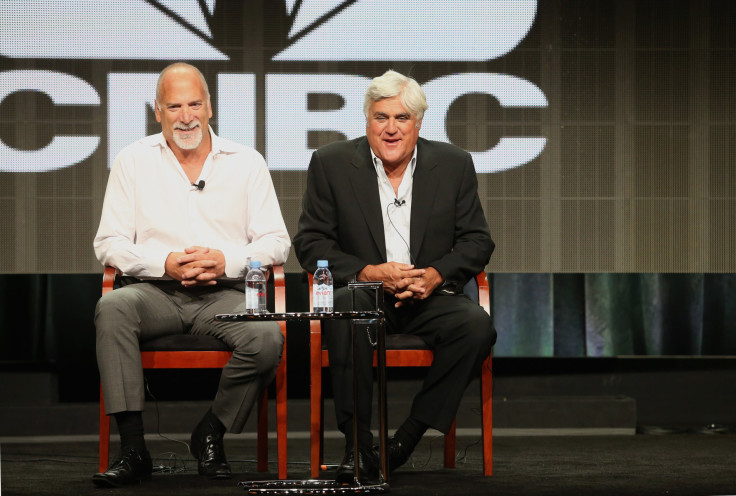 CNBC spared no fanfare rolling out its new prime-time offering "Jay Leno's Garage," putting Leno himself on a tour of NBC's flagships shows, from a spot on "Today" to a surprise guest appearance "The Tonight Show." The network touted the payoff in a release Friday, declaring that the show's premiere night delivered "over 1.1 million total viewers" -- its best performing original series telecast ever.
But the release itself, along with the raw Nielsen numbers, shows that Leno's show pulled in less than 1 million. The show peaked at 916,000 in the 10-11 p.m. slot, so the network appears to have pulled in the numbers from a repeat later on in the evening in order to come up with the 1.1 million figure.
Notably, the network leaned hard on the Nielsen numbers despite making a very public exit from the ratings service in January. "Nielsen does not measure affluent homes or out-of-home viewing that takes place in the offices of chief executives, on trading floors, in five-star hotels, country clubs, fitness centers and fine restaurants, so Nielsen does not measure CNBC," a spokesperson told International Business Times in August.
That prevented the network from doing a victory lap this summer when it scored its biggest ratings in a while during a stock market scare.
When reached for comment, a spokesperson for CNBC did not directly address the 1.1 million Leno figure but said that the network is a single-feed channel and therefore a premiere on the East Coast airs three hours earlier on the West Coast, while most broadcast networks airs a show at 10 p.m. in both time zones.
The spokesperson added that Leno's telecast was "still our best ever."
Despite the press push surrounding the show, "Garage" failed to pull in the coveted 25-54 demo, pulling in 272,000. That's less than the rerun of "Shark Tank" that CNBC aired an hour earlier. It also failed to beat programming from the same day last year and another "Shark Tank" rerun from the week earlier.
"Garage" marks the notable car buff's idiosyncratic return to series TV after leaving "The Tonight Show," then returning, then leaving again in 2014.
© Copyright IBTimes 2023. All rights reserved.
FOLLOW MORE IBT NEWS ON THE BELOW CHANNELS