Coal Power Waning: Nearly 5% Of US Capacity Retired In 2015 As Aging Plants Lose Ground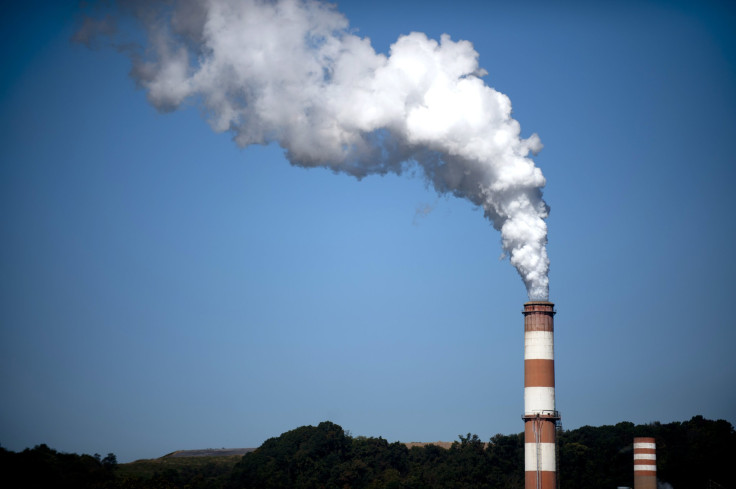 U.S. coal power, once king of the energy mix, is getting old.
Utility companies retired nearly 18,000 megawatts of electric generating capacity in 2015, about 80 percent of which was conventional coal-fired power plants, the U.S. Energy Information Administration said this week. The majority of those retired coal units were built between 1950 and 1970, and their an average age is 54.
The amount of coal capacity retired last year represents nearly 5 percent of total U.S. coal capacity. About half of those retired megawatts came from Ohio, Georgia and Kentucky, with those states each retiring at least 10 percent of their coal capacity last year, the EIA said.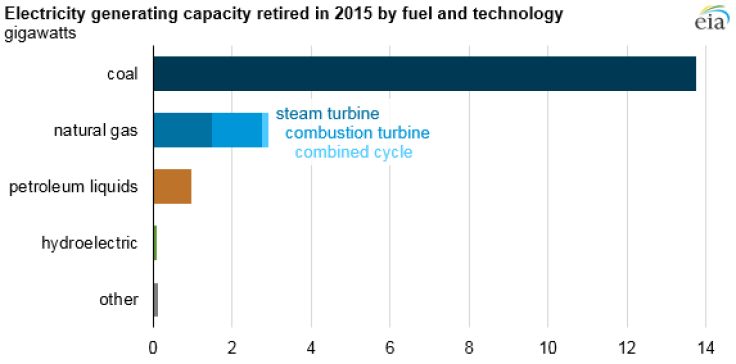 Many of the coal units weren't simply old; they also couldn't comply with the Environmental Protection Agency's tougher rules for mercury and toxic air emissions, which went into effect last April. More plants are expected to close this year due to the rules. The Obama administration's Clean Power Plan, which regulates carbon dioxide emissions in the power sector, could force additional closures in coming years.
As coal plants get retired, utilities aren't replacing them with more coal. Instead, they're switching to cheap, abundant natural gas — which emits less carbon dioxide than coal, but more methane — and renewable energy such as solar and wind power.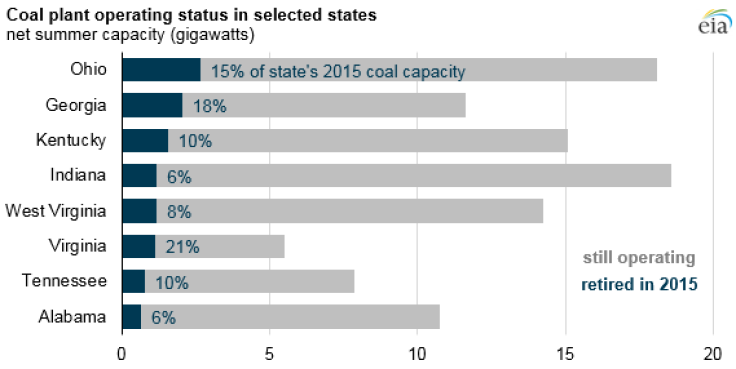 In the U.S., large-scale renewable plants plus conventional hydropower are expected to account for 14 percent of total electricity generation this year, a 9 percent rise from 2015, the EIA previously reported.
The switch to cleaner energy has slammed U.S. coal mining companies in recent years. Already suffering from low coal prices and waning electricity demand, the firms are increasingly losing market share in the U.S. power sector. Coal production last year dropped to its lowest level in nearly three decades, prompting thousands of layoffs at mines across Appalachia and other coal-producing regions.
Nationwide, more than 230 coal-fired plants have been closed or are slated for closure — or 44 percent of the 523 U.S. coal plants that were in operation just six years ago, by the environmental group Sierra Club's count.
© Copyright IBTimes 2023. All rights reserved.