College Tuition Increase: Racial Diversity Drops As Costs Go Up, Study Finds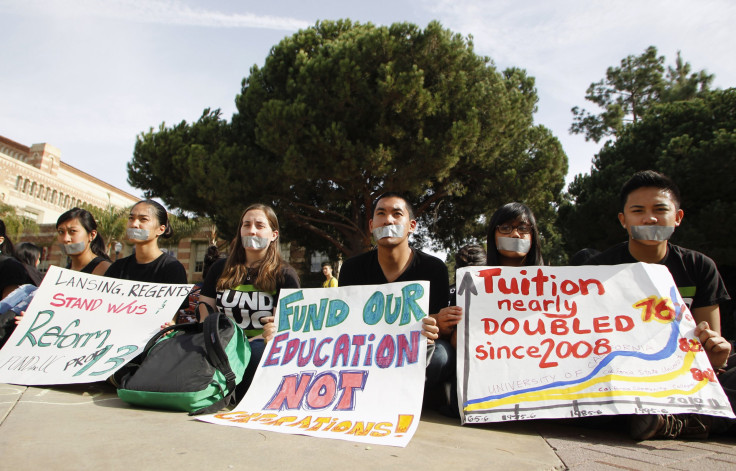 Jeremy Torres was intent on attending Syracuse University in upstate New York when college acceptance letters started arriving for him a couple of years ago. The 19-year-old, now a sophomore at Syracuse, is the second among his six siblings to go to college, having maintained a 3.75 grade point average at Cardinal Hayes High School in the Bronx borough of New York City. Coming from a Puerto Rican family with parents who struggled under the poverty level, Torres' academic achievement made him a welcome prospect for many more selective universities in the U.S.
"I basically could have gone anywhere that I wanted," Torres said, adding that he chose Syracuse from three offers because a high school scholarship program in which he was enrolled would pay about half of the annual $59,000 for tuition and room and board. But when Syracuse increased its tuition by 3.6 percent last year, the scholarship, federal grants and loans he qualified for didn't cover the total cost of his 2014-15 school year.
"I ended up registering two weeks late for classes and didn't get the ones that I wanted to get," said Torres, who must now decide to continue at Syracuse or go elsewhere. He believes many students of color at selective private schools like Syracuse as well as at public institutions are facing the same decision. "I think people are just going to stop going to expensive colleges," Torres said.
As April winds down, it's crunch time for college-bound high school seniors in the U.S., most of whom have just a couple of weeks left to mail deposit checks to hold their spots in the class of 2019. But where racial minorities will mail those checks is increasingly affected by rising tuition costs. Even with financial aid, several years of staggering tuition increases at four-year public colleges and universities have caused shifts in the racial diversity of schools across the country, according to a new study.
Not only do tuition increases discourage students and families from enrolling at more expensive "first choice" schools, shifts in campus diversity are more pronounced when there are more postsecondary competitors, such as community colleges, in the surrounding area. More precisely, as public four-year institutions grew more expensive, the likelihood that black and Hispanic students would choose to enroll elsewhere also increased, said Drew Allen, one of the tuition study's co-authors.
"Institutions don't really function in isolation," said Allen, director of the Office of Research at the City University of New York. Allen, who wrote the study with Gregory Wolniak, director of the Center for Research on Higher Education Outcomes at New York University, added that previous studies had not shown the correlation between college tuition hikes and their impact on minorities and economically disadvantaged populations.
"Our study doesn't look at financial aid, but it is an incredibly powerful tool for ensuring campus diversity," he said. "Published tuition rates do not always reflect the true cost of college access."
Felice Levine, executive director of the American Educational Research Association, said it is "critical" for education leaders and elected officials to understand the impact of policy choices on all students and the broader society. "By illuminating the unintentional consequences of those decisions, rigorous, high-quality research like this study can help inform policy making and serve the public good," she said.
The study was designed to address the premise that students respond to tuition increases in different ways based on their race or ethnic background. Over time, the study showed financial hardship will lead to shifts in the racial diversity of higher learning institutions. It looked at records from 530 four-year institutions across 14 years. From 1998-2011, average total full-time enrollment was 8,455. Approximately 70 percent of enrolled students were white, while 29 percent were nonwhite.
Allen has planned further research to determine whether tuition increases are causing a shift in enrollment status, from full time to part time, among racial minorities.
Assuming that an institution's in-state tuition and fees were at the $5,611 average and had an average level of racial minority enrollment, a $1,000 hike in tuition and fees would lower racial and ethnic diversity of full-time students on campus by more than 2.5 percent, the study found.
Torres said the tuition increase at Syracuse meant he couldn't afford textbooks. He hasn't noticed a negative change in diversity on campus, although the researchers' study said tuition increases at private schools can have an impact on racial diversity on campus. The financial aid office has been helpful, Torres said. "If all your other options have been exhausted, I feel like they try their best to help everybody out, but it doesn't really help everybody," he said.
Previous research cited in the study has shown the degree to which institutions have become more diverse by focusing on financial aid and admissions practices as a way to improve access and completion among racial minority groups. A 2014 study of Texas' tuition deregulation, or the removal of legislative oversight of tuition increases, found the practice negatively affected underrepresented and low-income populations. It suppressed enrollment among Hispanic students, while the effects on black students were mixed, the study's authors concluded.
Tuition increases were as high as 9.5 percent and 6.5 percent above inflation in the 2009-10 and 2010-11 school years, respectively, according to the SAT test maker, College Board. The average published tuition and fees for full-time in-state students at public four-year institutions increased by less than 1 percent in the 2013-14 and 2014-15 school years.
Overall, 5.5 percent of undergraduate students received private sector scholarships in the 2007-08 school year, and the average amount received by those students was $2,523, according to a 2011 study authored by Mark Kantrowitz, the publisher of FinAid.org. Minority students represent 52.7 percent of Pell Grant recipients, the largest need-based federal grant program, but receive just 46.6 percent of private scholarships. Conversely, white students represent 46.3 percent of Pell Grant recipients but receive 52.5 percent of private scholarships.
Greater financial aid incentives must happen in concert with recruitment strategies that ensure minorities and first-generation college attendees are not pushed out of more selective institutions, where tuition increases can be offset by endowments, said Matthew Greene, a New York City-based independent education consultant. "They're seeing higher sticker prices and they're saying, 'I won't even apply,' " said Greene, whose firm has consulted with colleges in their searches for directors of admissions and college counselors. "For me, the problem is that students close down their options too early."
It's an everyday occurrence to see students protesting tuition hikes on campus, Torres said. He said he agrees with many who believe U.S. college students are getting gouged, but he hopes any future increase doesn't mean his departure from Syracuse.
"I really like it here," Torres said. "The environment is perfect. I want to stay here for as long as I can before I graduate."
© Copyright IBTimes 2023. All rights reserved.
FOLLOW MORE IBT NEWS ON THE BELOW CHANNELS