Cuba's First Year Of Immigration Reform: 180,000 People Leave The Country ... And Come Back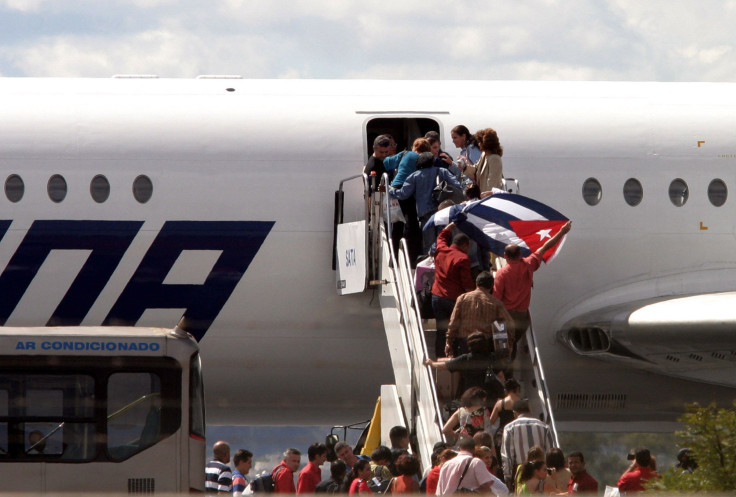 A year ago, Cuba approved groundbreaking immigration reform that allowed Cubans, for the first time under the Communist regime that has ruled the island for five decades, to leave the country. And, contrary to popular belief, there has been no mass exodus of its population.
Official numbers say that approximately 180,000 citizens have travelled outside of the island, some more than once, and most to the U.S., Spain and Mexico. Even more notable is that since the borders opened, 3,500 Cuban expats have returned home to stay. So, at least according to the government's records, initial fears of a brain drain have not proved true.
The new immigration policy is part of a slew of reforms approved in 2013 under President Raúl Castro. The reforms are aimed at increasing the efficacy of the country's socialist model in combating the nation's economic problems.
According to a report by the deputy head of the Cuban Authority for Immigration, Lamberto Fraga, Cubans took 257,518 trips overseas in 2013, or 35 percent more than the previous year. "These trips were made by 184,787 people, which means some citizens have left more than once," he said.
The average Cuban traveler is a professional between 25 and 40 years old who's scoping the international job market without renouncing the benefits they receive in their home country. The reform allows the extension of travel permissions from 11 months to 24 months before a Cuban citizen living abroad loses the right to universal free health care and education.
As a result, many Cubans have reached the U.S. (through third-party countries) with the expectation to stay for a year and a day and then request American residency, as required by the Cuban Adjustment Law.
Among the citizens allowed to leave were dissidents who had been systematically denied permission to travel for political reasons, like human rights activist Jorge Luis García Pérez and blogger Yoani Sánchez, who is known for her outspoken opposition to the governing regime. However, they were subjected to detentions, interrogations and police intimidation once they got back to Cuba.
The Cuban Commission for Human Rights documented 931 illegal political detentions in the last quarter of last year. On Jan. 6 alone there were 30 unjustified arrests. This situation has made some dissidents and their families, like the relatives of Oswaldo Payá, founder of the Christian Liberation Movement, who died while under interrogation, decide to go in voluntary exile.
The immigration reform also opened the doors to the return of several Cuban exiles, many of them residents of Florida. Since Barack Obama lifted restrictions on traveling and sending remittances to Cuba in 2009, as many as 15 airports in the United States have been allowed to operate charter flights to the island.
© Copyright IBTimes 2023. All rights reserved.