Deadly Superstition: Albino Children Face Discrimination, Amputations And Murder In East Africa
In the East African country of Tanzania, misconceptions can be tragically powerful.
A rumor has spread like wildfire in some areas of the country -- and across the region -- that children born without skin pigmentation are imbued with a special sort of magic. Some say that if you hack off their arms, steal their blood or even take their lives, riches or luck will come your way.
This belief has led to the murders of dozens of persons with albinism, or PWAs. (They are often referred to as albinos, though advocacy groups tend to reject this term as pejorative.) Those who escape death may lose a limb and be doomed to live the rest of their lives with a disability, to say nothing of the stigma.
As a result, PWAs in East and Southern Africa live their lives in constant danger. Albinism is a genetic disorder that affects skin tone and eyesight -- it does not affect development or mental capabilities. But some Tanzanians have trouble seeing beyond the physical differences; they refer to PWAs as zeru, a Swahili word that means vapor or ghost. Attackers' consciences are eased by a pervasive belief that their victims cannot die physically, since they are spirits to begin with.
The fight against these deadly prejudices is international in scope, and advocacy organizations in Tanzania and around the world argue that awareness is the key to preventing the senseless violence against innocent men, women and children with albinism.
A Shocking Pattern
Violence against PWAs has been going on for years -- perhaps even centuries -- but it first erupted into public consciousness on an international level in 2008, when a BBC World News reporter named Vicky Ntetema went undercover in Tanzania to investigate the phenomenon.
Her reports got the attention of Peter Ash, a Canadian businessman with albinism who formed an advocacy organization called Under the Same Sun, or UTSS, to address the issue.
"It was disturbing to me, so I began to research more," Ash said. He founded UTSS in 2009 and has since forged a relationship with the United Nations. "I've been to Tanzania 12 times now in the last four years. We now have an office staff there with 20 workers, 15 full-time, and about half have albinism."
The United Nations worked with UTSS staff to gather data for a Tuesday statement condemning violence against PWAs.
"I strongly condemn these vicious killings and attacks, which were committed in particularly horrifying circumstances and which have involved dismembering people, including children, while they are still alive," U.N. High Commissioner for Human Rights Navi Pillay said.
The statement included examples of atrocities committed against PWAs over the past two months. A 7-year-old boy was ambushed by attackers who cut off his arm and killed him, as well as his grandfather, who had tried to prevent the attack, on Jan. 31. A mother had her arm amputated by a group of men on Feb. 5; she had been sleeping beside two of her four children. A 10-year-old boy had his arm chopped off by two assailants as he was coming home from school on Feb. 15.
Those reports, compiled by Ash's team, have once again brought the issue to international headlines. That's a major victory, since awareness is key in the ongoing fight against PWA discrimination. But getting the word out in Tanzania itself is challenging due to a lack of connectivity, especially in rural areas where the problem is most pronounced.
From The Ground Up
Tanzania does have some capacity to deal with this issue. The country operates as a multiparty democracy, though a single bloc called Chama Cha Mapinduzi has dominated the government for decades. Although the electoral process is generally fair, corruption impedes the government's functionality. Civil society is constrained by widespread poverty, and the country is home to several nongovernmental civil protection groups such as the Legal and Human Rights Center and the Tanzania Albino Society, both based in the commercial hub of Dar es Salaam.
The administration, led by President Jakaya Kiwete, has taken steps to cut down on discrimination against albino citizens. Kiwete has spoken out against the violence; he also nominated a woman with albinism, Al-Shymaa Kwegyir, to serve in parliament in 2005. The next PWA to serve as an MP, Salum Khalfan Barwany, was elected by a popular vote in the Lindi Urban district in 2010. Moreover, dozens of witch doctors have been arrested for peddling destructive myths about PWAs.
These are encouraging signs -- with better awareness efforts, the portion of the Tanzanian population that condones terrible atrocities against PWAs will continue to shrink.
But as Pillay noted on Tuesday, there is still a long way to go. "As well as physically protecting people with albinism, the government needs to take a much stronger and more proactive approach to education and awareness-raising campaigns to combat the stigma attached to albinism," she said.
The problem has deep roots, Susan DuBois, founder of a Virginia-based PWA advocacy organization called Asante Mariamu, said.
"The government has been responsive, but they are very touchy about this issue, because it's such bad press and also because the witch doctors are so deeply engrained in Tanzanian society. It's really a tough issue to navigate," said DuBois, who has two children with albinism.
"Traditional doctors or healers serve a great need in their communities, especially where there is limited access to health care. But there are some who have taken a dark turn. They have created this black market; they claim that the skin, eyes, organ, tissues or blood of people with albinism can be turned into potions that will confer wealth or luck. As a result, there have been about 100 attacks on people with albinism over the last five years and more than 50 deaths. We suspect the numbers are actually higher, because nobody reports these things."
Like Ash, DuBois was inspired to help after encountering media reports of atrocities in East Africa. A woman named Mariamu Staford was profiled on an ABC news program in 2009, and DuBois tuned in to watch. She was both touched and horrified by what she saw.
Staford, a Tanzanian, had lost both arms and an unborn child in a vicious attack that nearly cost her life. DuBois and her husband, Doug DuBois, helped transport Staford to the United States, where she was outfitted with prosthetic arms. Staford was also introduced to a local U.S. congressman, Rep. Gerald Connolly, D-Va., who went on to sponsor a bill that was passed in Congress in 2010, condemning PWA abuse in East Africa.
Mariamu, now back in Tanzania, is now using her prosthetic arms to write, knit and help other PWAs who struggle with isolation. It's a story DuBois would like to see repeated may times over.
"Asante Mariamu is a small organization, and Tanzania is so big and mostly rural," she said. "It's not well-connected in terms of Internet or roads or trains, so it's going to take a long time to change this. It's not going to happen overnight."
Multiple Threats
The challenges people with albinism face go beyond discrimination and persecution. In fact, their biggest mortal threat is not violence but cancer -- unpigmented skin is ill-suited to deal with radiation from sunlight. That's why it's rare for people with albinism in Africa to survive past the age of 40.
"Skin cancer is a huge problem," Ash said. "I have no melanin, a natural substance in skin that protects from UVA rays. Exposure to the sun, especially in really intense heat and in areas where farming is common, is very dangerous. A lot of Tanzanians with albinism haven't been educated about the need to wear long-sleeve shirts, and they have no access to sunscreen. But skin cancer is completely preventable."
The susceptibility can result in sores and tumors, which can increase the risk of being shunned by a family or a community. Related illnesses can also make it hard to perform physical labor, which leads to the cruel assumption that PWAs are inherently incapable or even lazy. In that way, health concerns only add to a vicious cycle by entrenching erroneous public attitudes about albinism.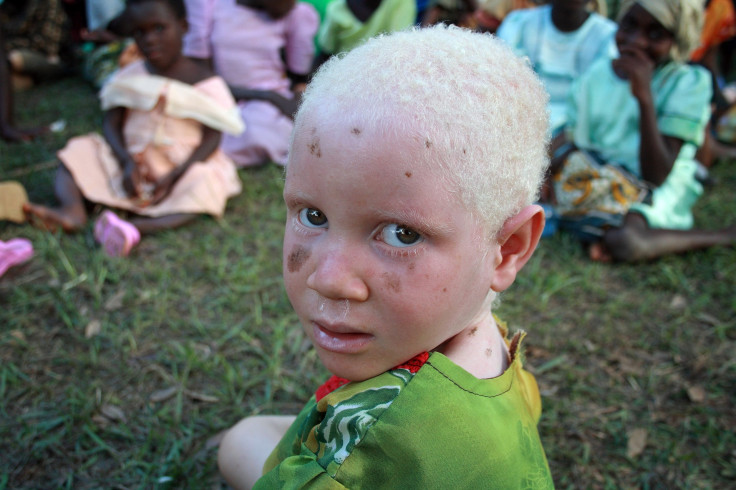 PWAs also suffer from vision problems -- many, like Ash, are legally blind. "In North America there are resources available, but in Tanzania the problem is they go to school and can't see the blackboard," he said. "Teachers already have their own notions, so they just assume these children aren't smart enough."
As a result, children with albinism don't get the tools or attention they need, creating yet another vicious cycle by limiting access to education.
UTSS and Asante Miriamu have worked to spread awareness about skin damage and visual impairments and to disseminate the very simple tools -- sunscreen, magnifying glasses -- that can be used to address these challenges. Both organizations have also raised money for scholarships to put children with albinism through school.
"It will be harder in Tanzania to say, 'Look at those useless people,' once they are successful, contributing members of society," Ash said. "People with albinism will one day take their rightful place in society, and these days will become a distant memory."
Long Way To Go
People with albinism in rural areas of Tanzania are often isolated within their communities. But in urban spaces, they generally have better access to support groups.
The Tanzania Albino Society in Dar es Salaam is one testament to the determination of local organizations to push for change, but the going is tough. Although the society has received grants from the government, they have been small ones.
Considering that so many atrocities against PWAs occur in remote areas far from urban centers, advocates argue that more resources are necessary in order to reach those communities one by one. But Tanzania is one of the poorest countries on Earth, with a GDP per capita of about $532 -- and it has other problems to contend with, including low infrastructure, hunger, HIV/AIDS and malaria.
"Given the challenges that East African countries are already facing, albinism is really a small part of it," DuBois said. "A lot more kids lose their lives to malaria every day than to albinism. So I recognize that ours is a narrow issue, but nonetheless we're deeply committed."
She adds that, although her organization and others have been active in Tanzania for a couple of years, change is coming slowly.
"There has been steady movement, and I do think we'll see a tipping point after a few years. But we've seen attacks as recently as the past few months, so that's very upsetting," DuBois said. "I feel a renewed sense that we really need to get the word out. It's not over yet. It's not done."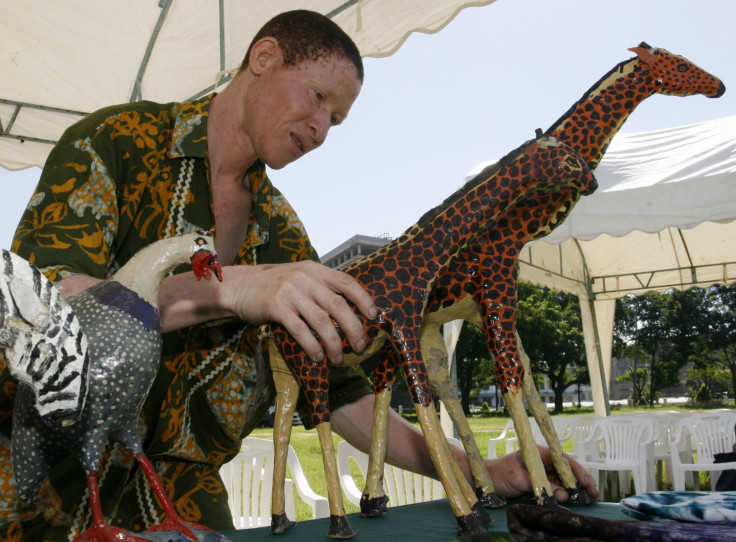 © Copyright IBTimes 2023. All rights reserved.