Is Debbie Wasserman Schultz Trying To Keep Bernie Sanders From Being President?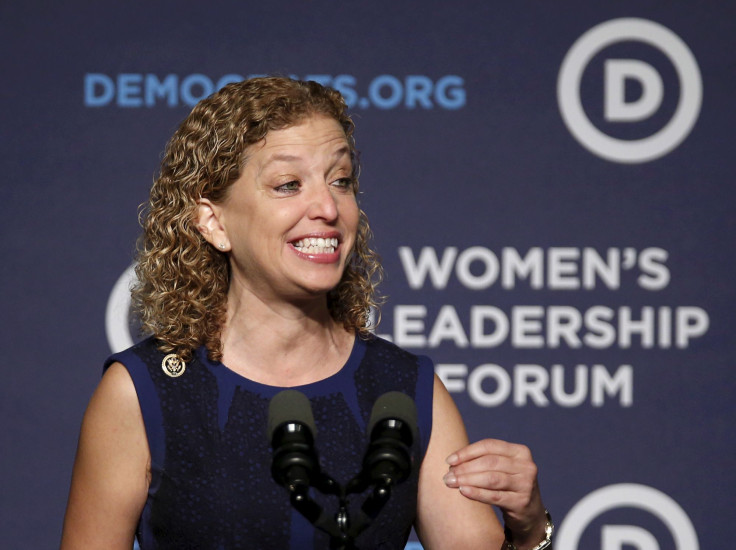 Democratic National Committee Chairwoman Debbie Wasserman Schultz should resign over her alleged failed leadership in the 2016 presidential race, according to some liberal Democratic activists. The progressive group RootsAction has collected more than 23,000 signatures to a petition the DNC to remove Schultz from the position, according to media reports.
Her critics are upset over her perceived favoritism toward Hillary Clinton over Bernie Sanders in the Democratic presidential primary. They point to the few debates that have been scheduled this year compared with the 2008 presidential campaign cycle.
"The head of one of the two big political parties in the United States is trying to manipulate the presidential election process by limiting direct debate and tilting the national party apparatus in favor of one candidate. This is unacceptable," RootsAction co-founder Norman Solomon told reporters.
A statement on the group's website reads: "The head of one of the two big political parties in the United States is trying to choose its nominee by reducing input from voters. Enough is enough. She's got to go."
Bernie Sanders Presidential Candidate Profile | InsideGov
Hillary Clinton Presidential Candidate Profile | InsideGov
Sanders and former Maryland Gov. Martin O'Malley have criticized Schultz for months about the presidential debates, which have been scheduled for Saturday and Sunday broadcasts and are unlikely to win over many viewers. Clinton is polling far ahead of both of her rivals.
More recently, the DNC blocked the Sanders campaign from accessing a voter database after a Sanders staff member accessed data collected and organized by Clinton's campaign. The Sanders campaign filed a lawsuit against the DNC to regain access to the committee's voter file.
RootsAction says the debates "have failed to even raise many of the most important topics of concern to voters — for example, climate change and the [Trans-Pacific Partnership]." They referred to Schultz as a "pro-militarist and corporatist tool of the high bidders."
RootsAction describes itself on its website as an online initiative "dedicated to galvanizing people who are committed to economic fairness, equal rights, civil liberties, environmental protection — and defunding endless wars."
Others have also called on Schultz to exit the DNC over the debates. "Schultz must go. Her subversion of due process puts one in mind of her fellow Floridian, Katherine Harris, who back in 2000 saw no conflict between her roles as chief state elections officer and campaign chair for George W. Bush," Bill Curry, a White House counselor to President Bill Clinton and a two-time Democratic nominee for governor of Connecticut, recently wrote for Salon. "For all her annoying public petulance and backroom double-dealing, Schultz has performed a service to her party and her country. She meant to give Hillary an assist by embarrassing and impeding Sanders. Instead she grew the audience for Saturday night's debate and the traffic on Bernie Sanders' website."
Schultz has defended the DNC's efforts under her leadership. "Our primary goal at this moment is to ensure the integrity of the data so that the campaigns -- and the entire Democratic Party -- can continue the important work we do of connecting with voters on the issues that matter most to them and their families," she said in a statement during the voter database scandal.
She has praised the party's "substantive and thoughtful debates," comparing them "to the dangerous and offensive rhetoric that Republican candidates have embraced, which is making America less safe."
© Copyright IBTimes 2022. All rights reserved.
FOLLOW MORE IBT NEWS ON THE BELOW CHANNELS