Donald Trump's Cabinet: Kris Kobach, Possible Attorney General Pick, Wants Border Wall, Mass Deporations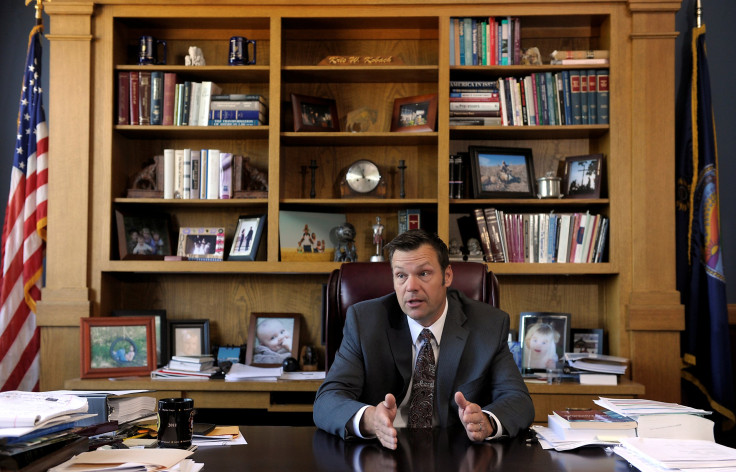 Kansas Secretary of State Kris Kobach, best known for his very hardline immigration stances, could be President-elect Donald Trump's choice for attorney general. Kobach helped formulate Trump's controversial plan to build a wall along the United States' southern border and crafted an Arizona law that made it a crime to be in the country illegally and allowed Hispanic people to be asked to "show their papers."
Phil Kerpen, president of the conservative group American Commitment, tweeted Tuesday that credible sources told him Kobach was the likely choice. But Bryan Lowry, a reporter at Kansas.com, tweeted that a Kobach representative said it was "just chatter" at the moment, signaling nothing was definite just yet.
Kobach is a controversial figure, in large part for his very tough stances on immigration. Kobach has indicated that Trump's immigration stances will immediately shift away from President Barack Obama's efforts to extend rights to undocumented immigrants. Trump has said he would deport between 2 and 3 million undocumented immigrants with criminal convictions. Kobach suggested this week that Trump would also deport undocumented immigrants who are arrested but not convicted.
"The most extreme criminals are deported while criminal arrestees not yet convicted are turned loose," he said to Fox News. "[Under the new proposal,] criminal arrestees will be deported, there will be immediate improvement in safety for all Americans."
Kobach further suggested that undocumented immigrants would be pushed out of the country after they were not given a "free pass."
"The jobs are going to dry up, the welfare benefits are going to dry up, and a lot of people who may not be criminal illegal aliens may decide, hey, it's getting hard to disobey federal law, and may leave on their own," he said.
Trump has apparently moved away from moderate Republicans during his transition into the presidency, instead opting for those who were loyal to him during the campaign. Mike Rogers, a former Michigan congressman who headed the House of Representatives intelligence committee, recently announced he was leaving the team. Rogers, well-respected by establishment GOP officials, was seemingly a part of purge of officials tied to New Jersey Gov. Chris Christie, who was demoted four days ago from his position leading the transition team, according to a Reuters report.
© Copyright IBTimes 2023. All rights reserved.