'Elementary' Season 5, Episode 19 Sneak Peek Reveals How Sherlock's Coping Post Shinwell Ambush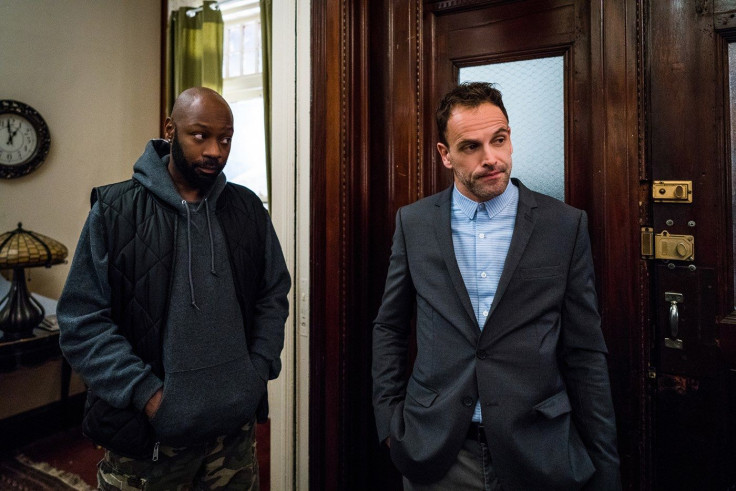 Joan (Lucy Liu) isn't completely pleased with how Sherlock (Jonny Lee Miller) is trying to deal with what went down between him and Shinwell (Nelsan Ellis) at the end of the last episode of "Elementary."
In a sneak peek from Season 5, episode 19, Joan advices Sherlock to think of another way that could help him move on more effectively from the assault he experienced at the hands of Shinwell.
"There have been a lot of [female] guests this week, and I can't help but think that there might be more effective ways to work through everything that went down with Shinwell," Joan tells his partner.
READ: How did "Elementary's" Aidan Quinn prepare for his TV directorial debut?
"Since everything went down with Shinwell, you've cleaned your office twice. You've taken three remedial cases, and then you cleaned your office once again. Is that the picture of mental health I should aspire to?" Sherlock asks in reply, before explaining to Joan why he's having a difficult time moving on from what happened.
"We misjudged a murderer," Sherlock tells Joan. "We let him into our closest confidence. And then I betrayed our colleagues by destroying evidence that would have returned him to prison. And he repaid our many kindnesses by ambush and severely beating me. You've made peace with all of that?"
In Season 5, episode 18, Sherlock was convinced that Shinwell killed his friend and fellow SBK member, Jameel Clark. But before Sherlock could turn Shinwell in to the authorities, Shinwell ambushed him in the street and made a confession.
"You want to know who killed Jameel? SBK killed Jameel," Shinwell revealed to Sherlock after assaulting him. "Leadership cut a deal with a rival gang, and in an exchange for a ceasefire, the gangs agreed to work together to raise the price of the drugs they were pushing. Jameel's death was a condition. He had taken up with the ex-girlfriend of one of the other gang's lieutenants. So he had to go."
Shinwell said that SBK asked one of Jameel's friends to do it, and apparently, that friend was him. "But SBK lied," Shinwell said. "They told his friend that he was a traitor. They tricked him."
Before Shinwell left Sherlock, he let him know that he won't hesitate to beat him again if he continues to mess with his mission in dismantling SBK. "There's something you need to know before I go. I'm-a take SBK down. And anybody who get in my way gonna get hurt," Shinwell said before walking away.
As for the episode's case of the week, the synopsis for the hour reveals that Sherlock and Joan investigate the murder of a man Sherlock considered one of New York's worst private investigators.
"Elementary" Season 5, episode 19, titled "High Heat," airs on Sunday, April 16 at 10 p.m. EDT on CBS. Watch the sneak peek below:
© Copyright IBTimes 2022. All rights reserved.
FOLLOW MORE IBT NEWS ON THE BELOW CHANNELS