'Elementary' Season 5, Episode 20 Spoilers: Sherlock, Joan Investigate The Murder Of A Magician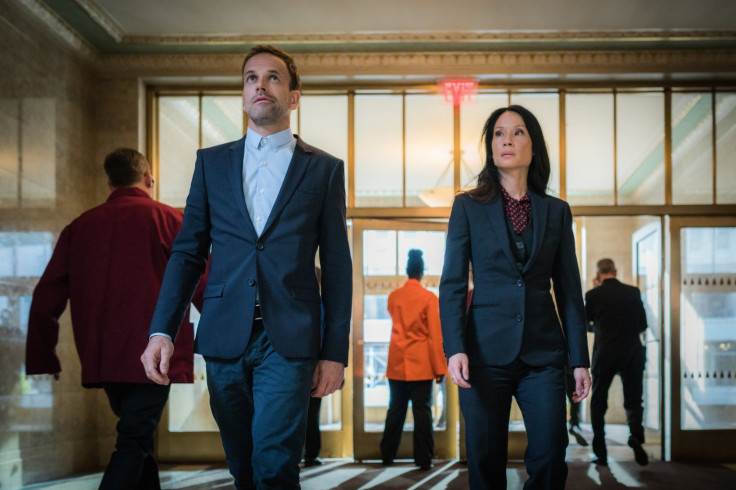 The New York Police Department consults Sherlock (Jonny Lee Miller) and Joan (Lucy Liu) for the investigation of the murder of a magician in Season 5, episode 20 of "Elementary."
According to the synopsis for the episode, the magician, Claude Rysher (Ryan Oakes), is killed while performing a classic stunt on stage. It's unclear how exactly he died, but Sherlock notices an interesting detail in the video of the victim's last performance.
"The last time he performed, he suddenly turned blue and died," Sherlock tells Joan in the promo clip for the episode.
READ: "Elementary" canceled or renewed for Season 6?
Surprisingly, Sherlock tries an unconventional way to solve the magician's death. "I stayed into the Abyss, Watson," Sherlock says in the promo. "And the abyss told me who killed Claude Rysher."
But what exactly is the Abyss? And is it telling the truth? Only time will tell.
Also in the episode, Joan suspects that Detective Bell (Jon Michael Hill) is being targeted by the ex-husband of his girlfriend, Chantal (Chasten Harmon), after a false allegation lands him the middle of an Internal Affairs investigation.
This isn't the first time Bell has been targeted by Chantal's ex-husband, Roy Booker (Robert Christopher Riley). In Season 5, episode 12, Bell accidentally bumped into a man at a bar causing the latter to spill his drink. The man got furious about it, and the two ended up in a fight. As it turned out, the man happened to be Roy, who went to Chantal's office the next day and caused a huge scene in front of the Office of the District Attorney. Unfortunately for Chantal, the scandalous incident put her position on the case she's working on in jeopardy.
As a favor to Bell, Joan looked into the incident, and she found out that Roy was working for the defense lawyer on the case that Chantal was working on. Roy was paid by the defense lawyer to make the District Attorney take Chantal out from the case which would have helped the defense.
Later in the episode, Bell discovered that Roy used to be a cop who took early retirement due to an injury. His injury, however, might not be on the up and up, so Bell used that information against Roy. Bell told Roy that he wouldn't say anything about his injury that would start an investigation if he would stop working for the defense lawyer and keep himself away from Chantal.
"Elementary" Season 5, Episode 20, titled "The Art of Sleights and Deception," airs on Sunday, April 23 at 10 p.m. EDT on CBS.
© Copyright IBTimes 2022. All rights reserved.
FOLLOW MORE IBT NEWS ON THE BELOW CHANNELS