Enrique Peña Nieto Approval Rating 2016: Amid Donald Trump Visit, Mexican President More Unpopular Than Ever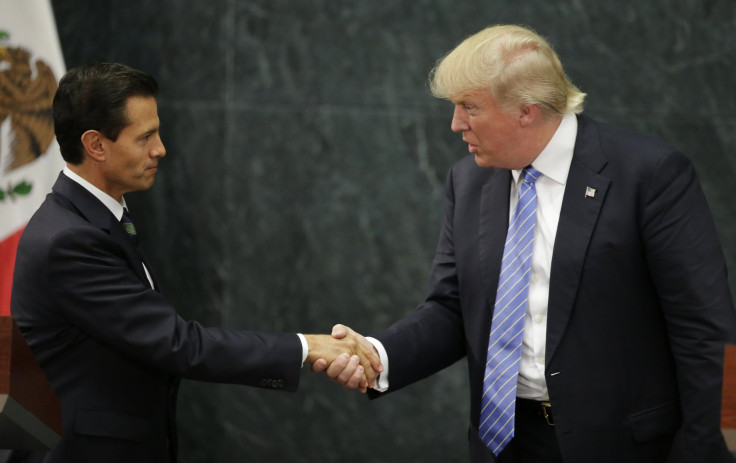 The vast majority of Mexican President Enrique Peña Nieto's consituents are unhappy with his performance. His approval rating has plummeted to just 22 percent, hitting the lowest point in the poll's 14-year history, TeleSUR reported Sunday.
Peña Nieto hosted a high-profile meeting in late August with U.S. Republican presidential candidate Donald Trump that angered many Mexicans. But even before that, the Mexican president had his fair share of issues, including a corruption scandal and accusations that he plagiarized his thesis for his law degree.
The latest approval rating for Peña Nieto came from a survey by pollster Parametria, which has tracked presidential approval ratings for 14 years, including the beginning of Peña Nieto's term and his predecessors Felipe Calderon and Vicente Fox. Peña Nieto is the first Mexican leader to dip below 30 percent approval, with even high-profile successes like the capture of drug lord Joaquin "El Chapo" Guzman not improving his rating, TeleSur noted.
The survey found 73 percent of respondents disapprove to some extent with Peña Nieto's performance, while 55 percent strongly disapprove. Just 22 percent approve of his performance to some extent, with 4 percent approving strongly. Respondents said he had failed in fighting crime, drug trafficking and poverty.
Enrique Pena Nieto | InsideGov
The survey spoke to 1,000 people from Aug. 26-30, meaning it was conducted just before the Trump meeting. Mexicans have largely criticized Peña Nieto for the meeting, which could mean his ratings are set to plummet further.
"He appeared submissive, docile and plastered by the gringo," said Gerardo Priego Tapía, a former member of Congress, to the Guardian.
Trump has not engendered a ton of good will in Mexico. He kicked off his campaign last year by saying, "When Mexico sends its people, they're not sending their best. ... They're sending people that have lots of problems, and they're bringing those problems with us. They're bringing drugs. They're bringing crime. They're rapists. And some, I assume, are good people." Trump has also said he's going to build a massive wall along the U.S.'s southern border and Mexico would pay for it.
© Copyright IBTimes 2023. All rights reserved.