Ethiopia Elections 2015: Ruling Party Declares Historic 100 Percent Victory In Parliamentary Polls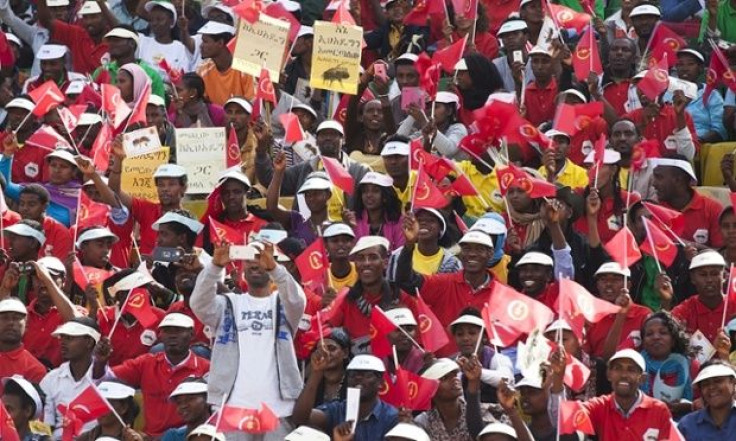 Ethiopia's ruling party has secured a historic victory in the East African country's May 24 general elections, with nearly 100 percent of the vote. The Ethiopian People's Revolutionary Democratic Front (EPRDF) and its regional allies won 546 of the 547 seats in Parliament, with the results for one seat still uncertain, election officials announced Tuesday, according to media reports.
If the one unaccounted seat from the Bonga constituency goes to the ruling party or its allies, it would be the first time the EPRDF has claimed 100 percent of the vote since the first national election in 1995, according to Ethiopian newspaper Addis Standard.
About 93.2 percent of Ethiopia's 36.8 million registered voters participated in the parliamentary elections. Ethiopia's electoral board chairman, Merga Bekana, declared the final tally, excluding the one last seat. "The election was coordinated in a free, fair, peaceful, credible and democratic manner," he said Tuesday, according to Reuters.
There were no international observers from Western countries monitoring the May 24 vote. The 59 election observers sent from the African Union also said the polls were legitimate. However, opposition politicians have alleged the Ethiopian government used authoritarian tactics to ensure victory, such as harassing and illegally detaining rival candidates and journalists. Human rights groups, which condemned the last election cycle, have called the ruling EPRDF one of the most repressive regimes in Africa. The EPRDF has governed Ethiopia for the past 24 years and won 99.6 percent of parliamentary seats in the 2010 elections.
"The Ethiopian government's systematic repression of independent media has created a bleak landscape for free expression ahead of the May 2015 general elections," Human Rights Watch said in a January report. "At least 60 journalists have fled their country since 2010, while at least another 19 languish in prison. The government has shut down dozens of publications and controls most television and most radio outlets."
© Copyright IBTimes 2023. All rights reserved.