Everything You Need To Know About 'Team Ninja Warrior', 'The Future Of American Ninja Warrior'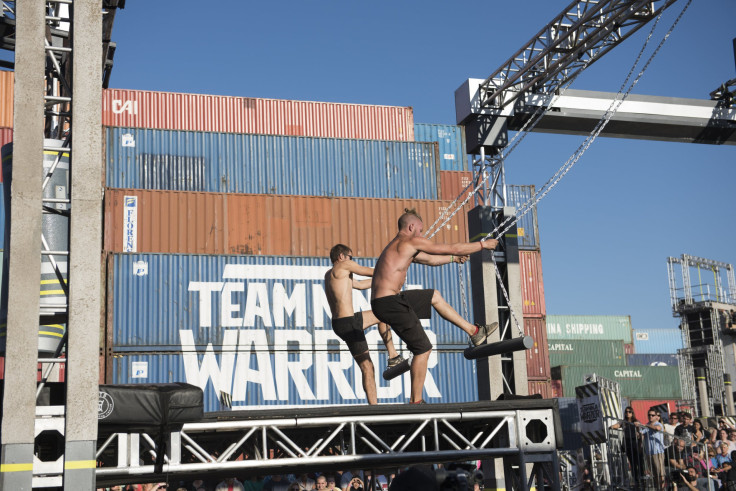 Season 8 of "American Ninja Warrior" is still months away, but while fans wait to see if anyone can follow up Isaac Caldiero's and Geoff Britten's historic ascent of Mt. Midoriyama, Esquire has the perfect stop-gap series — "Team Ninja Warrior." Premiering Jan. 19, the show pits teams of three ninjas against each other in a dead sprint over some of the show's most formidable obstacles.
In many ways, the series is more riveting than its parent show, which features long stretches of time between runs on the course and can be less exciting to watch if an athlete spends a long time navigating the obstacles. A wild showdown between Joe "The Weatherman" Moravsky and JoJo Bynum in the first episode, which features six lead changes and the athletes crisscrossing their designated course lanes, proves the show is a spinoff worthy of fans' attention.
"American Ninja Warrior" hosts Matt Iseman and Akbar Gbajabiamila are back for "Team Ninja Warrior," here joined by Fox Sports reporter Alex Curry interviewing the athletes on the course. The season premiere will air Jan. 19 at p.m. EST only on Esquire — the show will not air concurrently on NBC with "American Ninja Warrior."
"American Ninja Warrior" vets Geoff Britten and Joe Moravsky spoke with International Business Times to breakdown the new series.
Format
"Team Ninja Warrior" will debut with an eight episode season. In each of the first episodes, four of the 24 teams of three, two men and one woman (with one person designated as team captain), compete in a bracket to determine the episode's winning team.
Each match between two teams consists of three one-on-one heats. The first two heats are worth one point, but the final "anchor heat" is worth two points, allowing one strong athlete to make up for his or her team's shortcomings and force a sudden death tie breaker.
The episode winners from the first six installments will compete in the final two episodes to win the title of first Team Ninja Warrior and a cash prize.
The format changes the game, according to Britten and Moravsky, who say "Team Ninja Warrior" is all about speed.
"It's so much faster," Britten told IBT. "To me, the regular show is so methodical. They are really hard obstacles, but you can plot your way through them. This is just a dead out sprint and that changes everything. You are going on instincts instead of a planned attack."
The Teams
To assemble the 24 teams, the show's producers picked 24 captains, an unofficial all-star team of some of the best ninjas of all time. Those captains then picked two more athletes to join them with carte blanche to choose anyone that wanted, whether they had previously competed in "American Ninja Warrior" or not. Although, the producers did have a few suggestions, such as keeping boyfriend/girlfriend pair Kacy Catanzaro and Brent Steffenson on the same team.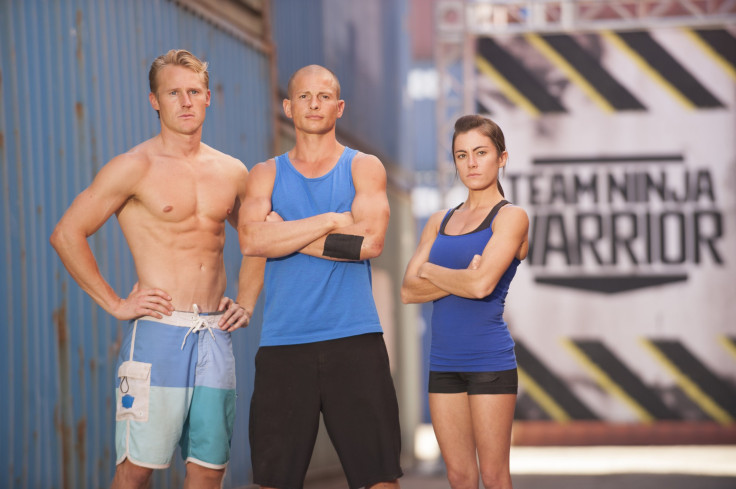 Many of the biggest names from "American Ninja Warrior" are back, including Catanzaro, Moravsky, Britten, Michelle Warnky, Travis Rosen, JoJo Bynum, and Brian Arnold. One notable exception is Isaac Caldiero, "American Ninja Warrior" Season 7's winner.
The teams for the show are listed below:
Ronin: Flip Rodriguez (Team Captain), JJ Woods, and Tiana Webberly.
Karsonic Boom: Karson Voiles (Team Captain), Brandon Berrett, and Beth Higginbotham
Think Tank: Noah Kaufman (Team Captain), Matt Wilder, and Asya Grechka
Wild Bunch: Lance Pekus (Team Captain), Ben Melick, Rose Wetzel
Alpha: Brent Steffensen (Team Captain), Evan Dollard, Kacy Catanzaro
Stratisfaction: Ryan Stratis (Team Captain), Grace Jones, and Mike Bernardo
Expendabulls: Kevin Bull (Team Captain), Alan Connealy, and Luci Romberg
Tre's Amigoz: Tremayne Dortch (Team Captain), Andy Lowes, and Cassandra Dortch
Midoryama: Ian Dory (Team Captain), Dan Yager, and Meagan Martin
Towers Of Power: Brandon Mears (Team Captain), Dan Polizzi, Selena Laniel
Golden Hearts: Neil Craver (Team Captain), Grant McCartney, and Natalie Duran
Nor Cal Ninjas: David Campbell (Team Captain), Sean Noble, and Rachel Mulvaney
Storm Team Moravsky: Joe Moravsky (Team Captain), Rob Moravsky, and Marybeth Wang
The Average Jojo's: Jojo Bynum (Team Captain), James Bogle Jr, and Caitlin Shukwit
G-Force: Jessie Graff (Team Captain), Nicholas Coolridge, Travis Brewer
TEAM TNT: Travis Rosen (Team Captain), Adam Arnold, and Joyce Shahboz
The Real Life Beasts: Drew Drechsel (Team Captain), James Mcgrath, and Erica Cook
The InvincAbels: Abel Gonzalez (Team Captain), Nathan Jasso, and Jeri D'aurelio
The Rahn-Aways: Jamie Rahn (Team Captain), Adam Grossman, and Courtney Venuti
Party Time: Brian Arnold (Team Captain), Jake Murray, and Jennifer Tavernier
Team Brittens: Geoff Britten (Team Captain), Dustin McKinney, and Jessica Britten
Elet-Trikz: Elet Hall (Team Captain), Dillon Gates, and Cassie Craig
The Iron Grip: Sam Sann (Team Captain), Daniel Gil, and Richelle Hepler
The Lab Rats: Brian Wilczewski (Team Captain), Chris Wilczewski, Michelle Warnky
The Obstacles
The course for the team heats is made up of six obstacles. In the first episode those are the Sonic Swing, the Log Grip, the Swing Jump, the Dancing Stones, the Pole Grasper, and, of course, the Warped Wall. However, Moravsky says the fifth obstacle was switched up for different episodes.
Watch ninja Kacy Catanzaro give fans a tour of the dual obstacle course in a behind-the-scenes video below:
While some obstacles, like the Warped Wall, have distinct paths for each athlete running, others, such as the Pole Grasper, allow the athletes to intersect each other or come shoulder to shoulder. The Dancing Stones, which forces the ninjas to balance on a series of platforms on springs, almost steers the athletes toward each other on the center platforms, making one of the more problematic obstacles in the show even more difficult.
"There is always that tricky balance obstacle," said Moravsky. "Every course has it and here it was the Dancing Stones."
However, Britten and Moravsky agreed that while some obstacles proved to be a challenge, these courses, unlike those in the Las Vegas finals of "American Ninja Warrior," are designed to be beaten.
"It really was not the obstacles that were the problem. It was the speed," said Britten. "The mistakes that were made were totally from speed, just trying to stay ahead of the other guy."
There are some major changes in the rules as far as the obstacles are concerned — touching the water, in obstacles such as the Swing Jump, does not end an athlete's run.
"If you touch the water you are not out," said Moravsky. "If you fall in the obstacle completely, you are out."
So, Moravsky explained, the athletes could theoretically drag their feet, if they were still holding the rope above, in an effort to move faster, but that presents a new problem.
"You will see people's feet dip into the water trying to go fast, but then your feet are wet going into other obstacles, like the Warped Wall."
Plus, the obstacles in "Team Ninja Warrior" are designed so that an athlete's height is not a factor in their success on the course, as it has been in "American Ninja Warrior" — Catanzaro famously fell in the Season 6 Las Vegas finals as a result of her wingspan relative to the distance between the walls on the Spider Jump.
"Every obstacle was reachable for every competitor," said Moravsky, adding that he thought the adjustments were a hassle. "Even jumping from mini trampolines to obstacles, it was too close. I could have stood on the trampoline and reached the bar, which messed me up, because I'm used to jumping and reaching far."
What Do The Ninja's Think?
So, what do the veteran athletes of "American Ninja Warrior" think of the new series?
"Going into it a lot of the ninjas were curious about it, but optimistic," said Britten. "The moment we showed up and saw people on the course and running it, the overall theme amongst the ninja community was that this will probably be the future of Ninja Warrior."
That is a bold claim, but one Britten justifies with how exciting the new format will play on television, something Moravsky echoed.
"You are on the edge of your seat and things you wouldn't expect to happen do," said Moravsky. "People you expect to do well all of a sudden fall and you're like, 'they had a lead, why were they rushing?' There were a lot of upsets."
Britten agreed that the speed of "Team Ninja Warrior" makes the show unpredictable.
"I think I have a pretty good idea of who is good, and I was shocked often."
However, Britten does not think "Team Ninja Warrior" will replace "American Ninja Warrior."
"I think there is room for both. One is, 'here is this impossible course,' and then this might do well on its own because it is so exciting to watch."
"Team Ninja Warrior" premieres Jan 19 at 8 p.m. EST on Esquire. Watch the trailer below:
© Copyright IBTimes 2023. All rights reserved.
FOLLOW MORE IBT NEWS ON THE BELOW CHANNELS