Family say farewell to "angel" Winehouse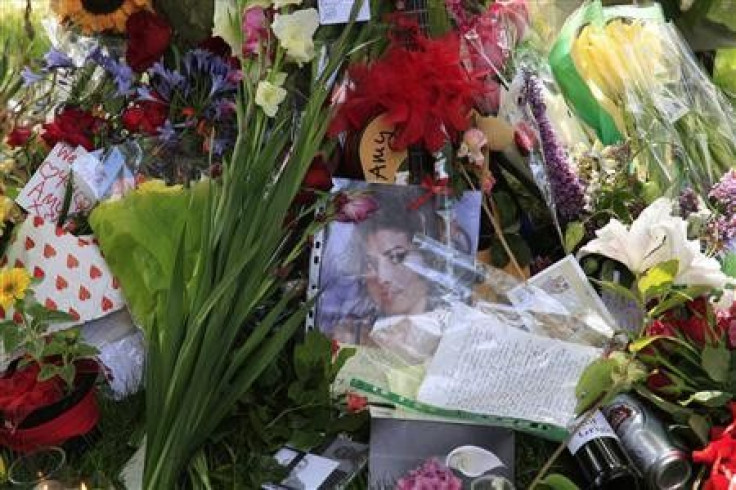 The family of Amy Winehouse gathered at a north London cemetery on Tuesday to bid farewell to their "angel," three days after the troubled singer was found dead at her home.
Some 100 mourners, including Winehouse's producer Mark Ronson and Kelly Osbourne, attended the traditional Jewish funeral that closed with her father Mitch saying: "Good night my angel, sleep tight; Mummy and Daddy love you ever so much."
A family spokesman said Carole King's "So Far Away" was played at the end of the service. King's "You've Got a Friend" was the first song Amy and her father had sung together.
In a eulogy at the private service, Mitch Winehouse said his 27-year-old daughter had been happier in recent months than she had been for years, and was looking forward to a future with her boyfriend of the past two years, film director Reg Traviss, 35.
Earlier, Traviss had denied rumors the singer died in a drug-fueled haze.
"She had been full of life and so upbeat recently, exercising every day and doing yoga," he told the Sun newspaper. "This terrible thing that happened is like an accident."
An inquest opened on Monday and was adjourned until October, with police describing the death as unexplained and an autopsy failing to determine the cause of death. More medical tests are being carried out, with the results expected next month.
Tributes to the "Back to Black" singer continued to pour in. Her talent was eclipsed over recent years by her battles with drugs and alcohol, and her last stage appearances had been derided as shambolic.
Singer Adele wrote on her website: "i don't think she ever realised just how brilliant she was and how important she is, but that just makes her even more charming.
"although im incredibly sad about Amy passing im also reminded of how immensely proud of her i am as well. and grateful to be inspired by her. Amy flies in paradise xx"
Winehouse was the most soulful vocalist Britain had ever seen, singer George Michael wrote on Twitter.
In an echo of the aftermath of Michael Jackson's death two years ago, sales of her records have boomed.
Record industry body the Official Charts Company said on Tuesday that her music was expected to dominate the British charts by the end of the week.
She is on course to have seven singles in the Top 40 and 14 in the Top 200, with the biggest selling track currently Back To Black followed by "Rehab," "Tears Dry On Their Own," "You Know I'm No Good" and "Valerie."
In the year following his death, Jackson sold more records in Britain than any other artist.
The Daily Telegraph newspaper reported this week that material recorded before Winehouse's death could be released as a posthumous album.
They cited sources who said Winehouse had recorded "a lot of material" and that her parents would have the final say on whether a new album was to be released.
Winehouse's spokesman told Reuters there was no news about the release of a third album. "I know there's material about, but no one's talked about it," he said.
© Copyright Thomson Reuters 2023. All rights reserved.