Time For Johnny Manziel To Show Signs Of Maturity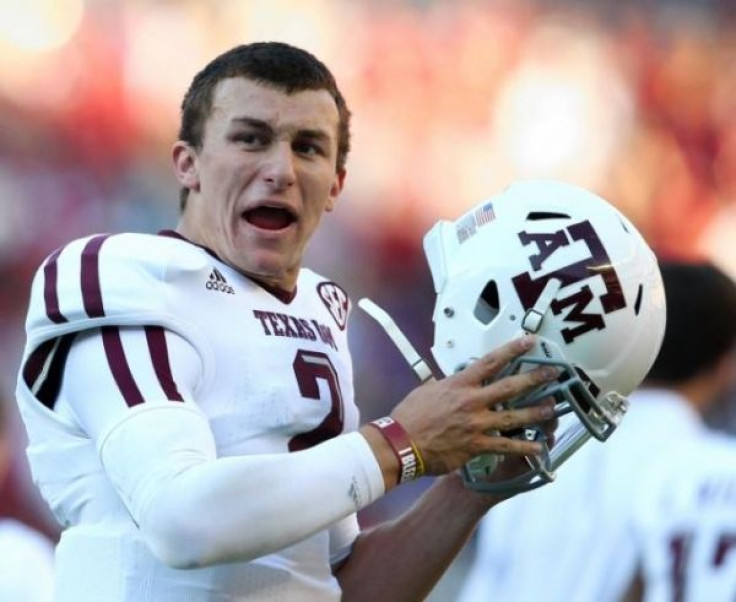 Johnny Manziel might be a stand-up guy. He might be wise beyond his years. The media might be exaggerating every misstep he makes. The critics might have it all wrong about ol' Johnny.
When you win a Heisman Trophy Award in your freshman season, you're going to receive a lot of attention. Some of it will be good. Some of it will be bad.
Lately, all we're getting out of Johnny Football is the bad.
With every arguable act of dissidence, his registered nickname grows more and more ironic. We're barely getting any "Football" out of Johnny, and getting a whole lot more other stuff.
On Saturday, we only got a second half of him, and in that half the redshirt sophomore was flagged for an unsportsmanlike play for taunting a Rice player. The Texas A&M quarterback had to sit out the first half as punishment for what was described as an "inadvertent violation regarding the signing of certain autographs."
How many autographs are we talking here? Ten? Fifty? Two-hundred signings?
No, according to ESPN's "Outside the Lines," Manziel signed 4,400 autographs. If that sounds like a lot to you, you're right. It's a whole lot.
In a joint statement, the NCAA and Texas A&M said there was "no evidence" that Manziel had "received money in exchange for autographs, based on currently available information and statements by Manziel."
The NCAA is investigating claims Manziel accepted a "five-figure flat fee" for autograph signings in his January trip to Miami for the Bowl Championship Series title game. Manziel could be in violation of NCAA Bylaw 12.5.2.1 — "accepting money for promoting or advertising the commercial sale of a product or service."
According to "Outside the Lines:"
Three sources said Manziel signed photographs, footballs, mini football helmets and other items at the request of an autograph broker named Drew Tieman. Two sources, who are aware of the signing arrangement, told "Outside the Lines" that Tieman approached Manziel on Jan. 6, when he landed at Fort Lauderdale-Hollywood International Airport to attend the game between Alabama and Notre Dame the next day.
After that meeting, three sources said, Manziel, accompanied by his friend and personal assistant Nathan Fitch, visited Tieman's residence and signed hundreds of items in the main room of the apartment despite the fact that there were many people in the room. Before Manziel left South Florida, after taking in the title game, he signed hundreds of autographs more, one source said.
Did Johnny Football really sign that many autographs without receiving a payment? If so, he is a very, very gracious sportsman.
It seems at least somewhat suspicious that Manziel would offer that many autographs without compensation. But just in case it's an easy task, I decided to partake in a rather simple experiment.
I decided to see how many times I can pen my signature without losing my physical or mental will. Armed with a Sharpie, the pen of choice for so many willing signers, I sat at my desk with about a dozen 8.5 x 11 sheets of paper and began to write.
My signature is roughly the same size of Manziel's, and I was able to fit in about 45 signatures on one page. After about 280 signatures, I became rather annoyed by the process and gave up.
A few other things stood out upon signing my name so many times. Some of my signatures look quite different than others, which has opened up new fears that I could be exposed to credit fraud. Also, Sharpies tend to smell pretty bad, and I developed what Urban Dictionary refers to as a "Sharpie Headache." In other words, I didn't really like the experiment.
But the one thing that really stood out is how tedious it all was. It doesn't take the actual process of autographing until your fingers hurt to know that there are better things to do with your spare time. The idea of who was doing it also sticks at out in your mind. If you're a 20-year-old with a ton of newfound fame, spending it doing anything other than having fun seems rather pointless.
It's hard to imagine that Manziel was completely oblivious to how memorabilia works in this "inadvertent violation" while signing his name that many times. He could not have possibly signed 4,400 autographs without figuring out that money was somehow involved.
There is no reported paper trail that provides evidence that Manziel accepted payment. After six hours of questioning from NCAA investigators, all Manziel lost was more credibility and 30 minutes of football against a rather weak college football opponent.
Perhaps the missed half of football was viewed as an extremely stern punishment by the college football investigators and Texas A&M. The NCAA, which has a well-documented history of handing down inconsistent penalties, might have considered throwing the book at Manziel and the Aggies by having Manziel write "I will not sign hundreds of autographs because it looks fishy" on a chalkboard 4,400 times, so he can get the message.
But try explaining that to the programs hit hard by the NCAA infractions committee. There are schools that continue to suffer the far-reaching effects of sanctions while Manziel remains an active member of the Aggies.
What's disappointing with Manziel's situation is that mixed in with all that is a string of developments that seem very irrelevant. He has been subjected to criticism for cutting short his stay at the Manning Passing Academy, getting a parking ticket, posting on his Twitter account about his tiredness of College Station, Texas, and for getting kicked out of a University of Texas fraternity party.
Not exactly the type of stuff that should be getting top headlines, yet they have. A bored media honed in on Manziel, and decided to over-scrutinize his mistakes.
Those reports have taken attention away from more important issues. The autograph scandal is a serious one, but so was his arrest in June 2012 for possession of a fake driver's license and disorderly conduct after a late-night fight. There's also Manziel's brazen attitude, which is in obvious need of discipline and humility.
The good news for Manziel is that he's young. Years from now, he can hopefully look back and think about the mistakes he made and how he has grown from them.
In the late 1990s, there was another brash quarterback who made headlines. His name was Ryan Leaf. The second overall pick in the 1998 NFL Draft is remembered for being one of the biggest flops of all-time and his arrogant attitude gained him little sympathy from teammates and the press. After years away from the game, he spent some time eight hours north of where Manziel resides as a volunteer quarterback coach for Division II West Texas A&M from 2006 to 2008. While Leaf tried to turn the corner and get his life back on track, his troubles escalated and they would lead him to a jail term in Montana for burglary, theft, and drug possession.
Manziel has his whole life ahead of him. He can choose a better fate than guys like Leaf if he starts making positive changes.
It would be a wise idea to start now.
© Copyright IBTimes 2023. All rights reserved.