Find You Park Campaign 2015: Michelle Obama, Laura Bush Launch Effort To Attract Younger, More Diverse Visitors To National Parks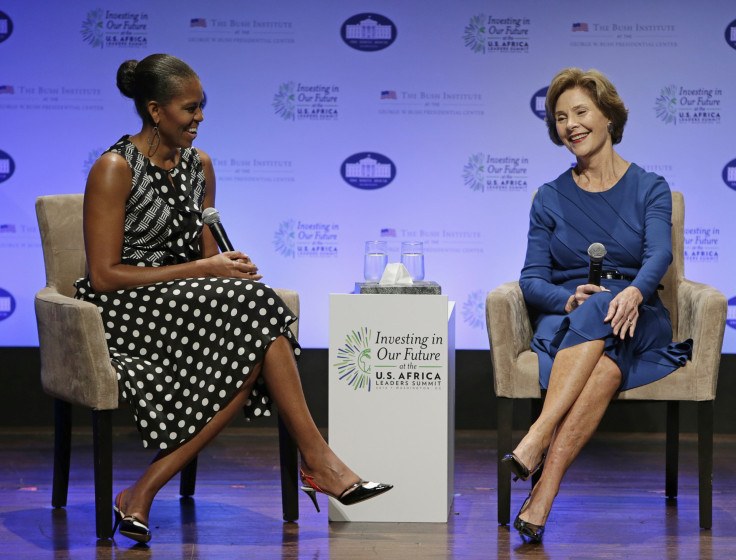 When most U.S. citizens or visiting tourists think of the country's national parks, they may think of woodsy camping sites. But the nation's current first lady and a former first lady hope to change that with the launch of the Find Your Park campaign, which is designed to increase interest and diversity among visitors at National Park Service sites. First lady Michelle Obama and former first lady Laura Bush will co-chair the effort, which launched Thursday with help from celebrities and TV personalities.
The campaign is an attempt to boost support for the national parks and introduce a younger, more diverse generation of millennials and children to the sites ahead of the park service's centennial in 2016, the Associated Press reported. Celebrities including Bill Nye the Science Guy, actresses Bella Thorne and Roselyn Sanchez, E! News anchor and former BET host Terrence J. and singer Mary Lambert have joined the campaign to attract millennials to the parks.
The White House also announced that all fourth-grade students and their families will receive free admission to the national parks during the next school year.
For nearly 100 years, the National Park Service has maintained some of the most majestic and historic places in the country, such as Yellowstone National Park, primarily in Wyoming, and Yosemite National Park in California. A study of public perceptions of the park service revealed that most regular visitors don't realize that urban sites, such as the Statue of Liberty in New York City, Independence Hall in Philadelphia, Little Rock Central High School in Arkansas (an icon of public school desegregation) and the Lincoln Memorial in Washington are also considered national parks. Most people also are unaware of the $11 billion backlog in unfunded maintenance needed for the park service.
National parks attracted 292 million visitors in 2014, and they tended to be older and whiter than the overall U.S. population, the AP reported. National Park Service Director Jonathan Jarvis said many facilities date 50 years or more and are in danger of failing without a younger audience. "If we were a business and that was our clientele, then over the long term, we would probably be out of business," Jarvis said.
Over the next year, a promotional campaign will include TV spots, digital ads and online videos about how Americans connect with the parks. Corporate sponsors American Express, camping retailer REI and health insurance company Humana are helping the effort.
© Copyright IBTimes 2022. All rights reserved.
FOLLOW MORE IBT NEWS ON THE BELOW CHANNELS