Flight MH370 Search Update: Marine Life Present In Debris Pieces, Australia Says Amid Doubts Over Links To Missing Jet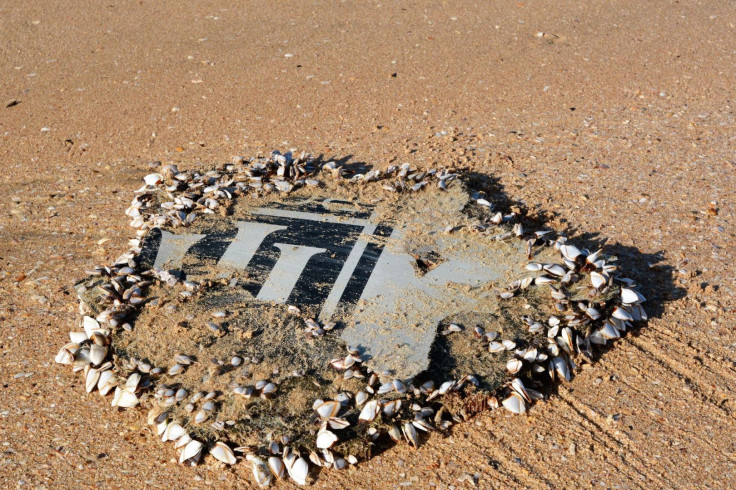 A piece of debris found in Mossel Bay, South Africa, in March was significantly colonized by barnacles at the time it arrived on the beach, the Australian Transport Safety Bureau (ATSB), which is leading the search for missing Malaysia Airlines Flight MH370, said Tuesday. Australian authorities confirmed last month that two new debris pieces — a segment of Boeing 777 engine cowling and an interior panel from the main cabin — found on the beaches in Mossel Bay and Rodrigues Island in Mauritius, were "almost certainly" from the missing plane.
ATSB released a statement and a photograph of the aircraft engine cowling stenciled with the Rolls-Royce logo after several critics raised doubts over the debris pieces' links to the missing Flight MH370. ATSB had previously not revealed any information about marine life traces on the debris parts and, according to reports, the supposed absence of marine life led experts to believe that the debris may not be from the plane.
"The parts were unwrapped and examined for the presence of marine ecology and remnants of biological material. Visible marine ecology was present on both parts and these items were removed and preserved," ATSB said, about the debris pieces found in Mossel Bay and Rodrigues Island on March 22 and March 30. "The parts were subsequently cleaned and released from quarantine."
Flight MH370 went missing on March 8, 2014, with 239 people on board while on its way from Kuala Lumpur to Beijing. A multimillion-dollar underwater search for the plane in a remote part of the southern Indian Ocean has so far yielded no concrete clues as to the whereabouts of the jet.
However, over the last few months several debris pieces surfaced on islands in South Africa and Mauritius. Apart from the two debris pieces found in Mossel Bay and Rodrigues Island in March, three other pieces have so far been linked to the missing Boeing 777-200.
Last month, ATSB said that two items from Mozambique, which were found on Dec. 27, 2015, and Feb. 27, 2016, provided almost irrefutable evidence that the parts were from the missing plane.
In July 2015, a flaperon belonging to Flight MH370 turned up on the French-controlled Réunion Island in the Indian Ocean.
© Copyright IBTimes 2023. All rights reserved.