Forbes Lists Top 100 Most Powerful Celebrities in 2013: Oprah Winfrey Takes Number One Spot [FULL LIST]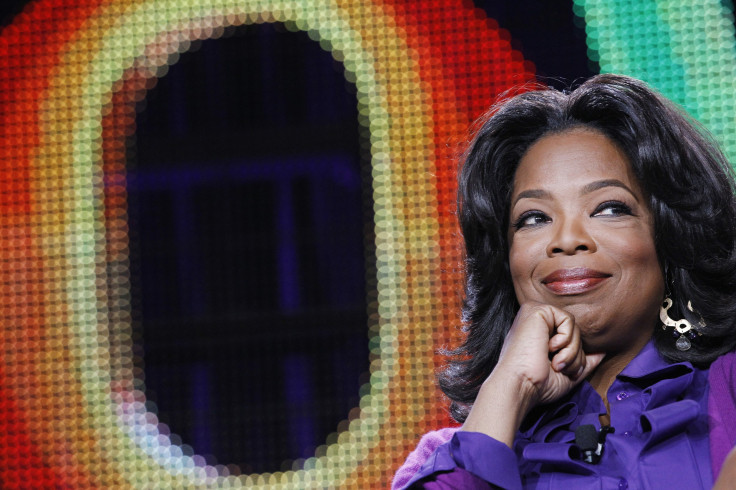 Her show may be off the air, but according to Forbes, Oprah Winfrey is still the country's "most powerful" celebrity. The magazine, which released its annual list of the top 100 "Most Powerful Celebrities," honored the media mogul with the No. 1 spot, one jump up from her second place win last year.
Forbes, which ranks celebrities based on earnings and fame, awarded the 59-year-old former host of "The Oprah Winfrey Show" the top spot after she turned a profit and saved her OWN network following four years of sinking ratings. According to Forbes, she has made an estimated $77 million since June 2012. While Winfrey wasn't the highest profit-maker on the list, she was credited for other qualities including her social networking influence and number of press mentions.
Familiar faces round out the following three slots: Lady Gaga for her reported $80 million income this year, Steven Spielberg for directing the Oscar-winning film "Lincoln," and Beyonce Knowles for her successful world tour and contracts with Pepsi and H&M.
Taylor Swift appeared on the list for the fifth time, placing sixth, after selling 1.2 million "Red" albums within the first week of its release. Pop singer Justin Bieber placed ninth, the magazine deeming the 19-year-old the "biggest social-networking celebrity." Host of "The Ellen DeGeneres Show," comedian Ellen DeGeneres, rounded out the top 10 for her Emmy win and for successfully winning the battle against the antigay group One Million Moms following her ad campaign with JCPenney.
In 2012, former "American Idol" judge, singer and actress Jennifer Lopez topped the magazine's list. Winfrey placed second after making a reported $165 million, followed by Bieber after he raked in an estimated $55 million.
This year's list:
1. Oprah Winfrey- media mogul
2. Lady Gaga- singer, actress
3. Steven Spielberg- director, producer
4. Beyonce Knowles- singer, actress
5. Madonna- singer
6. Taylor Swift- singer
7. Bon Jovi- musician
8. Roger Federer- tennis professional
9. Justin Bieber- singer
10. Ellen DeGeneres- TV host, comedian
11. Hugh Jackman- actor
12. Jennifer Lopez- TV host, singer, actress
13. Rihanna- singer
14. Coldplay- band
15. Tiger Woods- golf professional
16. LeBron James- NBA player
17. Simon Cowell- producer, TV personality
18. Katy Perry- singer
19. David Beckham- soccer player
20. Robert Downey Jr.- actor
21. Leonardo Dicaprio- actor
22. Tyler Perry- actor, producer
23. Channing Tatum- actor
24. Kobe Bryant- NBA player
25. Dwayne Johnson- actor, TV host
26. Ryan Seacrest- TV host, radio personality
27. Tom Cruise- actor
28. Mark Wahlberg- actor
29. Seth MacFarlane- producer, comedian
30. Donald Trump- real estate mogul, TV host
31. Cristiano Ronaldo- soccer professional
32. Jay-Z- musician, sports agency owner
33. Dr. Phil McGraw- TV host
34. Glenn Beck- TV and radio host
35. Will Smith- producer, actor
36. Ben Affleck- director, actor
37. Rush Limbaugh- political radio host
38. David Letterman- TV host, comedian
39. Lionel Messi- soccer player
40. Adam Sandler- producer, actor
41. Angelina Jolie- actress, philanthropist
42. E.L. James- author
43. Toby Keith- musician
44. James Patterson- author
45. Howard Stern- radio host, TV host
46. Carrie Underwood- singer
47. Kenny Chesney- singer
48. Usain Bolt- Olympic track runner
49. Jennifer Lawrence- actor
50. Drew Brees- NFL player
51. Rafael Nadal- tennis player
52. Phil Mickelson- golfer
53. Ashton Kutcher- actor
54. Sofia Vergara- actor, fashion designer
55. Peter Jackson- director
56. Serena Williams- tennis professional
57. Jon Stewart- TV host, filmmaker
58. Jerry Bruckheimer- producer
59. Kanye West- musician
60. Jerry Seinfeld- actor, comedian
61. Michael Bay- director
62. Maria Sharapova- tennis professional
63. Dr. Dre- music producer
64. Jennifer Aniston- actor
65. Tom Brady- NFL player
66. Kim Kardashian- reality TV star
67. Charlie Sheen- actor
68. Calvin Harris- DJ, music producer
69. Rachael Ray- TV host, chef
70. Kristen Stewart- actor
71. Gwyneth Paltrow- actor
72. Sean Hannity- political TV host
73. Meryl Streep- actor
74. David Guetta- DJ, music producer
75. Stephen King- author
76. Christopher Nolan- director
77. Gordon Ramsay- TV host, chef
78. Manny Pacquiao- professional boxer
79. Tina Fey- actor, producer
80. Mark Burnett- producer
81. Gisele Bundchen- model
82. J.K. Rowling- author
83. Alec Baldwin- actor
84. Emma Stone- actor
85. Charlize Theron- actor
86. Neil Patrick Harris- actor
87. Suzanne Collins- author
88. Floyd Mayweather- professional boxer
89. Mila Kunis- actor
90. Sandra Bullock- actor
91. Danica Patrick- auto racer
92. Amy Poehler- actor
93. George Lopez- comedian, TV host
94. Ray Romano- actor, comedian
95. Kevin Hart- comedian
96. Zooey Deschanel- actor
97. Louis C.K.- comedian
98. Melissa McCarthy- actor
99. Joss Whedon- screenwriter, producer
100. Miranda Kerr- model
FOLLOW MORE IBT NEWS ON THE BELOW CHANNELS