Forget Everest, Nepal Maoist Leader Unveils New 'Guerrilla Trek'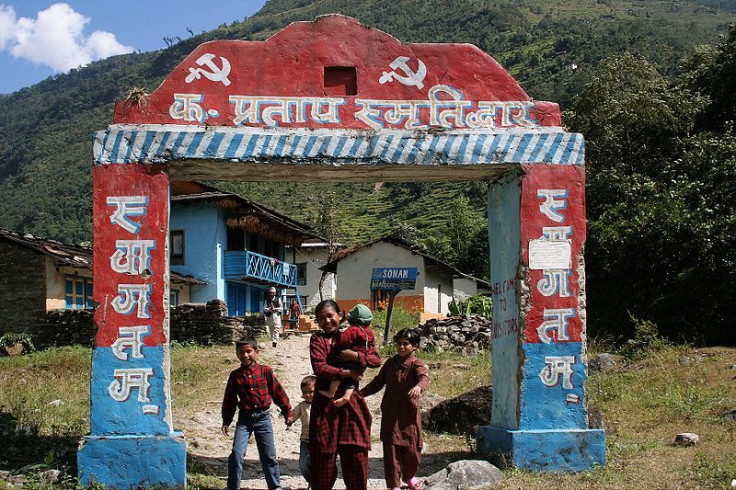 Remember Nepal's decade-long Maoist insurgency that kept would-be trekkers from reaching their Himalaya high? If your recent global history is a bit clouded (or you simply had no idea Maoists were still around in the 21st century), former rebel chief Prachanda has something to jog your memory: "The Guerrilla Trek" -- a three-week hike across central and western Nepal along the trails where thousands of Maoist guerillas fought a bloody civil war that claimed the lives over 16,000 people before a 2006 peace deal.
Prachanda, whose given name is Pushpa Kamal Dahal, launched the new trail this week in Kathmandu at an event organized by the Nepal Tourism Board. He also unveiled a guidebook produced by U.S. author Alonzo Lyons called "The Guerrilla Trek (aka, The Shangrila Trek)," which aims to attract tourists to overlooked the western regions of the impoverished Asian nation that saw some of the bloodiest battles during the 1996-2006 "People's War." The book gives tips on how to see the guerilla hideouts where the rebels fought against Nepal's absolute monarchy.
The Maoists rebels later turned to politics and won an election in 2008 in which Prachanda became prime minister of his country, though he was forced to resign in May 2009 after a dispute over the dismissal of an army chief.
"I hope this will be a new chapter in Nepal's tourism," Prachanda told reporters at this week's event in Kathmandu. "Many countries that have emerged from war have tried to capitalize on the memory of war."
He said the path has the potential to become a war tourism product similar to those in China, Russia and Vietnam.
"A huge political change occurred in Nepal, but we cannot sustain it unless there is an economic transformation," he noted. "I hope the Guerrilla Trek will play an important role."
The Guerrilla Trek is divided into three sections that can be completed together or as individual week-long journeys. Each section traverses the rugged mountains, caves, rivers and age-old villages in the post-conflict territory that bear the scars of a decade of fighting.
Tourism operators in Nepal have been very receptive to the new trail as it opens up parts of the country seldom seen by outsiders who generally prefer Nepal's well-trodden Annapurna and Everest regions.
"Although there are a few hotels and lodges along the route, most of the trekking companies offer a camping trek. Locals have also arranged a homestay facility for trekkers," the Trekking Agencies' Association of Nepal General Secretary Mohan Lamsal stated Wednesday.
Lyons, the American travel writer who helped produce the guidebook, called the route "simply captivating."
"Everest, Annapurna are famous," he told AFP. "But if you want to take a unique route, this is the one."
Lyons added that intrepid trekkers will have the opportunity to encounter diverse cultures while familiarizing themselves with Nepal's rocky recent history.
Trekking is a major player in Nepal's vital tourism industry, and more than a third of all travelers who visited the kingdom last year took a hike into the countryside, according to official statistics. Whether or not war tourism will bring more visitors to the remote West, however, remains to be seen.
© Copyright IBTimes 2023. All rights reserved.