France Russia Mistral Ships Update: Malaysia To Buy Aircraft Carrier?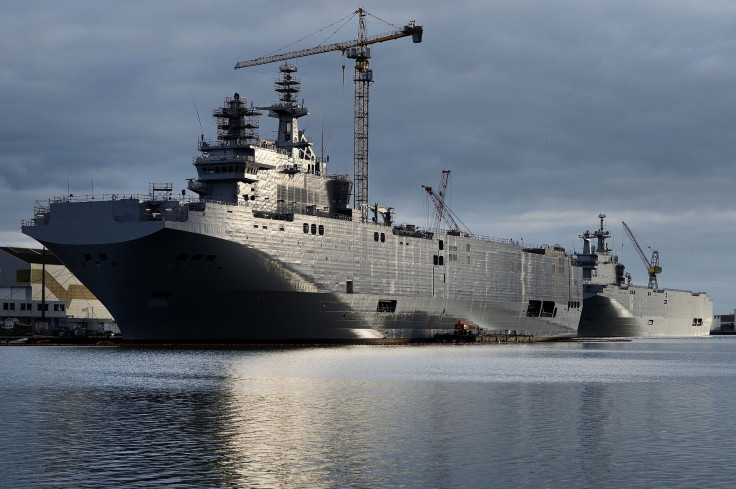 The French defense minister is in talks with Malaysia to sell the Southeast Asian nation one of the Mistral warship aircraft carriers that was initially intended for Russia, a source close to the talks told Reuters Tuesday. Several countries, especially in emerging nations in Southeast Asia and South America, have been interested in the purchase of the ships, with reports confirming that one of the ships would be sold to Malaysia.
Defense minister Jean-Yves Le Drian was set to travel Sunday to Malaysia, reportedly to discuss the sale of one of the warships. Le Drian would also travel to India on the same trip to discuss selling rafale fighter jets to the country.
The two Mistrals were originally built for Russia in a deal made by former French President Nicolas Sarkozy in 2011. Set to be delivered in 2014 and 2016, the ships would have marked the first arms deal between a Western nation and Russia. President Francois Hollande canceled the deal in 2014, following Russia's continuing involvement in Ukraine, annexing the Crimean peninsula and reportedly arming pro-Russian separatists.
French Military Expenditure Over Time | FindTheData
Since the cancelation of the deal, the two ships have been sitting in French waters, costing French taxpayers nearly $60 billion in upkeep. France agreed to pay Russia approximately $1.3 billion for the cancelation to cover losses incurred on the Russian side for the training of sailors. Other reports have put the cancelation payment closer to $2.2 billion.
France has been looking for potential buyers since the failed deal, and so far at least 12 nations have expressed interest in the purchase of a Mistral, including Saudi Arabia, The United Arab Emirates, Egypt, South Africa, Brazil, Canada, India, Malaysia, and Singapore. Malaysia has been interested in buying an aircraft carrier similar to a Mistral for at least 10 years, according the French newspaper La Tribune.
France has been encouraged by NATO to sell the Mistral ships to a NATO ally.
© Copyright IBTimes 2023. All rights reserved.