'Game Of Thrones' Sets TV Record Following Three Wins At The 2016 Emmy Awards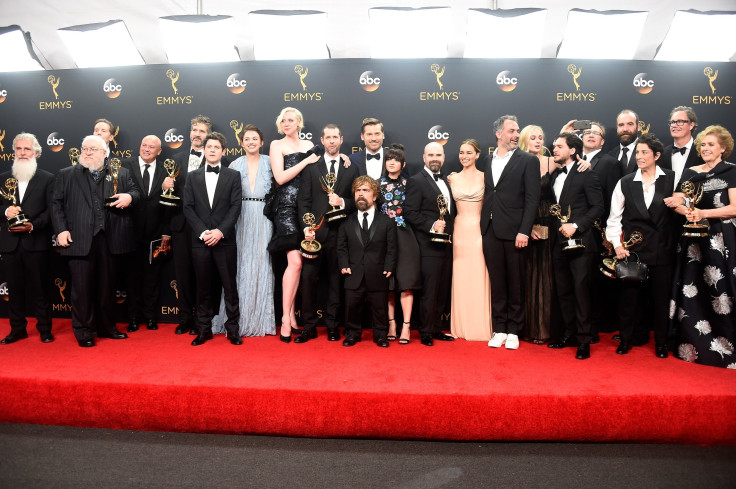 "Game of Thrones" has been racking up awards left and right and now the HBO series is shattering records.
During the 2016 Emmy Awards the original series was nominated for five awards in a number of different categories. Many expected that "Game of Thrones" stars, writers and directors would dominate and were disappointed when stars of shows like "Downton Abbey" and "Ray Donovan" were called to the stage to collect their Emmy. Still, the show was able to snag three of five awards, boosting its overall total to 38 and snatching the crown for primetime TV show with the most Emmy Awards from "Frasier." According to People, the NBC show, which ended in 2004, had 37 wins.
"Game of Thrones" writers David Benioff and D.B. Weiss, along with stars Sophie Turner, Maisie Williams, Emilia Clarke, Lena Heady, Gwendolyn Christie, Kit Harington, Peter Dinklage and more took time off from filming Season 7 of the sci-fi series to attend the 68th annual award show. George R.R. Martin, the author of the "A Song of Ice and Fire" novels for which "Game of Thrones" is based, also joined the crew at the award show. Although they were shut out in categories like supporting actor in a drama series and supporting actress in a drama series, which included Heady, Williams, Dinklage and Harington, "Game of Thrones" won awards for outstanding directing in a drama series, outstanding writing in a drama series and outstanding drama series, which it was also awarded at the 2015 Emmy Awards. The show won 12 awards total between the 2016 Emmys and the Creative Arts Emmys.
During one of two acceptance speeches delivered by the writers of "Game of Thrones" Weiss and Benioff revealed that there would be little time for celebration. The show was said to be filming in Ireland before the 2016 Emmys and the cast will be jumping right back into their work afterward. Meanwhile "Game of Thrones" fans can't stop buzzing about several stars who weren't in attendance during TV's biggest night.
Rumors are swirling that Joe Dempsie and Pilou Asbæk — who play Gendry and Euron respectively — will return in a major way in Season 7. Gendry, the only living son of Robert Baratheon, has been missing since the Season 3 finale. Reddit user Sethg119 published his belief that Sam (John Bradley) will be the key to bringing Gendry back to the show. In a thread on the site he wrote that Sam will be drawn to studies on Valyrian steel, which will send him in search of a blacksmith. This will lead him directly to Gendry, who Sethg119 speculates is living and working there following his escape from Melisandre (Carice van Houten). Fans have been anxiously awaiting his return since and writers have been fanning the flames. In July, during an appearance on a UFC Podcast Weiss and Benioff confirmed that Gendry was still alive. In fact, the writers joked that he was still rowing his small paddle boat across the ocean, leading fans to believe his return was imminent.
Euron — the vengeful and power-hungry uncle of Yara (Gemma Whelan) and Theon Greyjoy (Alfie Allen) — is also thought to be re-emerging on "Game of Thrones" before its end in Season 8. Watchers on the Wall reported that he would be playing a much larger role in seasons to come, creating trouble for Daenerys (Clarke), his niece and nephew, and the army accompanying them on their journey toward the Seven Kingdoms. The spoiler group suggests that much of Season 7 will center around a battle between them and Euron, who seeks to marry Daenerys and take his seat on the Iron Throne. Watchers on the Wall also speculates that Euron will turn to Cersei (Heady), the reigning queen, for help. This seems like a logical move on his part, as winning Daenerys' heart will be no easy task for Euron.
"Game of Thrones" returns in 2017 for a seven episode season.
© Copyright IBTimes 2023. All rights reserved.