Greece Refugee Crisis: Greek Economy To Be Tested In Processing Asylum Claims As EU-Turkey Migrant Deal Begins
As winter gives way to springtime, warmer temperatures are likely to spur even more refugees and migrants to make the dangerous journey from Turkey to Greece, despite an agreement reached Friday that requires the European Union to resettle one Syrian refugee for each one Greece sends back to Turkey. Already, more than 1,600 refugees have landed in Greece since the deal went into effect Sunday.
The EU's deal with Turkey leans heavily on Greece to process thousands of refugees on five Aegean islands, but the debt-laden and financially strapped country is waiting for the arrival of approximately 2,300 European officials to help. With no clear timetable for assistance, officials estimate they won't be able to start returning refugees to Turkey until early April.
Greece has come to be seen as the first stop for asylum-seekers traveling north in Europe, but with the nation now hosting 50,000 refugees, the decision to add weight to an already strained budget has raised questions about the effectiveness of the agreement and Greece's ability to handle the growing numbers. Germany and France have promised 600 police officers and asylum experts and Romania has promised 70, but they have not yet arrived.
"While they criticize the Greeks, they are not sending them the support they need," Jacob Funk Kirkegaard, senior fellow at the Peterson Institute for International Economics in Washington, D.C., said. "They have not provided anywhere near the required financial resources, and they've been closing their own borders."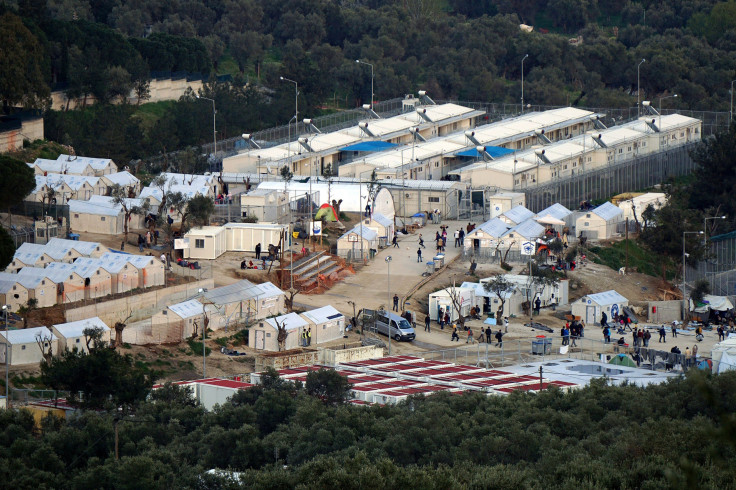 The EU admits that "huge operational efforts … most of all from Greece" are needed to implement the plan. Approximately 4,000 workers from both Greece and EU member states will be needed for the asylum process, the appeals process and the return process, as well as for security and transportation, the European Commission said. The asylum process requires 200 Greek caseworkers, 400 asylum experts from other countries and 400 interpreters to aid refugees upon their arrival, including interviews and document inspections to determine the country from which a refugee has fled. Photographs and fingerprinting are also a requirement for the continent-wide "Migration and Home Affairs" policy that is part of the EURODAC system.
When Greece was considered a transit country, the economic cost of the refugee crisis was estimated at 0.3 percent of gross domestic output, or an annual cost of over $675 million. Now Greece is housing approximately 50,000 refugees, and the European Commission is estimating Athens will need an additional 14,000 short-term accommodations under the plan, adding further strain to the country's economy. The United Nations has warned that reception conditions and systems in place for processing asylum claims "must be rapidly strengthened."
Well over 1 million refugees entered the EU in 2015, fleeing conflicts and repressive states including Syria, Iraq and Afghanistan. In March of last year, 7,874 refugees and migrants arrived by sea in Greece. The numbers have jumped dramatically to 22,956 March arrivals so far this year, according to data from the United Nations.
In 2015, there were upwards of 366,000 arrivals by sea to Europe; in the first three months of 2016, there have been more than 156,000 making the sea crossing. Experts expect many more to come, according to the International Organization for Migration.
"The problem is that it is difficult to integrate people in the labor market in a country that already suffers 25 percent unemployment," said Angelos Chryssogelos, a postdoctoral fellow at the London School of Economics who focuses on Greece. "Basically, it's a huge logistical enterprise for any state to undertake, even more so Greece because of the way the economy is now."
Greece's economy is not expected to grow in 2016, and Europe's most indebted nation failed Sunday to reach an agreement with its creditors tied to its 2010 bailout, Bloomberg reported. That means Greece faces a delay in the next installment of international emergency loans, adding pressure to its financial markets. Talks are expected to begin again early next month, with Prime Minister Alexis Tsipras's government blaming the International Monetary Fund for the delay.
"It's fair to say it's not an easy-going review," said Mikkel Barslund, a research fellow at the Centre for European Policy Studies based in Brussels. "There just aren't many sunny stories from the Greek economy."
While countries to the north of Greece have shut their borders and erected fences and barriers to close off the northern refugee route, it remains unclear how quickly the EU will be able to send refugees back to Turkey and then accept ones to relocate across the 28-member union.
"It is clear this refugee crisis is straining the relationship between Greece and rest of Europe. Even though we now have a deal with Turkey, it's not a solution," Kirkegaard said. "The real solution to this issue in the eyes of many of Europeans are the barbed wires along the Greek border."
© Copyright IBTimes 2023. All rights reserved.
FOLLOW MORE IBT NEWS ON THE BELOW CHANNELS