Homeless In Blizzard 2015: What New York, Boston And Washington, DC Are Doing To Help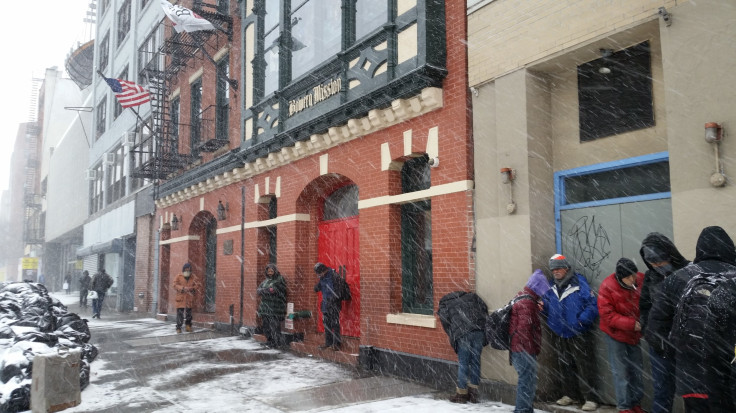 City governments scrambled Monday to get the homeless off the street for a winter storm New York City Mayor Bill de Blasio said "could be the worst snowstorm in the history of this city." With the U.S. Northeast corridor states likely to be hit by some 2 feet of snow and frigid temperatures, public safety departments and homeless shelters are worried this nor'easter might also break homeless fatality records.
De Blasio asked city residents to look out for their homeless counterparts. "In terms of some of our most vulnerable New Yorkers, Department of Homeless Services is out looking for those who are homeless who can be brought in to safety," he told a news conference. "If you see someone homeless who is in danger, call 9-1-1." New York City declared a "Code Blue" alert, which is activated when the temperature drops to less than 32 degrees, and asked volunteers to reach out to people who might appear homeless and encourage them to head for the nearest shelter.
"Our outreach efforts are in full force," New York City Department of Human Services Commissioner Gilbert Taylor said, according to Huffington Post. "We have doubled efforts to bring people into shelter." The city dispatched 15 outreach teams to help house some of the city's estimated 3,300 people who sleep on the streets or in subways, and will have 11 vans out through Wednesday. In addition, a fleet of 10 more vans will patrol various subway stations, said Jaslee Carayol, deputy press secretary for the New York City Department of Homeless Services.
In Boston during cold weather, guests who normally are barred due to nonviolent offenses are granted amnesty, said McKenzie Ridings, spokesperson for the Public Health Commission. "No homeless individual that's looking for shelter will be turned away," Huy Nguyen, health commission director, told a press conference. Boston police also help bring the homeless to shelters. "We've been through blizzards before, and I'm confident that we are prepared," said Mayor Martin Walsh told the same press conference. "But a storm of this size poses a threat to public safety and a threat to our residents in many different ways."
In Washington, homeless people are encouraged to go to "warming sites" -- recreational centers made available when temperatures hover around 20 degrees, said Dora Taylor, public information officer for the District of Columbia Department of Human Services. "We also have special outreach teams that go out to ensure that chronically homeless individuals will come inside from the cold," Taylor said. There are also "overflow centers" to cope with the expected overwhelming response for the city's shelters, which can accommodate as many as 300 people a night.
Some shelters are seeing their resources taxed to the limit as more homeless people seek to trade the cold for a roof and a warm meal. The Bowery Mission in New York City is finding challenges not only in providing places for the homeless but in stretching their supplies. "If I have 15 pounds of ground beef, and I have to feed 300 people, I have to figure out how to make it work," said Trevor Mathura, the kitchen supervisor. The shelter on average serves about 260 dinners a night, but that could get dicey. "City Harvest has told us their trucks won't be out tomorrow [Tuesday]," said Matt Krivich, the mission's director of operations, referring to the organization that bills itself as the world's first food rescue organization. "We've also canceled our scheduled pickups at Whole Foods," he said.
About 60,000 people headed to shelters in New York City each night in November, according to statistics from the Coalition for the Homeless, and around 3,000 more slept on the streets. During the storm, however, more people are expected to seek shelter. Krivich estimated more than 200 additional people would come in Monday night as the storm intensified. Aside from more meals and more cots, this winter already has taken its toll on the shelter's clothing donations and shower supplies. "If someone's coming in on a Monday wanting a shower, it's hard to say, 'Sorry, see you tomorrow,'" Krivich said.
There will be some who refuse to stay for the night, dangerous weather notwithstanding. "Some just want to be alone. For a lot of them, they're so used to be being alone, it gives them a sense of safety, or control of their own lives," Krivich said. "A lot of them also don't want to admit they're homeless," he said, adding he has to rely on community advocates to convince those individuals to stay. In Washington, city law gives police officers the right to direct the homeless to shelters, even if they're unwilling. "Usually we don't have to do that. When it gets this cold people are happy police are coming out," Washington's Taylor said.
Most homeless people, however, are grateful to have a place to stay. "Thanks to this mission, I have the warmest equipment around," said Gerald Hudson, a homeless Vietnam veteran who for the past two weeks has called the Bowery Mission home. "I'm trying my best to stay warm," said Hudson, showing a brown jacket he said he only wears when he goes out.
© Copyright IBTimes 2022. All rights reserved.
FOLLOW MORE IBT NEWS ON THE BELOW CHANNELS