Hong Kong Protesters Agitating Against China's Volte-Face Arrested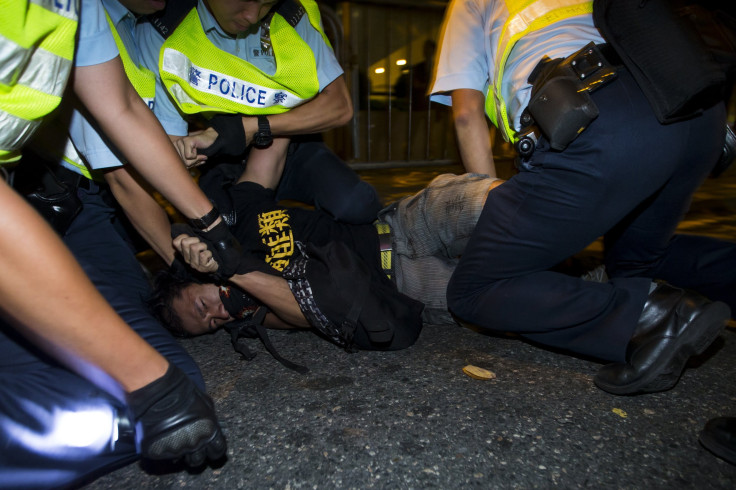 Hong Kong police on Monday night arrested 19 people protesting Beijing's decision to vet candidates for elections to be held in 2017, the South China Morning Post reported. The protesters were reportedly arrested for illegal assembly and obstructing police outside the hotel where a senior Chinese official was staying.
Protests had erupted in Hong Kong on Monday when activists from the Occupy Central protest group announced their decision to start a campaign of civil disobedience over Beijing's decision to screen candidates for the election of the next chief executive in 2017. China had earlier promised to introduce universal suffrage for elections of the next chief executive in 2017, who, as of now, is chosen by an electoral college vetted by the Standing Committee of the National People's Congress, or NPC, in Beijing.
However, Chinese officials announced Sunday that candidates would need the support of more than 50 percent of a nominating committee to contest the elections.
Critics and pro-democracy activists have alleged that the move will give Beijing an effective veto over candidates and have decried it as an attempt to maintain a political hold over the region, BBC reported Monday.
Li Fei, the deputy Secretary General of the NPC standing committee, defended the move on Monday and said that the decision was taken to prevent voters from getting "confused," Xinhua reported. "People may not know what they advocate and what they have achieved before."
Limiting the number of candidates through a nominating committee will guarantee people "the best choice for them," he reportedly said, adding that the NPC plan was "in line with the basic law."
Meanwhile, Chinese authorities have accused the UK, which handed over control of Hong Kong to China in 1997, of interfering in its internal affairs. The UK had, in July, announced its intention to investigate the progress made by Hong Kong in the 30 years since its handover to China was agreed in 1984, BBC reported.
In a letter written by the Chinese Foreign Affairs Committee to its British counterpart, officials said that China will "brook no interference, either directly or indirectly, from the UK or any other external forces."
© Copyright IBTimes 2023. All rights reserved.