House OKs Bill Making Concealed Weapons Permits Valid Across State Lines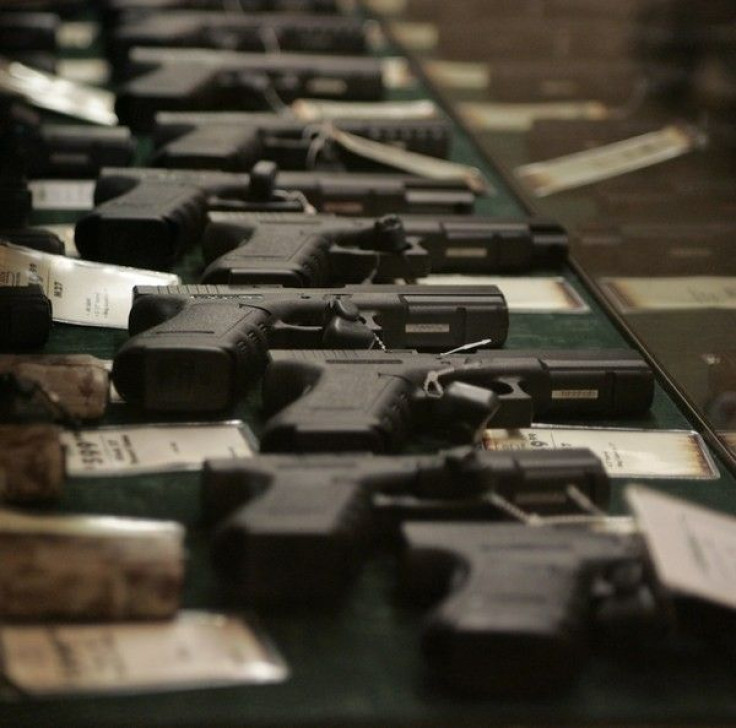 The U.S. House of Representatives approved a provocative bill on Wednesday evening that would require all states to honor the concealed weapons permits of other states, a far-reaching move by Republicans who justify the legislation by insisiting state law should not interfere with Americans' Second Amendment rights.
The National Right-to-Carry Reciprocity Act of 2011, the first pro-gun measure to pass in Congress this year, passed in a 272-154 vote that included the support of 43 Democrats. The bill would allow firearms owners with a concealed weapon in one state carry their weapon into any of the other 49 other states that issue concealed-weapons permits, essentially allowing them to bypass different states' gun control laws. Gun owners would not be able to carry their concealed weapon in Illinois, the only state in the union that does not offer concealed-weapons permits.
Rep. Tim Johnson, R-Ill., actually introduced an amendment that would have forced Illinois to allow visitors to carry concealed weapons, a measure that ultimately failed. Nonetheless, five Illinois Republicans voted in favor of the legislation.
The debate and vote centered around conflicts between the Second and 10th Amendment of the U.S. Constitution. The GOP, which frequently champions the importance of individual state rights -- guaranteed by the 10th Amendment, which says powers not delegated to the United States by the Constitution will be reserved to the states -- stepped back from that position to argue the Second Amendment's right to bear arms triumphs over state laws relating to gun permits.
House Judiciary Committee Chairman Lamar Smith, R-Texas, justified the GOP's decision by claiming the Second Amendment's fundamental right should not be constrained by state boundaries.
Opposition to this legislation comes from those who believe concealed carry permit holders often commit violent crimes, which is demonstrably false, or from those who want to restrict the right of law-abiding citizens to bear arms, he said.
Firearms were responsible for almost 68 percent of the almost 13,000 homicides committed in the U.S. in 2010, according to data from the FBI's uniform crime reports. At 1,257, California had more firearms murder than any other state, followed by Texas (805) and New York (517). Although Illinois does not permit concealed weapons, the state still recorded 364 firearms murders in 2010, considerably more than several other states that permit citizens to carry concealed weapons.
Gun Rights: Do They Reduce Crime?
While some gun rights advocated have suggested that allowing citizens to carry concealed weapons would actually reduce crime, a 2005 report from the National Research Council of the National Academies found that the evidence to date does not adequately indicate either the sign or the magnitude of a causal link between the passage of right-to-carry laws and crime rates.
State laws regarding concealed weapons also vary dramatically. The Legal Community Against Violence reports that while some states give discretion to officials to grant or deny a permit based a variety of statutory factors, such as requiring background checks and gun training courses, many others issue permits to anyone who meets certain minimal standards -- i.e. is not a convicted felon or mentally incompetent.
According to the Brady Campaign to Prevent Gun Violence, the National Right-to-Carry Reciprocity Act would reduce all states to the lowest common denominator of concealed carry laws, since gun owners would be omitted from meeting the minimum safety and competence training when transporting their weapons out of their home state.
Rep. Jerrold Nadler, D-N.Y., repeated the sentiment, arguing against the bill by pointing out that requiring all states to accept other states' permits could lower permitting standards.
Because any permit would suffice, this bill would create a race to the bottom, with whatever state that has the most permissive concealed carry rules setting national policy, he said, according to a report from The Hill.
One Republican, Rep. Rob Woddal of Georgia was reportedly the only member of the House GOP to speak out against the bill, arguing it is unnecessary since the Second Amendment already gives Americans the right to bear arms.
Although the White House has not commented on the bill, the Mayors Against Illegal Guns Coalition, which comprises more than 600 Republican, Democratic and Independent U.S. mayors across the country, issued a statement blasting its passage by the House.
Ten months after a disturbed man carried a concealed weapon to shoot Congresswoman Gabrielle Giffords and 18 others, six fatally, the House voted today to gut state laws on who can carry concealed, loaded guns in public, New York City Mayor Michael Bloomberg and Boston Mayor Thomas M. Menino, the co-chairs of the coalition, said in a statement. This was an absolutely embarrassing display of putting special interests and fundraising ahead of public safety.
The legislation will now move on to the Democratic-controlled Senate, where it is expected to stall. Some critics argued that House Republicans only pushed the bill to pander to their Republican base -- which is heavily pro-gun -- as an election year approaches.
For instance, earlier this month the House voted to reinstate the national motto In God we trust, to the pleasure of religious conservatives. In October, it also passed legislation barring the federal government from subsidizing health insurance plans that cover abortion.
As of now, neither bill has been taken up by the Senate.
© Copyright IBTimes 2022. All rights reserved.
FOLLOW MORE IBT NEWS ON THE BELOW CHANNELS