How European, Chinese Weapons Fuel Conflict In Central African Republic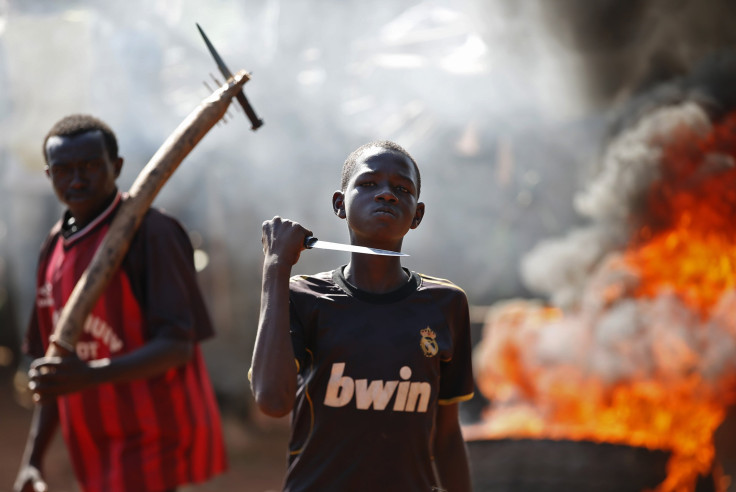 Nearly a decade ago, a Chinese defense company sent a shipment of grenades to the government of Nepal. While they reportedly never reached the Nepalese army, they have found their way to the Central African Republic, where one can be purchased for less than a can of Coke (between 50 cents and $1).
"The precise chain of custody of these grenades is still unknown," wrote analysts from Conflict Armament Research in a new report. And this is just one way that European, Chinese, Iranian and Sudanese weapons are being smuggled into the Central African Republic, fueling both sides of a deadly conflict that's cost hundreds of lives and displaced millions.
Weapons tracers from Conflict Armament Research conducted field studies between April and September last year to find out where the weapons were coming from and noted that they most likely made their way to the Central African Republic without the knowledge of the original producers. "One implication of these supply sources is that some arms originally transferred from China, Iran and Europe to the government of [the Central African Republic] and Sudan, among other African countries, have been retransferred into the hands of Seleka and anti-balaka forces," they wrote in a recent report.
The country has been in chaos since the mainly Muslim Seleka rebel group seized power in the mainly Christian state two years ago, ousting President François Bozizé. The resulting backlash from the Christian and animist "anti-balaka" militia has led to a "humanitarian crisis of historic proportions," according to Amnesty International. The conflict has taken hundreds of lives, seen thousands of towns destroyed and displaced more than a million people, despite the presence of United Nations and French troops. In fact, a U.N. worker was kidnapped and later released on Tuesday.
Both sides of the conflict have been funded by money from illegal trade of diamonds, gold and ivory, according to the Enough Project, based in Washington, D.C. In 2011, the Central African Republic's diamond exports alone were worth $61.4 million, though the real value is probably much higher since the most valuable stones were likely smuggled, according to the International Peace Information Service.
According to the Conflict Armament Research report, the Seleka coalition seized a great deal of weapons from the stockpile of former President Bozizé after members took over the capital city in 2013. But many arms are also coming from neighboring countries such as Sudan, possibly violating original trade deals.
"These finds also shed new light on regional mechanisms of the diversion and retransfer of weapons," the report says, noting that Iranian and Chinese arms seem to have been meant for Sudan but were repackaged and exported again, which could be a potential violation of end-user agreements with the Chinese government.
Last September, China halted its weapons sales to Sudan after media reports circulated that the contract between China North Industries Group Corp. and the Sudanese government was fueling the country's civil war, according to Bloomberg.
Researchers also found that both sides are using China-made grenades, which apparently were originally meant for Nepal, according to their packaging. But weapons have also made their way to the Central African Republic from countries such as Belgium, Czech Republic and the United Kingdom. It also noted that some anti-balaka militias have been using 12-gauge shotgun rounds manufactured in Spain, Italy and Cameroon, but are still unsure about exactly how they got there.
And the outlook isn't good.
"Internally, [the Central African Republic] has experienced a near-total breakdown of the physical security and stockpile management systems since the start of the current crisis, leading to severe leakages of the state's stocks of arms and ammunition," the report says. And as the violence continues, both sides of the conflict "can obtain instruments of armed violence easily and inexpensively," with the added possibility that it could become a major source of illicit weapons to surrounding countries.
© Copyright IBTimes 2023. All rights reserved.