How Much Did Bitcoin Rise In 2017? A Look Back At The Cryptocurrency's Chart And What's In Store For 2018
The price of bitcoin was one of the biggest Wall Street stories of 2017. At one point, the digital currency surged more than 1,900 percent.
On Jan. 1, 2017, the price of bitcoin passed $1,000 for the first time on CoinDesk Bitcoin Price Index since early January 2014. On Jan. 1, 2018, the price of bitcoin was about $13,286.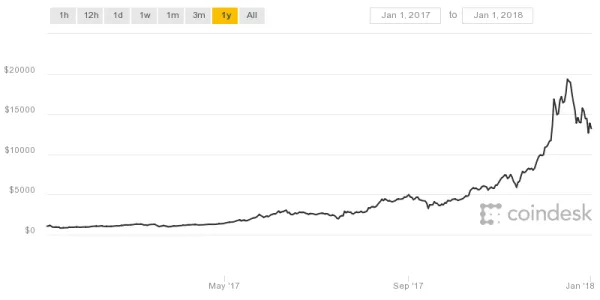 Bitcoin has seen some major plunges, including a 36 percent dip in June and July. The cryptocurrency more than doubled in December but also dropped 45 percent to below $11,000 and then rebounded to more than $14,000 on Friday.
Many of bitcoin's bulls have not wavered on its future.
"We are buyers of bitcoin on this pullback," Fundstrat co-founder Tom Lee said in a note on Dec. 22. "The intrinsic/fundamental value of bitcoin has risen in the past month given the surge of new wallets and hence, explains the rise in our short-term target price."
There remain questions as to what will drive bitcoin entering 2018 and beyond due to its questionable fundamentals.
"I don't know how much gold there is in the ground, but I know how much bitcoin there is, and in two years there will be 300 million people in the world trying to get their hands on a few million bitcoin," Ronnie Moas, founder of Standpoint Research, told CNBC's "The Rundown" on Dec. 17. "This mind-boggling supply and demand imbalance is what is going to drive the price higher."
Moas expects a near-$380,000 dollar appreciation on bitcoin's current prices.
Many still think that bitcoin is due for a bust. At a Council on Foreign Relations event in New York on Nov. 28, Vanguard Group, Inc. founder Jack Bogle said to "avoid Bitcoin like the plague."
"There is nothing to support Bitcoin except the hope that you will sell it to someone for more than you paid for it," Bogle said.
Jamie Dimon, CEO of JPMorgan Chase CEO, has called bitcoin "a fraud."
© Copyright IBTimes 2022. All rights reserved.