India 2014 Election: Samajwadi Party Boss Wants To Revoke Capital Punishment For Convicted Rapists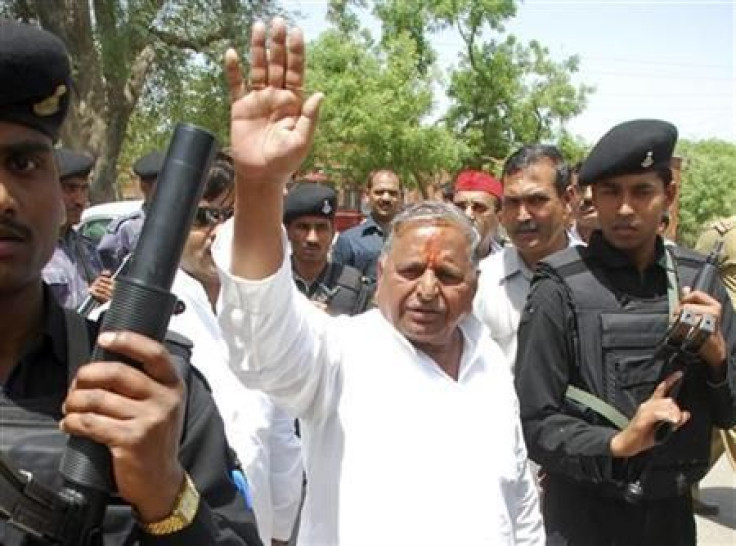 A leading Indian politician came under fire from activists and lawmakers Thursday for making comments that appear to call for leniency for boys and men who commit rape, in a country where sexual assault against women and girls is epidemic. Mulayam Singh Yadav, 74, leader of the regional socialist Samajwadi party of the northern state of Uttar Pradesh, and a former three-time chief minister of the state, told a gathering that he felt imposition of the death penalty for convicted rapists was excessive punishment and that boys and men who commit such crimes made "mistakes."
While addressing a rally in the city of Moradabad, Yadav declared: "First girls develop friendship with boys. Then when differences occur [between them], they [the girls] level rape charges. Boys commit mistakes. Should they really be hanged for rape?"
Yadav further stated that his government will seek to punish those women who file false rape allegations and also revoke new rape laws that call for the death penalty for repeat offenders, referring to a Mumbai court that recently sentenced three convicted serial rapists to hang, the first time the ultimate punishment has been applied under tougher new laws. "Efforts will be made to change such a law, so that those [who are] misusing it are punished. Those filing false reports will also be taken to task," he said.
Voices across the political spectrum condemned his remarks. "It is unfortunate that any leader makes such a statement regarding a crime like rape. Such statements encourage persons involved in such crimes," Shobha Oza, a spokesperson for the center-left Congress Party, told reporters in New Delhi. "We condemn [Yadav's] statement. There should be zero tolerance for rape and crime against women." A senior member of the center-right Bharatiya Janata Party, Subramanian Swamy, said Yadav was exploiting the game of "minority politics," referring to communal violence between Hindus and Muslims that erupted in the city of Muzaffarnagar in Uttar Pradesh last summer which left at least 49 people dead and unknown numbers of women raped.
Kiran Bedi, a well-known social activist and former police officer, called for a "total boycott" of Yadav. "People should be asked to vote out such people completely," she said, according to Press Trust of India. "That is exactly the reason [why] when such people in power do not deliver… society as a whole feels insecure. This statement is against the society and it is spreading lawlessness."
At least one women's rights campaigner even demanded that Yadav be arrested. "Women of the country should not vote for his party whether it is in [Uttar Pradesh] or somewhere else," Ranjana Kumari, director of the woman's advocacy group, Centre for Social Research, said. "He should be boycotted as a politician because he not only made these comments but also worked to stop women's reservation bill," referring to a stalled piece of legislation that would set aside one-third of seats in parliament to female candidates. Kumari further noted that Yadav has a long history of making misogynistic comments. "The whole nation is going through [the misfortune of] this ill and serious crime. Women of this country should go against him and his party now," she said. "People should feel scared before even thinking of committing such crimes but [through] this type of a comment, he is encouraging rapists. Women should boycott his political party to teach him a lesson. … Calling rape a small mistake is directly encouraging rape."
Poornima Advani, a former head of the government's National Commission for Women, called for a "public apology" at least from Yadav, but also warned that the government's Election Commission should take up this matter. "This is a negative and useless election stunt which is going to hit him hard. And, I am sure he will be voted out," she stated.
But at least one activist defended Yadav, up to a point. India Today reported that social activist Medha Patkar condemned the crime of rape, but also opposed the provision of the death penalty for rapists. "Rape isn't a small mistake [and] can't be forgiven. But I am against death penalty too," she said.
Despite Yadav's exhortations, the death penalty is rarely applied in India for any crime. In 1983, India's Supreme Court determined that capital punishment could only be imposed in the "rarest of the rare" cases. Between 1995 and 2012, India executed only three convicts, including Ajmal Kasab, the only surviving gunman who carried out the terror attacks in Mumbai in 2008. In 2013, 72 people in India were sentenced to death, including four of the men who gang-raped the young female medical student in a bus in Delhi in December 2012 (the infamous case that made global headlines and forced India to re-examine its treatment of women).
FOR FREE to continue reading
✔️ Unlock the full content of International Business Times UK for free
offer available for a limited time only
✔️ Easily manage your Newsletters subscriptions and save your favourite articles
✔️ No payment method required
Already have an account?
Log in
© Copyright IBTimes 2023. All rights reserved.