India-Pakistan War In 2017? Nuclear Neighbors Still Locked In Conflict Approaching New Year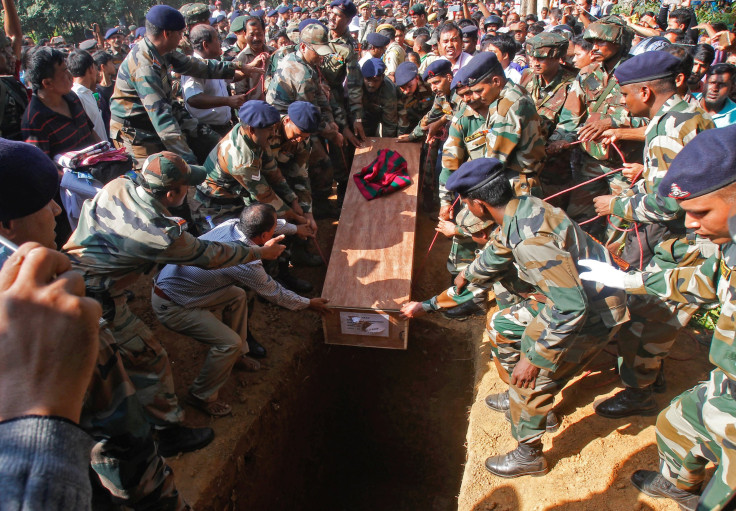 As much of the world focuses on the growing hostilities between the United States and Russia as well as the war in Syria heading into 2017, it would be easy to forget about an ongoing conflict between two nuclear-armed neighbors.
For Indian and Pakistan, which have fought three wars since becoming independent states in 1947, 2016 was a year of drastically deteriorating relations. And as they prepare to welcome in the new year, the two countries continue to be locked in an exchange of fire along the border separating the disputed region of Kashmir.
A ceasefire agreement signed between the two countries in Kashmir in 2003 has been rendered effectively redundant. That was evident just this week when India claimed that the Pakistani army engaged in heavy fire targeting Indian positions across the Line of Control, killing one civilian. India made clear it would retaliate strongly.
The latest spike in tensions between India and Pakistan began when an Indian army base in Kashmir was attacked on Sept. 18, killing 19. India claimed that the attack was carried out by militants hailing from Pakistan and retaliated by carrying out what it called "surgical strikes" on a terrorist stronghold on the Pakistan side of the Line of Control. Pakistan vigorously disputed that version of events.
Pakistan also claimed this week that India was violating a 1947 United Nations Security Council Resolution on Kashmir by attempting to change the demography of Kashmir through the settling of non-locals in the region.
Escalating fears yet further, India successfully tested Monday its most powerful nuclear-capable missile.
There is particular concern over recent developments, not only because of the warring history of the two countries but because of their large stockpiles of nuclear weapons. Both India and Pakistan have over 100 warheads. They are two of only three countries in the world not to sign up to the Non-Proliferation Treaty.
India has also been increasing its buildup of arms, purchasing defense equipment worth $34 billion between 2008 and 2015, second only to Saudi Arabia across the world, according to a report by the Congressional Research Service.
Its nuclear stockpile could soon be on the increase, too. India is bidding to gain membership to the 48-nation Nuclear Suppliers Group in order to attain full atomic trading privileges. Pakistan, meanwhile, has complained that it is being unfairly denied membership.
© Copyright IBTimes 2023. All rights reserved.