Indonesia Volcano Erupts, Forces Evacuation Of 1,300 People In Sumatra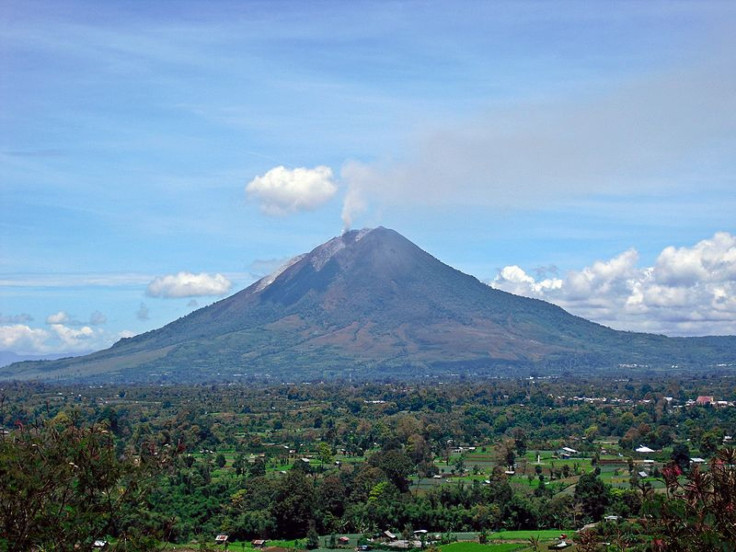 One of Indonesia's volcanoes erupted Sunday, shooting a cloud of black ash and rocks nearly two miles into the sky. Authorities are evacuating residents who live in villages along the slopes of Mt. Sinabung in North Sumatra. Channel News Asia reported that 1,300 people have already had to flee their homes.
Last night, the Indonesian government raised the threat level to stand-by, the second-highest level, after the number of volcanic quakes increased. According to the National Disaster Management Agency, four villages within 3 kilometers of the volcano were emptied.
"Tremors are still occurring and thick black clouds are still being spewed," Sutopo Purwo Nugroho, a spokesperson for the agency, told the Bangkok Post. "Residents living around Mt. Sinabung were evacuated to safer areas. The number of evacuees will rise."
Mt. Sinabung is a 2,460-meter-tall volcano in the Karo district of North Sumatra. The volcano was dormant for nearly 400 years, when it erupted in August 2010. That eruption killed two people and forced 30,000 others to evacuate. The eruption caught many scientists by surprise, according to Associated Press.
In September, Mt. Sinabung sprang to life again after being dormant for three years. The eruption led to 15,000 people in surrounding villages to evacuate.
There are over 120 active volcanoes in Indonesia. The island nation straddles fault lines along the Ring of Fire, a 40,000-kilometer horseshoe-shaped curve along the Pacific Ocean basin where earthquake and volcanic activity occur. About 80 percent of all earthquakes occur along the Ring of Fire.
Indonesia's most active volcano is Mt. Merapi in central Java. A violent eruption there killed 350 people in 2010.
© Copyright IBTimes 2023. All rights reserved.