Iran's Reformist-Dominated, Massively Overhauled Parliament To Be Sworn In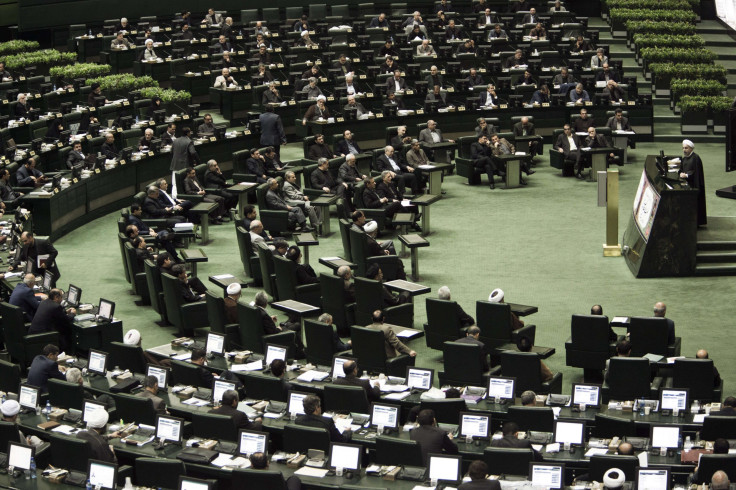 Iran's newly elected parliament, officially called the Islamic Consultative Assembly, will be sworn in Saturday. The swearing-in of the massively overhauled 290-member assembly comes at a critical time for the Reformist President Hassan Rouhani, whose coalition currently holds 122 seats in the parliament.
The rest of the seats are almost evenly divided between the Principlists — a loose coalition of hard-liners and social conservatives that currently holds 84 seats in the legislative body — and Independents, who, with 82 seats, hold the balance of power.
The parliament exercises minimal control over the country's foreign policy and security issues as the unelected supreme leader and the 12-member Guardian Council — also unelected — being the real centers of power. However, in some other areas, the legislative body does have certain degree of independence, and it can, among other things, control the annual budget, approve the impeachment of ministers and issue formal questions to the government.
Historically, Iran's parliament has been overwhelmingly dominated by conservatives and hard-liners. However, following elections held in February and the run-offs in April, 216 incumbents — nearly three-quarters of the parliament — lost their seats, and the pro-Rouhani bloc became the single-largest coalition in the assembly.
The new parliament not only has the fewest number of clerics than at any time since the founding of the Islamic Republic in 1979, it also includes a record number of women. For the first time ever, the number of elected women — 18 — outnumbers the 16 clerics who won in April.
"Critically, the election results will (largely) deny hard-liners the use of parliament as a platform to advance their agenda, forcing them to make greater use of unelected power centers like the judiciary and security forces or, in some instances, greater compromise with moderates," Farzan Sabet, a fellow at the Center for International Security and Cooperation at Stanford University, told Vox. "[However] Rouhani may face a limited consensus on expanding social and political freedoms."
The parliament is likely to play a significant role in deciding whether Rouhani — who has made improving ties with the West a key goal of his presidency — gets a second term. Although Rouhani has successfully ratified a historic nuclear deal that has resulted in the removal of several crippling international sanctions, its benefits have been slow to percolate. This has given his critics an opportunity to not only attack the nuclear deal, but also his economic agenda and social reform overtures.
"The empire," an anonymous diplomat in Tehran told the Economist, "is trying to strike back."
© Copyright IBTimes 2023. All rights reserved.