ISIS Mass Graves Uncovered: Iraqi Forces Find Another Islamic State Massacre In Ramadi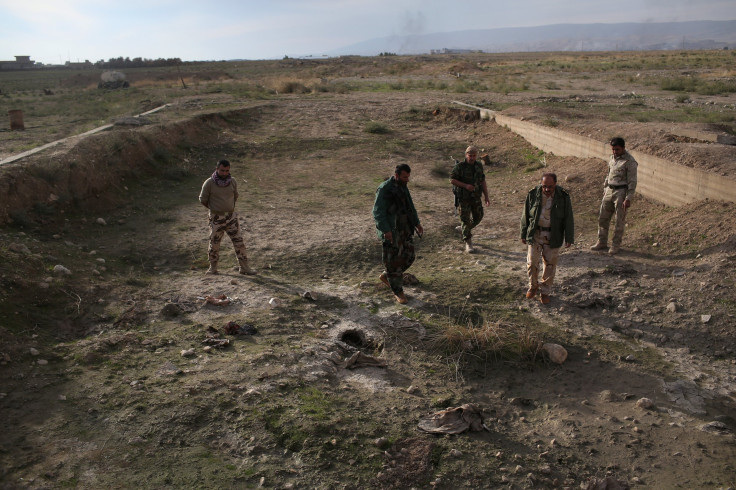 Iraqi security forces uncovered more than a dozen corpses in Ramadi Monday, just a month after they retook the western city from the Islamic State group, aka ISIS. The discovery added to a series of mass graves recently uncovered in territory previously held by the extremists.
"So far, we have removed 18 bodies, including five members of the police, and work is continuing to remove the remaining victims," Maj. Tareq Abdulkarim told Agence France-Presse. The grave, found Monday, may hold as many as 40 victims, believed to have been executed by ISIS in May 2015. An investigation was in progress, but Sabah Karhout, the head of the Anbar provincial council, said some of the victims had been shot and beheaded, AFP reported.
ISIS overran the city, capital of Anbar province, last May, marking a significant blow to the Iraqi military. In recent months, a few key areas, including Ramadi and the strategic northern town of Sinjar, have been recaptured, but ISIS militants continue to hold large swaths of Iraq, including its second-largest city, Mosul. ISIS also controls significant territory in Syria.
Iraqi officials also discovered about 40 corpses earlier this month in Ramadi, and said they expected to find additional graves elsewhere in the city. ISIS militants have routinely executed opponents, Iraqi security forces and alleged spies, as well as deserters. More than 200 bodies were discovered west of Baghdad in October 2014, and some 150 corpses from a single tribe were found near Ramadi that same year.
ISIS has been accused of carrying out horrific human rights abuses in areas under its control, including mass executions and enslavement of women and girls. The group espouses a narrow and extremist interpretation of Islam and has brands those who disagree with their views as apostates. The U.S. has been engaged in airstrikes against the militant group since mid-2014, shortly after ISIS overran Mosul.
© Copyright IBTimes 2023. All rights reserved.