ISIS News: 9-Year-Old Girl Pregnant After Being Raped By Islamic State Group Militants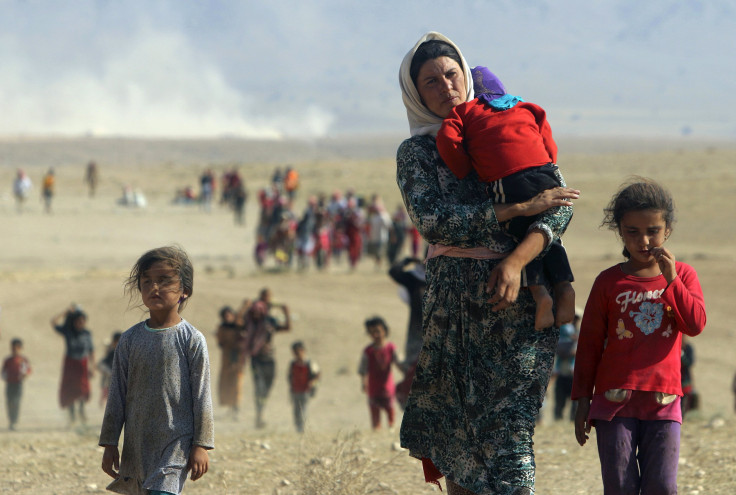 A 9-year-old girl from a minority group in Iraq is pregnant after being raped by at least 10 different men with the Islamic State group, news reports said. She was seen by aid workers in a refugee camp in Iraq after she and hundreds of others were freed after being held captive by the group for more than eight months, the Daily Express reported.
The girl was one of 216 people from the ethnic and religious minority community known as Yazidis released by the Islamic State group, which is also known as ISIS or ISIL. Those freed tended to be elderly, infirm or young, and many were in poor health, an Iraqi Kurdish commander said. They appeared to have been abused and neglected. Although the captives were freed Monday, they did not reach a Kurdish-controlled region of Iraq until Wednesday, Agence France-Presse reported.
"Even a cesarean section is dangerous," Yousif Daoud, an aid worker, said of the options for the 9-year-old girl to give birth, the Express reported. "The abuse she has suffered left her mentally and physically traumatized."
In August, when the Islamic State group launched an assault on Iraq's Yazidi community, its fighters kidnapped hundreds of Yazidi women and reportedly took them to Syria. A subsequent report by the U.S. State Department said 1,500 to 4,000 women had been abducted and that they were being raped, forced into marriage and tortured.
The group has since released a few hundred of those it abducted last year. In addition to those released this week, it also freed about 200 Yazidis, mainly weak or elderly ones, in January, the Associated Press reported. It was not clear why the group decided to release these prisoners en masse, but Kurdish military officials suggested that holding on to prisoners was slowing down the militants.
Yazidis are neither Muslim nor Christian but instead practice an ancient and unique faith. The Islamic State group still regards them as infidels.
© Copyright IBTimes 2022. All rights reserved.
FOLLOW MORE IBT NEWS ON THE BELOW CHANNELS