Joe Biden Quotes: 'White Boy' And 10 Other Comments, Gaffes And Moments From The Vice President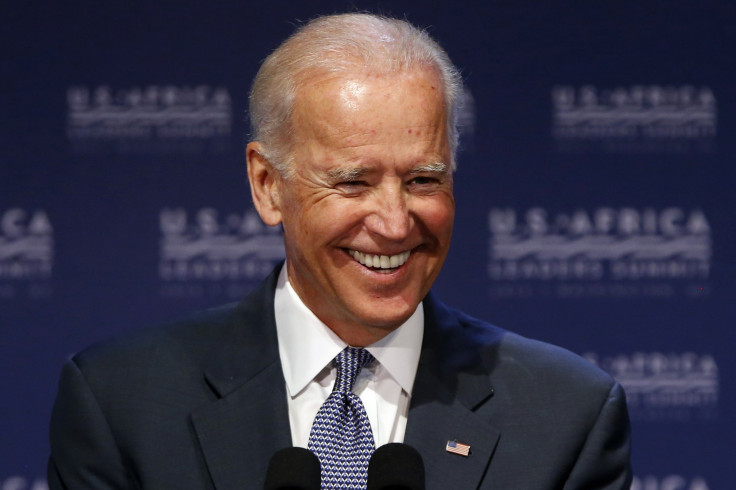 Endlessly quotable Vice President Joe Biden raised eyebrows yet again on Tuesday when he referred to himself as a "white boy" while meeting with black clergy in South Carolina. Biden went on to dispense some harsh critiques of the Republicans, with particular disdain for the Tea Party faction.
During a closed-door meeting with Rep. James Clyburn, D-S.C., the highest-ranking African-American in the House leadership, Biden warned ministers of the dangers of letting the Republicans seize full control of Congress in the midterm elections, CNN reports. In particular, Biden spoke on the problems caused by income inequality and the Democratic Party's superiority in addressing issues such as "tax fairness" and the plight of the middle class.
Biden told his audience that he "got 98 percent of the African-American vote every time I ran" in Delaware, where he served as U.S. senator for 36 years. While discussing his early career as a public defender representing low-income clients, he referred to himself as "the only white boy on the east side of Wilmington."
The vice president also called the Tea Party "crazy" and warned that Congress would achieve "no consensus on anything for the next two, four, six years" if the Republicans are successful on Nov. 4. "This is not your father's Republican Party," he said, according to CNN's source. "This is a different breed of cat, man. I am not making a moral judgment, but I will tell you that they have no judgment."
Biden's comments, while provocative, are just the latest example of the vice president's rather bold way of expressing himself. A timeline of some of his most noteworthy quotes can be viewed below.
Oct. 3, 2014: "Isn't it a bitch? This vice president thing?" said Biden while addressing a question from the vice president of the Harvard Institute of Politics, before clarifying that the comment was meant in jest. "That was a joke, that was a joke," he said. "Best decision I ever made. I'm joking. That was a joke."
Sept. 3, 2014: "They should know we will follow them to the gates of hell until they are brought to justice. Because hell is where they will reside." –Biden, in a warning to Islamic State group militants after the beheading of American journalist Steven Sotloff.
Feb. 6, 2014: "If I blindfolded someone and took them at 2 o'clock in the morning into the airport in Hong Kong and said 'where do you think you are?' They would say, 'this must be America. This is a modern airport,' " Biden said. "If I took them blindfolded and took them to LaGuardia Airport in New York, he would, like, 'I must be in some Third World country.' I'm not joking." – New York City Mayor Bill de Blasio did not appreciate Biden's swipe at LaGuardia.
April 26, 2012: "I promise you, [President Barack Obama] has a big stick. I promise you." – Biden tried to invoke Theodore Roosevelt's "speak softly and carry a big stick" mantra.
March 23, 2010: "This is a big f---ing deal." – Biden got a bit too excited while congratulating the president on the signing of his health care reform bill.
Feb. 7, 2009: "If we do everything right, if we do it with absolute certainty, there's still a 30 percent chance we're going to get it wrong." – Biden's comment on the Democratic Party's support of the Obama economic stimulus package didn't exactly inspire confidence.
Oct. 15, 2008: "Look, John [McCain's] last-minute economic plan does nothing to tackle the No. 1 job facing the middle class, and it happens to be, as Barack says, a three-letter word: jobs. J-O-B-S, jobs." – Biden's miscounted attempt to criticize Republican presidential nominee John McCain at a rally in Ohio.
Aug. 23, 2008: "My friends, I don't have to tell you, this election year the choice is clear. One man stands ready to deliver change we desperately need. A man I'm proud to call my friend. A man who will be the next president of the United States – Barack America." – Biden's botched attempt to introduce Obama at a rally in Springfield, Illinois.
Jan. 31, 2007: "You got the first mainstream African-American who is articulate and bright and clean and a nice-looking guy. I mean, that's a storybook, man." – Biden, on Obama.
June 17, 2006: "You cannot go to a 7-Eleven or a Dunkin' Donuts unless you have a slight Indian accent. I'm not joking." – Biden, then a U.S. senator, made this gaffe while attempting to praise Delaware's Indian-American population.
© Copyright IBTimes 2023. All rights reserved.