Johannes Chan Blocked From Hong Kong University Post, Raising Academic Freedom Concerns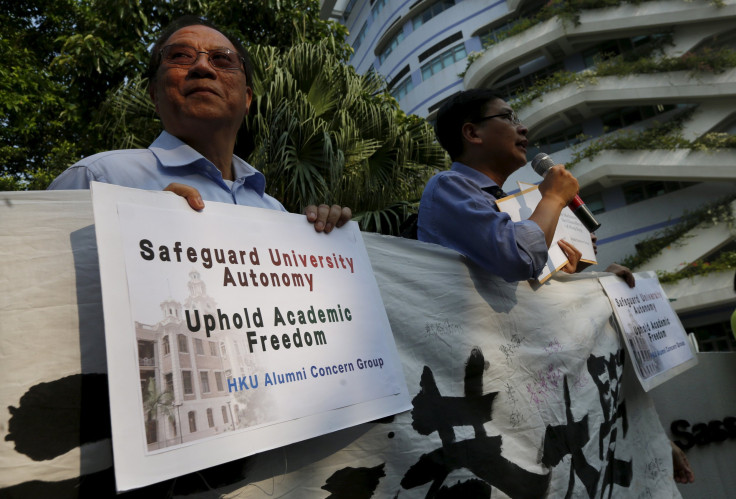 A leading law professor was barred from accepting a post at a major Hong Kong university Tuesday, in an incident that has raised concerns over academic freedom in the region.
Johannes Chan, a former dean of the law school at Hong Kong University (HKU), was barred by the university's governing council from taking the post of pro-vice-chancellor at the university, which critics said was linked to a broader move on the part of the pro-China government to crack down on academic freedom at an institution that played a major part in last year's pro-democracy protests.
Other HKU members said that they worried the governing council, which is stacked with pro-government Beijing supporters, had blocked the move because of his role in the Occupy Central protests.
"They are trying to send a message that if someone is sympathetic to Occupy Central... there will be repercussions," Chan told Reuters before the vote.
The council declined to describe its justification for the vote, which measured 12-8 against Chan. Billy Fung, president of the student union and a panel member, said that some members complained that Chan does not have a PhD and had become dean of the law school merely on the basis of being a "nice guy," the Los Angeles Times reported.
Chan was recommended for the position last year by a committee after a global search drive, and the council's decision to refuse the search committee's recommendation is highly unusual, according to the South China Morning Post.
"It's obvious that the decision was a political one," Ip Kin-yuen, a lawmaker and head of an HKU alumni association that recently saw 7,800 of its members voice support for Chan, told Reuters. "Academic freedom will no longer exist after this."
The move comes at a time when officials from the mainland and Hong Kong's government are seeking to quell academic unrest. China's education minister in January issued directives warning universities against teaching "Western values" to their students, without specifying whether the edict also applied to Hong Kong schools.
The former British colony of Hong Kong was returned to Chinese sovereignty in 1997, and is subject to a framework known as "one country, two systems," under which a parallel legal system for Hong Kong guarantees that educational institutions "retain their autonomy and enjoy academic freedom."
However, last year's Occupy Central protests were declared illegal, and met with a massive and sometimes brutal police crackdown, which drew international censure over the pro-Beijing government's perceived suppression of political dissent.
© Copyright IBTimes 2023. All rights reserved.