Kakhovka: A Strategic Dam In Russian-occupied Ukraine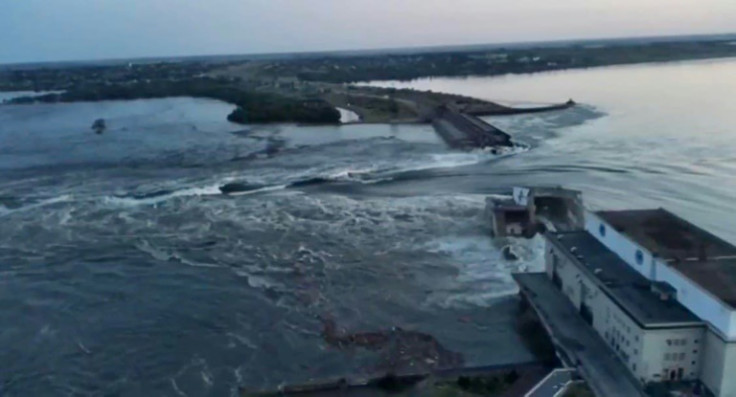 Thousands are at risk of flooding in southern Ukraine, with Kyiv and Moscow blaming each other for damage to the strategic Russian-held Kakhovka hydroelectric dam.
The dam on the Dnipro River is a strategic water source for the Russian-annexed Crimean peninsula, and flooding could potentially block Ukrainian forces seeking to regain lost territory.
The damage has also increased fears of a nuclear incident, since the Zaporizhzhia power plant relies on the upstream Kakhovka reservoir for its cooling systems.
The 3.3-kilometre-long (two-mile-long) dam was captured by Russian forces at the beginning of the invasion on February 24, 2022, along with its hydroelectric power station.
Upstream from the dam is the Kakhovka reservoir, which can hold 18 cubic kilometres of water -- approximately the same capacity as Utah's Great Salt Lake.
Ukraine, which now controls the river's right bank, said on Tuesday there was flooding in at least eight areas along the Dnipro River.
About 16,000 people are in a critical flood zone, according to Ukrainian officials.
The dam is about 60 kilometres (40 miles) east of Kherson, which Ukraine took back in November, turning the river into the new front line.
Russia, which controls the left bank of the river, said over 22,000 residents in 14 areas were in potential flood zones but there was no risk of flooding for major population centres.
Besides flooding, there are fears of a nuclear incident because the Zaporizhzhia power station relies on the Kakhovka reservoir for its cooling system.
The United Nations and Russia said there was no major risk to the nuclear power plant but Ukraine said there was a growing danger.
Built in Soviet times in the 1950s, the Kakhovka dam has strategic value. It pumps water into the North Crimean Canal, which starts in southern Ukraine and crosses the entire Crimean peninsula.
This means that any problem with the dam could cause water supply problems for Crimea, which has been under Russian control since 2014.
Kyiv accused Moscow of mining the dam when combat raged nearby in October, during the last major offensive by Ukrainian forces seeking to regain lost territory.
Kremlin proxies in the Kherson region on Tuesday denied any plans to blow up the dam, calling Ukraine's assertions "lies".
Kyiv says Moscow destroyed the dam to slow down its military counteroffensive.
Russia said the dam was damaged by multiple Ukrainian strikes.
© Copyright AFP 2023. All rights reserved.