Kelly Clarkson Talks In-Laws Reba McEntire, Narvel Blackstock Into Saving Marriage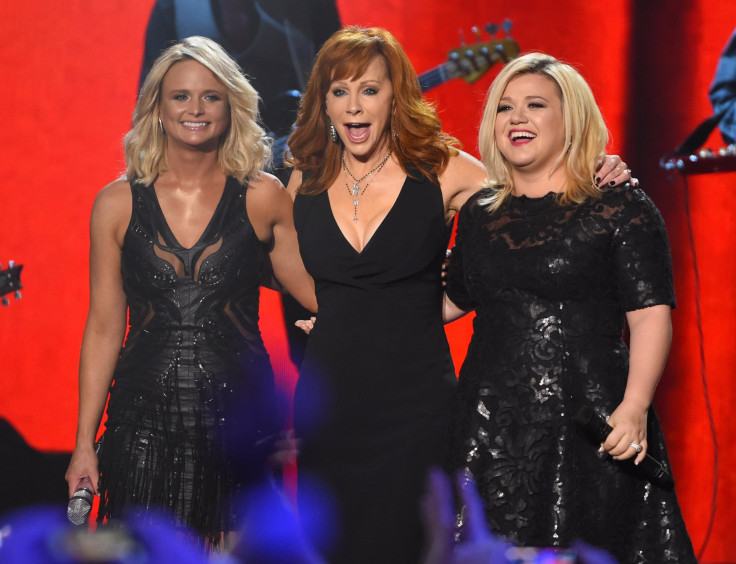 Despite the announcement of their shocking split, Reba McEntire and Narvel Blackstock can say that their daughter-in-law, Kelly Clarkson, is partly responsible for saving their marriage. An insider claimed on Tuesday that the 33-year-old singer urged the couple to work things out.
Just a few days after McEntire and Blackstock's shocking announcement, an insider exclusively told Us Weekly that Clarkson urged the celebrity couple to try and to save their marriage. "They've been living apart for two years," the source said. "Kelly urged them not to split and she's the reason they didn't split earlier. She was really fighting for them to make it work and stay together."
Earlier this week, the 60-year-old country singer and her 58-year-old manager and producer announced a separation, ending 26 years of marriage, Fox News reported. The former couple released a statement through the Big Machine Label Group Monday, which read: "Despite this being the end of their marriage, they continue to support each other. They have worked together for 35 years and will continue to do so. They have asked that you respect their privacy during this time." Their pair's representative declined to comment on whether McEntire and Blackstock are filing for divorce.
The original "American Idol" always had a deep connection with her in-laws. She married Brandon Blackstock, McEntire's stepson, in 2013. Since then, the "Invincible" singer was welcomed into Blackstock's family, and in return, they have a very special place in her heart. Earlier in May, Clarkson mentioned her in-laws in an interview and shared that they enjoy a traditional family game night. "We also play board games. My sister, my mom, me and [my mother-in-law] are the gamers in the family. Everyone else, we just drag into it," Clarkson told the Rolling Stone. "Reba and I are both competitive -- she'll tell you she's not, but she's a liar. I can win Sequence, but if we play backgammon or Mexican Train dominoes, she kills me. She's like a backgammon magician."
"Our family gatherings are just a bunch of grandchildren and nieces and nephews. Our job is very egocentric, so it's nice to be able to reflect on something else," she said happily.
Clarkson is currently on tour to promote her latest album, "Piece by Piece."
You may email your feedback or comment on the article at prewchatterly@gmail.com.
© Copyright IBTimes 2022. All rights reserved.
FOLLOW MORE IBT NEWS ON THE BELOW CHANNELS