Kensington SD5600T Docking Station Hands-on Review: Empowering WFH Laptop Setups with Ease
This article uses affiliate links, which means if you purchase products through these links, we may earn a commission. Click here to see our
T&C
. For licensing please click
here
.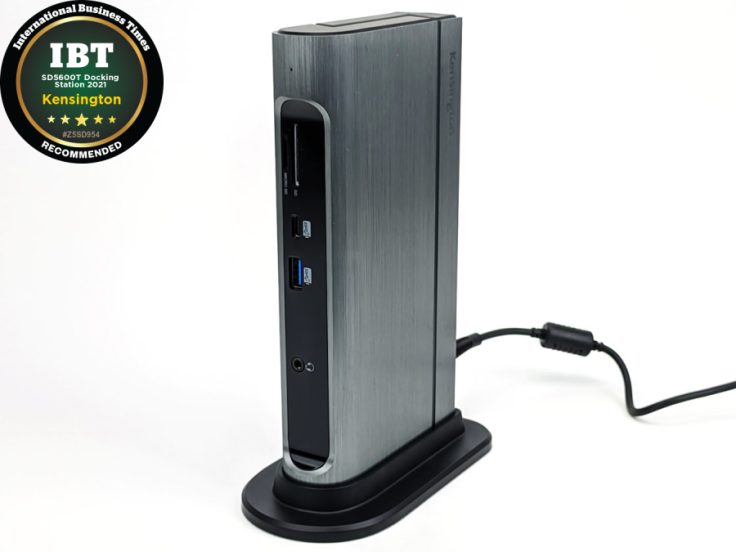 The whole work from home (WFH) trend has given many of us excuses (and company budget, for the lucky ones) to improve our home office setup. And if you're like me who normally try not to bring work home, you're probably starting with a simple laptop, and looking out at the horizon for options to improve the home workspace.
If there was one lesson that I learned from my last Lenovo ThinkPad, it is that even for well-built laptops, one Achilles heel is the USB ports. Between work and home, switching between memory-sticks, peripherals, to monitors - the USB ports take a serious toll overtime. Sooner or later, no matter how well the laptop itself is built, the ports are bound to give out.
This is where docking stations come in handy - either as a remedy for laptops already showing age, or for the longevity of your laptop. We're looking into the Kensington SD5600T docking station to see just how much a docking station can improve one's set up in their workspace.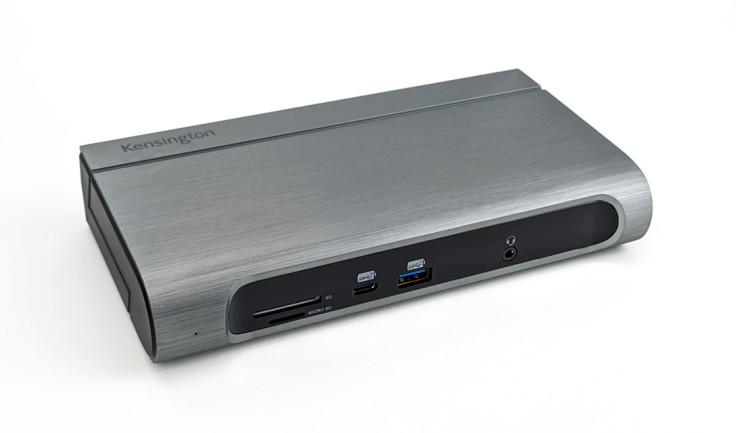 Sleek and Rugged Brushed Aluminum Case
The Kensington SD5600T docking station has a simple and rugged aesthetic. It's case consists mainly of a brushed aluminum finish, which feels very solid and able to take a beating. The coarse finish gives the whole dock a naturally matte finish, making it aesthetically versatile and would look right at home on most desks.
The shape and form of the Kensington SD5600T docking station reminds me of a classic router. Roughly the size of a small book, it's not too obtrusive an addition to the desktop. It's ability to be set up either flat or standing gives the user more options to optimize it for their workspace.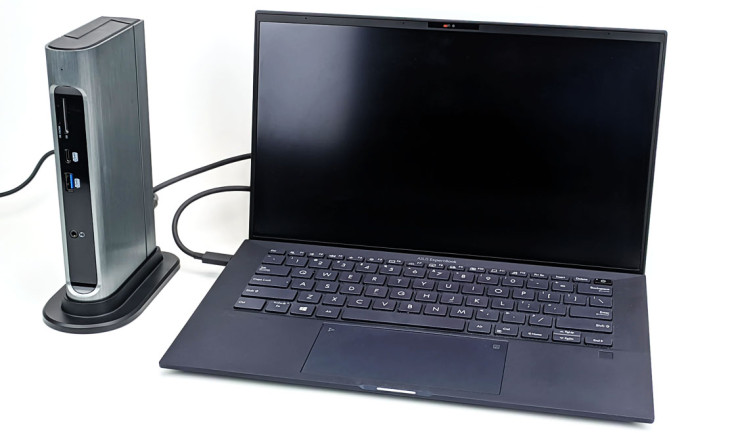 Only a Single Thunderbolt 3 Connection Needed
Whereas typical dockable laptops are simply connected via a proprietary connector, the Kensington SD5600T docking station can be docked with any Thunderbolt port equipped laptop via a single connection. This has to be the best way to utilize that Thunderbolt connector on your laptop, as the single connection will provide both power and data transfer - you won't even need to plug in your A/C adaptor for the laptop.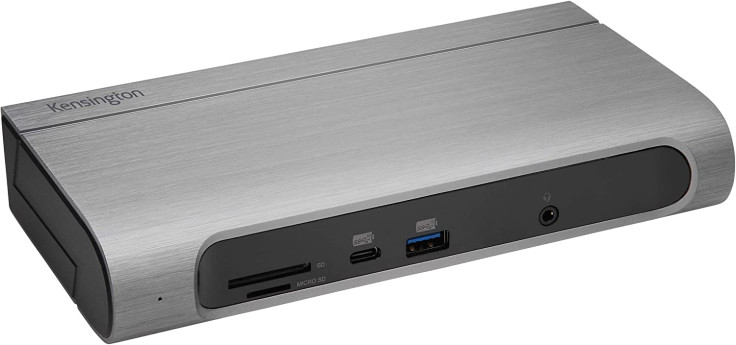 The dock is able to provide up to an impressive 100W of power for laptops that are equipped with a USB-C connector that is Power Delivery (PD) enabled. This is great for laptops that can take higher power adaptors like the newer MacBook Pros, which are made for 96W chargers. It easily provides the 65W needed by the business centric ASUS ExpertBook I'm testing the dock with, in addition to giving me a wide range of ports with that single Thunderbolt connection.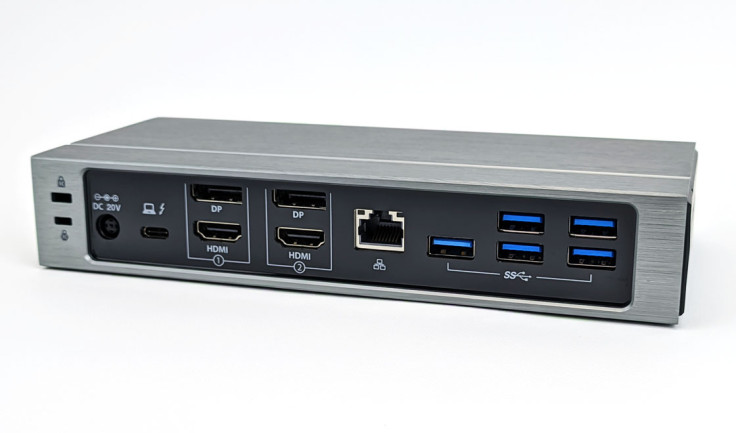 Dual 4K Video Output, Six USB-A ports, USB-C port and More
In total, the Kensington SD5600T docking station has 15 ports, which hugely expands the connectivity of any laptop. The dock provides not one but two 4K enabled video outputs either via HDMI or DisplayPort, which allows for a two monitor setup.
There are then 7 USB 3.2 ports altogether, which comes in handy especially for teleconference needs for the WFH workers. For a decent video conferencing setup, you would at least need a webcam and a USB microphone - which would nearly max out most business laptops USB ports. If you add peripherals, external hard drives into the mix, you end up with a tedious juggle of connecting and disconnecting cables all day long. With the SD5600T Dock, again, you're able to have all the connectivity with a single Thunderbolt cable.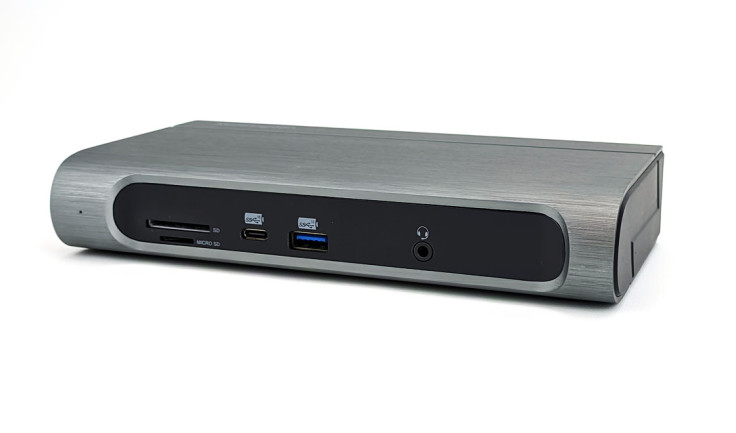 Clean Front Access to Most Used Ports
The Kensington SD5600T docking station has a clean but functional front panel. While most of the connectors are hidden in the back for the power, peripherals and monitor connections, the front panel consists of two card readers, a USB-C 3.2 and a USB 3.2 ports - both providing 15W of power, as well as a 3.5 mm combo microphone and headphone port.
I'm especially impressed by the fact that Kensington uses separate card readers for the SD and Micro SD cards, instead of a cheaper combo card reader slot. This gives the card reading slots better longevity as well as being able to read two cards at the same time. The two easily accessible powered USB ports are particularly useful in recharging devices like phones and wireless headphones.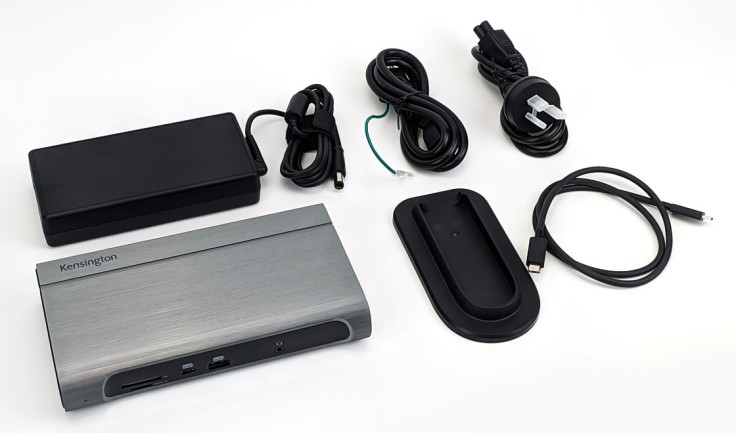 An USB DAC to Drive Larger Headphones
The combo audio port in the front deserves a special mention, as it allows for the user to connect earphones with an inline microphone and use it for a simple video conference audio solution. But what's more, this powered audio output acts also as a USB DAC that has enough power to drive larger headphones, potentially saving the user from setting up another device, and further adding to the value and versatility of the Kensington SD5600T docking station.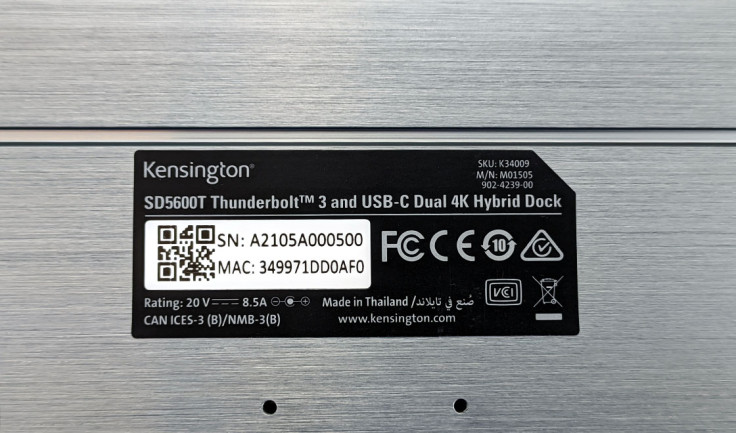 Final Verdict
Many business laptops are not made for power users, but many of us during this period of WFH are forced to use our laptops like desktop computers with all our peripheral needs. The Kensington SD5600T docking station is an elegant solution for us to upgrade our laptop's usability with only a single connection. It has the potential to expand our workspace with two 4K monitors, 6-7 peripherals and a powerful audio output enough for large headphones, making this a worthy investment for those looking to upgrade their laptop centric setup.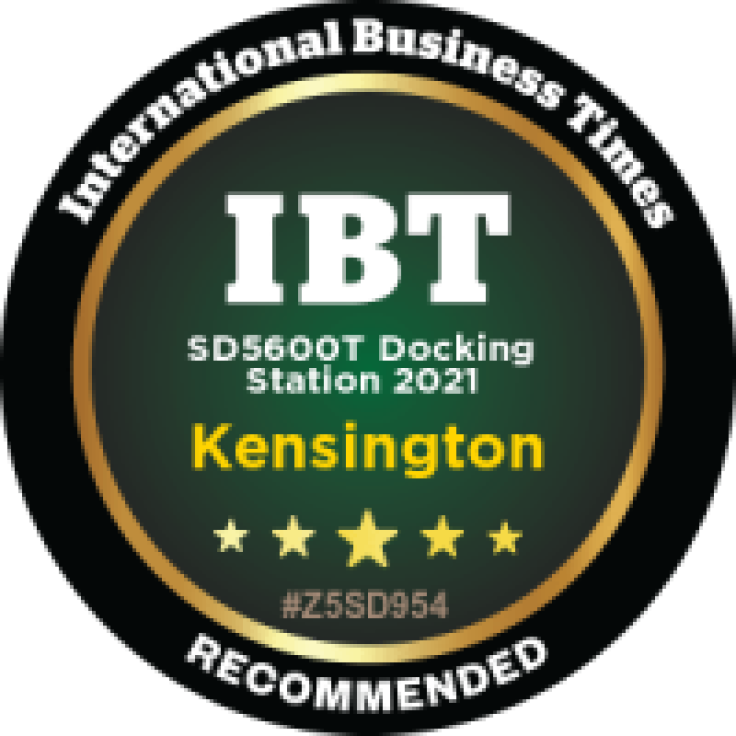 For its excellent build, design, versatility and reliable performance, we're awarding the Kensington SD5600T docking station with the IBTimes Recommended Badge.
David is a tech enthusiast/writer who is often on the move, but since the lock-down is on a mission to explore gadgets to improve his 'home work'. This is a contribution to an ongoing IBTimes review series on gadgets for Working From Home (WFH).
© Copyright IBTimes 2023. All rights reserved.