Macina Liberation Movement: New Terror Group In Mali Threatens Peace Agreement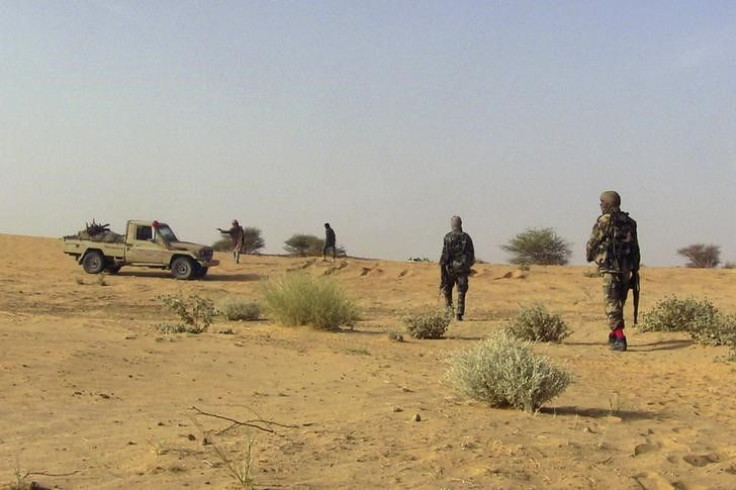 A new and deadly extremist group has emerged in Mali, bringing with it a harsh brand of Islamic law and violent tactics that threatens to plunge the Saharan country again into mass-scale armed conflict. Its members have been terrifying locals while targeting United Nations peacekeepers, French troops and government forces since January.
By creating chaos, the attacks by the Macina Liberation Movement may undermine a fragile agreement, set to be signed next week, between Mali's government and the rebel groups that have dominated the country's northern region for years. Western governments have long feared the region could provide a foothold for jihadi groups, and, despite a French-led intervention to push them out two years ago, this new group may prove their shared fear has become a reality.
The militants last week destroyed a mausoleum that had been a proposed U.N. World Heritage site, warning they would come back to persecute anyone who wasn't following their strict interpretation of Islamic law, witnesses told the Associated Press. A month earlier, the group killed three civilians and wounded 16 others when it attacked a U.N. barracks.
Human Rights Watch reported in April that "an Islamist armed group sometimes referred to as the Macina Liberation Movement" has committed "serious abuses," killing at least five men who it thought were either working as guides for or providing information to the military. Witnesses told HRW the group "dragged a chief of a village near Diourna from his home and executed him" and that it killed another man in a market the next day, while burning government buildings and toppling a communications tower.
Through flyers and public meetings, the group has threatened to kill anyone who collaborated with the U.N., French forces or the Mali government.
These militants didn't come out of nowhere. Since Mali became independent of France in 1960, its vast northern region, which is mostly desert and home to just 10 percent of its population of 15 million, has been largely neglected by authorities in the capital of Bamako. Eventually, it became dominated by various rebel factions led by either Fulani or Tuareg ethnic groups, which rose against the government to demand more autonomy. By 2012, Islamist groups such as the Movement for Unity and Jihad in West Africa and Ansar Dine, aligned with al Qaeda in the Islamic Maghreb (AQIM), took advantage of the chaos to gain territory for themselves.
This development prompted a French-led military intervention to keep them from pushing farther south to Bamako. The intervention eventually drove them out of most major northern cities, but Tuareg rebel groups continued to clash with government forces. Despite a ceasefire agreement reached in 2014, fighting continued, and the success of rebel groups largely drove Mali's forces out of the region.
"The government botched its return to the north, and has now largely pulled out of it," the International Crisis Group said in a November 2014 report, noting the "integration of former rebels into the armed forces generated a lot of frustration across the board" and that "northern Mali has experienced a resurgence in violence, in particular because of jihadi activities and clashes between political armed groups."
It is in this anarchic environment that the new Macina Liberation Movement emerged.
"There seems to be evidence that the Movement for the Liberation of Macina arose among ethnic Fulani Islamists influenced by preachers with links to Iyad ag Ghali," said J. Peter Pham, head of the Atlantic Council's Africa Center. Ghali was the founder of Ansar Dine and had been lying low until August 2014, when he appeared in an AQIM video calling on Muslims to rise up against France, "which detests Islam."
Witnesses say the fighters do appear to be of Fulani ethnicity, which is logical because the group's name recalls a 19th century Fulani state, led by a Muslim preacher.
"The use of the name and appeal to the history of Macina may be a vehicle to make Iyad ag Ghali's Islamism more palatable to Fulani," Pham said. "Whether there is more to it or not is too early to tell."
Whoever they are, they seem interested in peace talks. Their actions, along with a rash of attacks from by groups in recent weeks, are causing the U.N. Security Council "deep concern." Next week, an alliance of rebel groups is scheduled to meet Malian officials in Bamako to sign an Accord for Peace and Reconciliation in Mali. Brokered in Algeria during the past eight months and supported by the U.N., the accord would decentralize government resources, giving more power to local authorities and laying the groundwork for a charter to help end future hostilities.
© Copyright IBTimes 2023. All rights reserved.