Misao Okawa, The World's Oldest Woman, And 39 Other Female Supercentenarians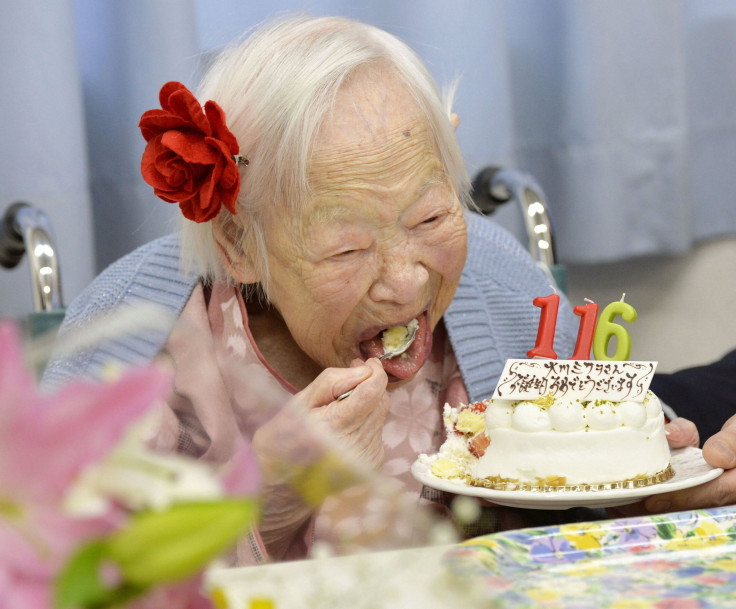 The world lost its "Oldest Man," Alexander Imich, at the age of 111 Sunday, but the "World's Oldest Woman," Misao Okawa, is still alive and well at an impressive 116 years of age. While Okawa, a native and current resident of Japan, may hold the Guinness World Records title for oldest female, she isn't the only supercentenarian (110 years of age or older) woman.
According to data collected by the Gerontology Research Group and a table compiled by IBTimes, Okawa, born in 1898, is in the company of 39 other females over the age of 100 as of May 2014.
Following closely in Okawa's footsteps, Emma Morano-Martinuzzi of Italy, born in 1899, is 115 years of age. United Kingdom resident Ethel Lang comes in as the third oldest woman with a birth year of 1900 and a current age of 114. In fourth place, Merle Barwis, formerly of the U.S. and currently of Canada, and in fifth place, Nabi Tajima of Japan, also share a birth year of 1900.
The youngest of the world's living female supercentenarians is Vincenza Balassone-Colucci, formerly of Italy and currently of New York, U.S. Born in 1903, Balassone-Colucci, is now 111-years-old. Following Imich's death, the world's oldest man is now 111-year-old Sakari Momoi, from Japan.
The list of the fourty oldest women in the world can be viewed below.
© Copyright IBTimes 2023. All rights reserved.