NASA Shares California Wildfire Images From Space, Blames Lightning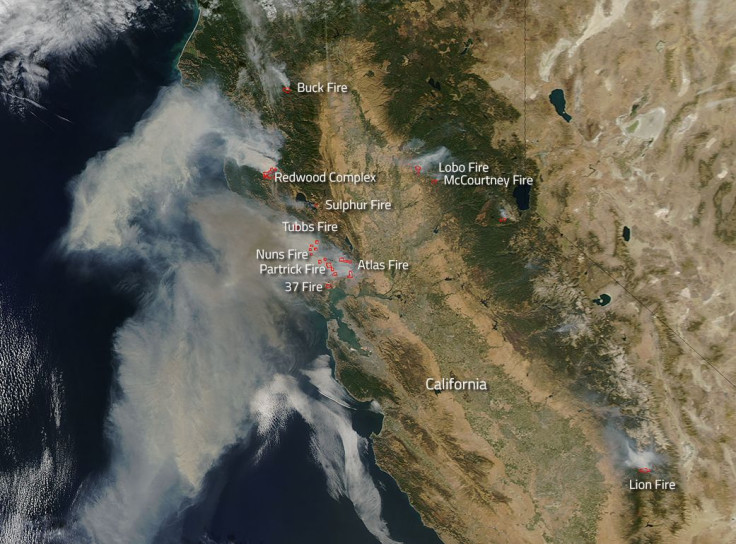 The wildfires that have been ravaging California for the past few days are creating enough smoke to be seen from space.
NASA shared an image of the northern part of the state that shows smoke fanning off the land and over the Pacific Ocean. There are several wildfires blazing through northern California in the Napa, Sonoma, Mendocino and Nevada counties, among others, and a bunch of them are labeled in this satellite photo from the space agency. In Napa, there are the Atlas, Tubbs and Partrick fires; in Sonoma are the Nuns and 37 fires; the Mendocino area shows the Redwood Complex fire; in Nevada are the McCourtney and Lobo fires; there is the Sulphur fire in Lake County; and the Buck fire is smoking in Trinity County.
The labeled fires match reports from the California Department of Forestry and Fire Protection, also known as Cal Fire.
Actively burning areas are outlined in red on NASA's aerial image, taken with its Aqua satellite on Monday.
Cal Fire has announced that more than 115,000 acres have burned in the wildfires that have sprung up over the last few days. In Napa, Sonoma, Mendocino and Yuba, at least 11 people died. About 1,500 homes and commercial buildings have been torched as well.
"Sixty mile an hour winds did nothing to help either quell or stop the runaway fires from jumping fire lines and decimating whole neighborhoods," NASA said.
And while state officials have not said what caused the wildfires, the space agency pointed the finger at lightning.
"Dry, hot conditions which have been problematic for much of the west coast this summer erupted into flames after a series of lightning strikes," NASA said. "October is always a difficult time in California for wildfires, but this year, the wildfire eruptions seem extreme even to the most seasoned Californian. The deadly combination of lightning, winds, and hot weather which dries the landscape into tinder is all it takes to set off a wildfire that will consume thousands and thousands of acres in just a few short hours."
According to the National Weather Service, a flash of lightning most often appears in a flicker-like motion, but sometimes lightning can flash in a continuous flow of electricity. In the latter flash, the lightning heats up an object and can cause it to ignite.
Wildfires can start from just a small spark when the vegetation is very dry and high winds blow around the flames.
Although that spark can come from a natural source like lightning, wildfires often start from manmade sparks, such as those from vehicles dragging chains or other metal on the highway; cigarette butts; campfires; and arson. Sometimes wildfires start when high winds blow tree branches into electric lines, causing sparks to fly.
The blazes are dangerous to people because of their intense heat and toxic smoke, among other hazards.
The images released on Tuesday do not represent the first time a NASA satellite has been able to see wildfires from space. Just last month, the space agency shared a satellite image of wildfires that were smoking up Oregon and northern California. In July, NASA captured images of fires in Montana, Nevada and Arizona. There have been many other views captured earlier this year and in past years.
© Copyright IBTimes 2023. All rights reserved.
FOLLOW MORE IBT NEWS ON THE BELOW CHANNELS