New Year's Eve 2016 Live Stream: Where To Watch The Times Square Ball Drop Online, On TV [VIDEO]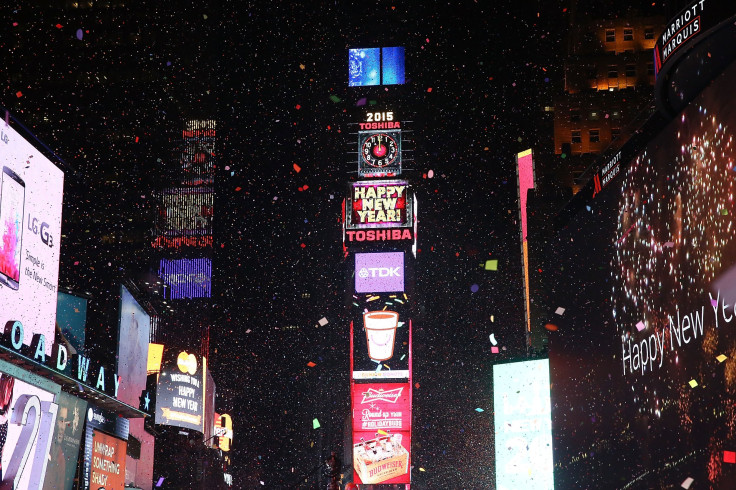 The weather on the U.S. East Coast has been unseasonably warm in December, which is great news for the close to 1 million revelers who plan to ring in the new year in the streets of New York. The New Year's Eve 2016 ball drop from Times Square is a time-honored way to say goodbye to the past year and welcome the next 366 days. (2016 is a leap year.) With so many street closures — and expensive tickets at Olive Garden — braving the sardine-packed Times Square crowd may not be the best move for most people. Luckily, there's a New Year's Eve 2016 live stream that can be viewed anywhere around the world beginning at 5:55 p.m. EST. Allison Hagendorf will return to host the New Year's Eve webcast.
The New Year's Eve 2016 Times Square Ball Drop will be headlined by Jessie J performing "Imagine" by John Lennon. Well before midnight, the performances begin at 6 p.m. EST with the raising of the Times Square New Year's Eve Ball. The first performance is the Sino-American Friendship Association Chinese Cultural Performance at 6:07, followed by a Good Riddance Day highlight package at 6:53.
CNN anchor Anderson Cooper will host the hourly countdown of the Times Square Ball Drop beginning at 6:58 p.m. EST. The USO Show Troupe performs a military salute at 7:05. Jenny McCarthy will take the stage at 7:23 for a "Judgment Free" event.
The first musical performance of the night from Times Square begins at 8:05 p.m. EST with Daya performing "Sit Still Look Pretty," "Hide Away" and "Empire State of Mind." Wiz Khalifa takes over the Countdown Stage to perform "See You Again" with Charlie Puth as part of ABC's "Dick Clark's New Year's Rockin' Eve" broadcast.
Science has been an important part of 2015, from the discovery of water on Mars to the exploration of Pluto, so it's only fitting that Bill Nye will have a special "Happy New Year" message at 8:47 p.m. EST. The Science Guy will also handle the hourly countdown duties at 8:58.
Jessie J will be pulling double duty as the New Year's Eve 2016 headliner. The British singer performs "Price Tag," "Domino" and "Bang Bang" on the Planet Fitness Stage at 9:11 p.m. EST. Demi Lovato will follow her performance with a medley of "Cool for the Summer" and "Confident" for ABC's "Dick Clark's New Year's Rockin' Eve" at 9:34. Univision will present "¡Feliz 2016!" from Times Square with a performance by CNCO at 10:02. CNCO won the network's reality singing competition "La Banda."
For a great moment to close out 2015, be sure to watch the New Year's Eve 2016 broadcast at 10:15 p.m. EST when a wedding ceremony to ring in 2016 takes place on the Countdown Stage.
Country superstar Luke Bryan takes the Countdown Stage for a medley of "Move" and "That's My Kinda Night" at 10:37 p.m. EST for "Dick Clark's New Year's Rockin' Eve." Univision presents a performance by Maluma at 11:02.
By 11, Times Square revelers will have spent eight hours in the heart of New Year City. That's a long time to be surrounded by approximately a million people, but by that point many strangers have likely become friends. There's also comfort knowing there's just one more hour left in 2015. Getting out of Times Square in 2016 is a different story entirely.
The Associated Press looks back at 2015 with a special year-end video highlight beginning at 11:15 p.m. EST. The news organization will squeeze all the great moments of 2015 into a video that lasts under three minutes.
Carrie Underwood is the penultimate performance of the night. Underwood will perform "Smoke Break," "Heartbeat" and "Before He Cheats" for "Dick Clark's New Year's Rockin' Eve" at 11:38 p.m. EST.
Jessie J takes the stage for the last time in 2015 with a performance of "Masterpiece " and John Lennon's "Imagine" at 11:51 p.m. EST. Her set will end at 11:58 to kick off the 60-second countdown.
New York City Mayor Bill deBlasio will push the button that begins the New Year's Eve Times Square Ball Drop. The massive ball weighing 11,875 pounds will take its time descending 70 feet.
If you want more New Year's Eve 2016 celebrations, there will be television broadcasts from around the world. Ryan Seacrest, Fergie and Jenny McCarthy are hosting "Dick Clark's New Year's Rockin' Eve" beginning at 8 p.m. EST with additional performances by Nick Jonas, 5 Seconds of Summer, Ellie Goulding and the world premiere of Taylor Swift's music video for "Out of the Woods." NBC's "New Year's Eve with Carson Daly" from Times Square will include a performance by Gwen Stefani. Fox has "Pitbull's New Year's Revolution, Part 2" from Miami and CNN is celebrating with Cooper and Kathy Griffin.
Since this is 2015, people will be sharing their thoughts on Twitter. Make sure to tag tweets with "#BallDrop" for a chance to have your message appear on the massive screens in Times Square. The festivities in New York City end at 12:15 a.m. EST.
You can watch the New Year's Eve 2016 live stream below.
© Copyright IBTimes 2023. All rights reserved.
FOLLOW MORE IBT NEWS ON THE BELOW CHANNELS