Olympics Opening Ceremony 2016: Performers, Schedule, Broadcasters For Rio Summer Games Event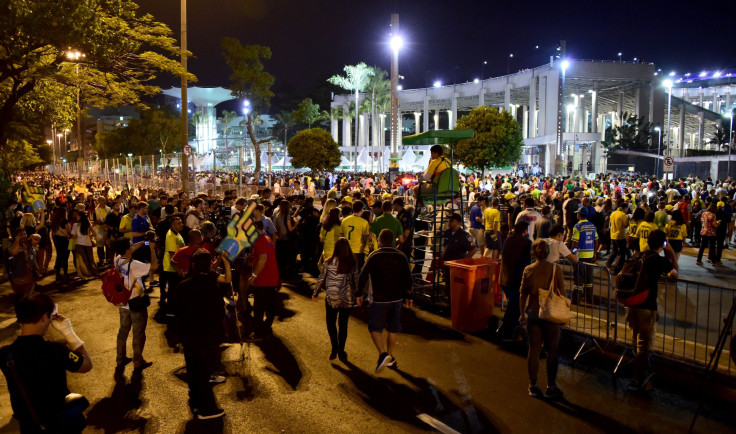 The 2016 Summer Olympics are finally here with the opening ceremony taking place at the famed Maracana Stadium in Rio de Janeiro on Friday night. Television coverage is set to begin at 7:30 p.m. ET on a one-hour tape delay in the U.S. on NBC, and can be streamed on the NBC Sports App.
In the four-hour event, supermodel Gisele Bundchen will do a catwalk to "The Girl From Ipanema," singers Caetano Veloso, Elza Soares, Gilberto Gil will perform, and actress Judi Dench will read a poem. There will also be a call for peace with music, dances, and 3D projections but with an emphasis on Brazil's culture and natural attractions. There should be no shortage of samba drums, singers and dancers at the event.
"It will be a reinterpretation of Brazil," Leonardo Caetano, one of four directors the event, told BBC Brazil. "We will have a moment in which we will show...the Brazilian way of receiving people. The second is the 'Garden'. Brazil lives on the largest green reserve in the world and this is an important issue for us."
But the festivities will be toned down the 2012 London Games due to budget concerns. The opening ceremony for the London Games had cost £27 million out of an £80 million estimated budget.
"I guess I'd be ashamed to waste what London spent in a country where we need sanitation, where education needs money ... So I'm very glad we are not spending money like crazy," said director Fernando Meirelles.
The Parade of Nations, which includes 11,000 competitors from 205 countries, will enter in alphabetical order in Portuguese. Greece, the first country to host the Games, marches first. Host nation Brazil will be last.
Swimmer Michael Phelps has been chosen to lead Team USA. The 31-year-old is the most accomplished Olympian of all-time with 22 medals. Phelps first competed in the 2004 Olympics in Athens.
NBC's list of broadcasters include Matt Lauer, Meredith Vieira, and Hoda Kotb of "Today." They are joined by veteran sportscaster Bob Costas, along with Michele Tafoya and Ros Gold-Onwude reporting from Maracana Stadium.
© Copyright IBTimes 2023. All rights reserved.