Paced Email Review 2022: Is This AppSumo Tool The Best Email Organizer App?
This article uses affiliate links, which means if you purchase products through these links, we may earn a commission. Click here to see our
T&C
. For licensing please click
here
.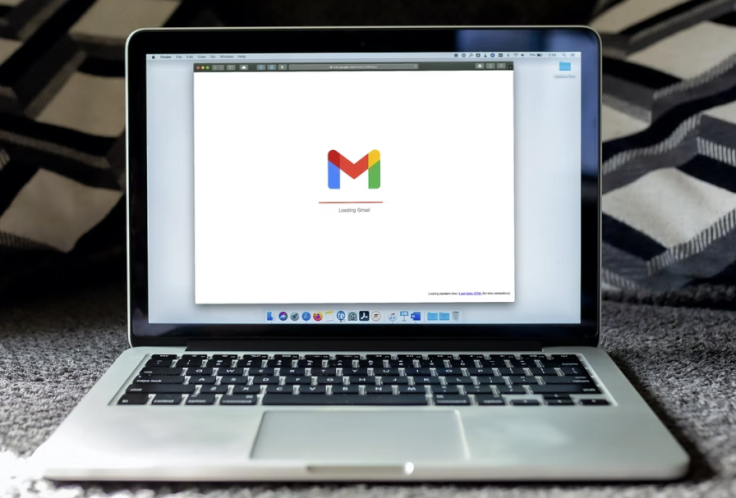 While there's no denying that electronic mail has forever revolutionized the way we communicate, it can also be a source of stress like anything else.
This is because it wastes time, can lead to digital clutter and can be a challenge to organize. Thankfully, several email apps have popped up, helping people organize their emails.
Aspiring to achieve "inbox zero," refers to keeping your inbox empty as much as possible. But that can be very challenging as we receive hundreds of emails on a daily basis.
If you need help organizing your email inbox, check out Paced Email, which is one of the most popular choices for email organization software.
Best Email Organization Software?
Paced Email is an email organizer tool that controls when and how you receive your emails.

paced.email
Paced Email is a specialized tool that will keep you from inbox distractions by batching frequent emails into paced summaries, hence its name, Paced Email.
This is useful for professionals who are always busy as keeping your email inbox organized can contribute to your overall productivity. No matter how important emails are, our productivity is affected if we get tons of emails and spend hours every day going through each one.
Paced Email helps you decide when emails are accepted in your inbox. This way, you have a buffer from emails until the time you can go through them. When they do get delivered, it's via convenient digests that wouldn't overwhelm you.
The sign-up process is quick and easy. Just sign up for a free account and choose a username. From there, you can make an alias and an inbox name where you can indicate how frequently you want to receive digest email.

Once you have all your email inboxes in the Paced Email dashboard, you can choose whether you want to merge your emails on a daily, weekly, or monthly basis and send them to your original email address. It's that easy!
Features and Offerings
Paced Email keeps your productivity levels up by holding your emails and organizing how they'll appear to you.

paced.email
When it comes to features, you'll be pleased to know that Paced Email has a lot of useful ones.
For example, you can generate burner emails that you can use to sign up on websites and services without revealing your real email address or you can respond by using the email alias that you made in Paced Email.
It also allows you to manually trigger your digests in case you want to expedite a summary email before it's due. It's as simple as writing down your email address and just as quick.
There's also a feature called Action Mailbox, which automatically handles and processes inbound emails to smoothly schedule your digest's delivery.
Paced Email also helps you protect your primary email address from spam emails, promotional emails, or worse, malicious emails.
As for its full set of features, Paced Email's Premium Plan comes with:
Unlimited inbox aliases
Unlimited digests
Unlimited inbound email handling
Full scheduling of digest deliveries
Filtering, bypass and forwarding rules to triage your emails
Unlimited usernames to your account
Unlimited recipients for digests
Custom domain names enabled
Send email from aliases (compose and reply)
Receive latest updates first
Expedited expert support
Pricing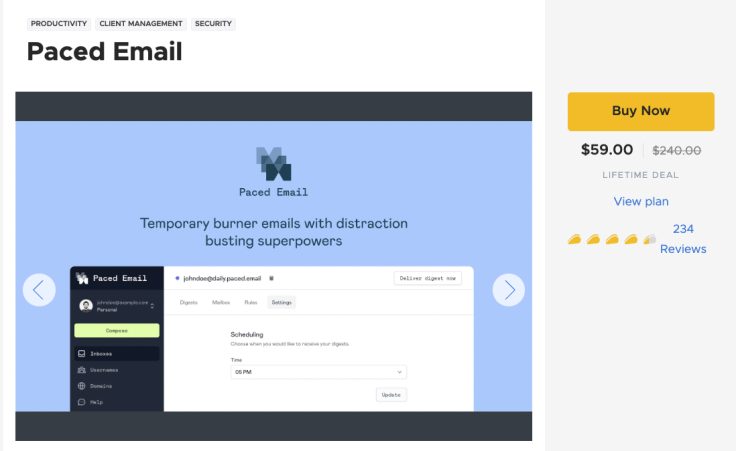 As for pricing, you'd be pleased to know that Paced Email comes with a very wallet-friendly price point.
The Basic package is FREE, letting you use it for up to five email addresses.
Meanwhile, the Premium package gives you the full suite of features for only $10/ month, with two months free. There's even a 25% discount for students and nonprofits.
But, if you're really looking for maximum savings, you can get lifetime access to Paced Email for a one-time payment of $59 if you purchase from AppSumo.
Conclusion
While useful and essential, emails can sometimes be a real pain, leading to wasted time and non-productivity.
Luckily, Paced Email is here to give you better control of your email inbox as one of the best email organization apps today, helping you stay organized. Learn more about Paced Email by clicking here.