Best 4K Laser Projector: WEMAX Nova Smart Projector Review
This article uses affiliate links, which means if you purchase products through these links, we may earn a commission. Click here to see our
T&C
. For licensing please click
here
.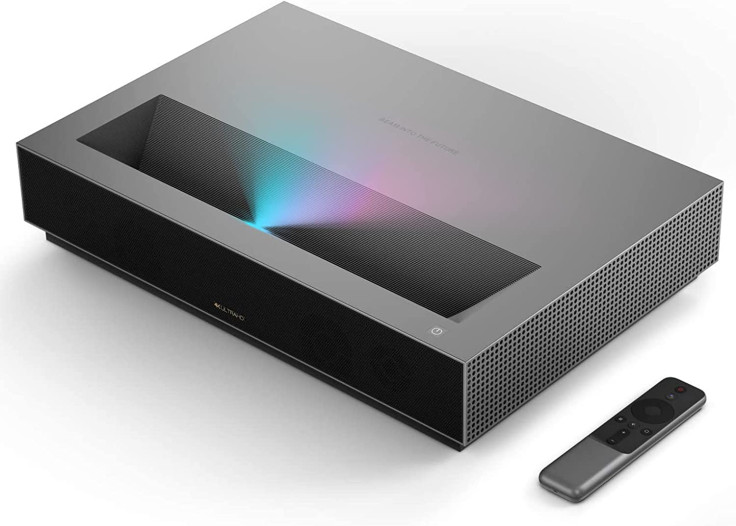 Technology has come a long way when it comes to quality and size. Massive wall-to-wall TVs already exist, a far cry from the picture tube televisions of the 90s. Though nothing still beats the audio and video quality of a fully-decked-out theater, it's possible to get a decent viewing, listening and gaming experience at home with the right projector. The WeMax Nova Smart Projector provides some of the best 4K laser projector experiences out there.
Let's go over its features one by one:
Product Inclusions
The Wemax Nova Smart Projector comes with everything you will expect from a short-throw projector:
1 WEMAX NOVA Laser Projector
1 Remote Control
1 Power Cord
1 User Manual (which can also be downloaded in PDF)
1 Cleaning Cloth
Input
HDMI 2.0 - 3
Composite Video - 1 (3.5mm)
USB 2.0 - 2 (1 x Side, 1 x Rear)
Ethernet (LAN) - 1 (RJ-45)
Headphone - 1 (3.5mm)
S/PDIF - 1
Audio
Speaker Output - 30W (10W x 2 Full Range, 5W x 2 Tweeter)
Audio Processor - Dolby Audio
Audio Decoder - DTS-HD
Power and Battery
Power Consumption - <300W
Standby Consumption - <0.5W
Power Input: 100-120/200-240V~ 3/2.5A 50/60Hz
The 4K laser projector is 18x12x3.6inch in size and weighs 7.0kgs. The cleaning cloth comes in handy when you want to ensure great quality of projected images. Though the product does have HDMI 2.0-3 input, the package does not have an HDMI cord included.
Using the product for the first time, you'll notice the relative silence of the projector in operation. At 32dB, there's barely a whisper in the background, which provides an immersive experience. It does reach up to 40°C when in operation, so make sure it is properly ventilated for heat to dissipate easily.
A Projector And Standalone Speaker In One
The WeMax Nova Smart Projector gives you a 120-inch screen at a 13-inch distance from the wall. That's about 0.233:1 – an ultra short-throw ratio. If you want to get a 150-inch screen, you will need a relative distance of 19.3" and a relative height of 19.7". It's a good size for that relative space, which means the 4K laser projector can be used to equip a home theater even with a small space.
You might notice an issue with the edge line at the top not being straight, but with a good screen frame, it's an issue that can be overlooked.
Compared to other short projectors, it comes out cheaper but produces some of the most vibrant colors, giving good value for the $2699.99 price tag. It can project up to 2,100 ANSI lumens of brightness with over 25,000 light source hours and can also work as a speaker. The projector has a 30W multi-array speaker output with standalone Bluetooth speaker mode. With a contrast ratio of 3000:1, using this 4K laser projector can provide a theater-like viewing experience at home or anywhere. It goes without saying that the setup would sound much better with a complete home theater system.
Compatible With Major Android Apps and Chromecast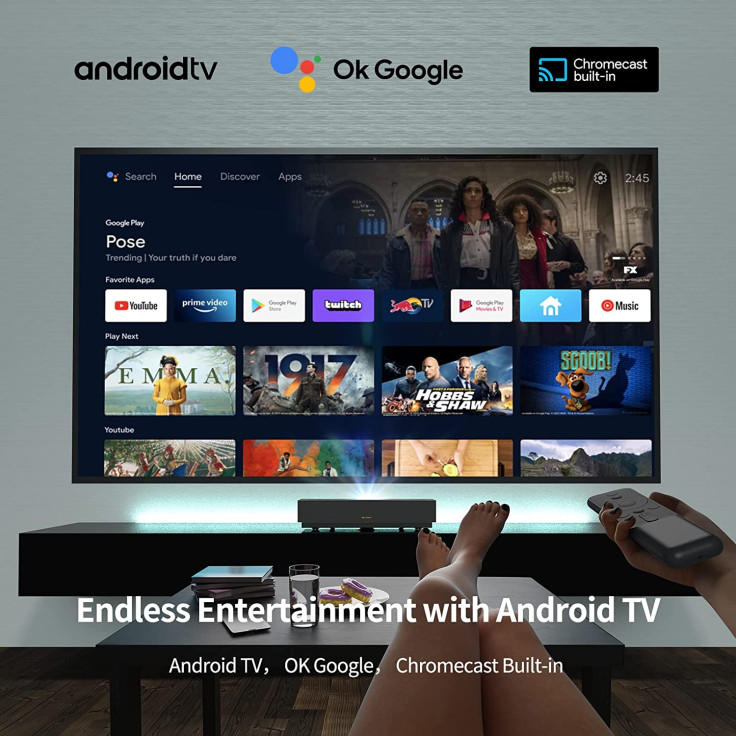 The WeMax Nova Smart Projector has Android TV 9.0 with Chromecast built-in. Navigating the menu is straightforward and overall, it is easy to use. The WiFi 5 wireless connectivity is also a plus.
To play 4K HDR content using a 4K HDMI source, simply turn on HDMI 2.0 from the home dashboard, navigate to "Inputs" and select the HDMI 4K device. From the HDMI input, pressing and holding the remote's select button will show the TV Options menu. From the settings, toggling on and off the HDMI 2.0 button is easy as well.
The projector also comes with a Google Assistant. Google TV can sometimes be a bit slow, but it supports major apps such as YouTube, YouTubeTV, YouTube Kids, Disney+, Hulu, Vudu, HBOMax, Peacock, Showtime, ESPN, Crunchyroll, Nick, Cartoon Network and PBS Kids. Do take note that the native apps for Netflix, HBO Max and Amazon Prime can only do 1080p, a limitation attributed to Android TVs, not WeMax itself. If you have an Amazon Fire stick, you can use the HDMI input to project 4K content from these apps with no issues.
Ultra-Clear Entertainment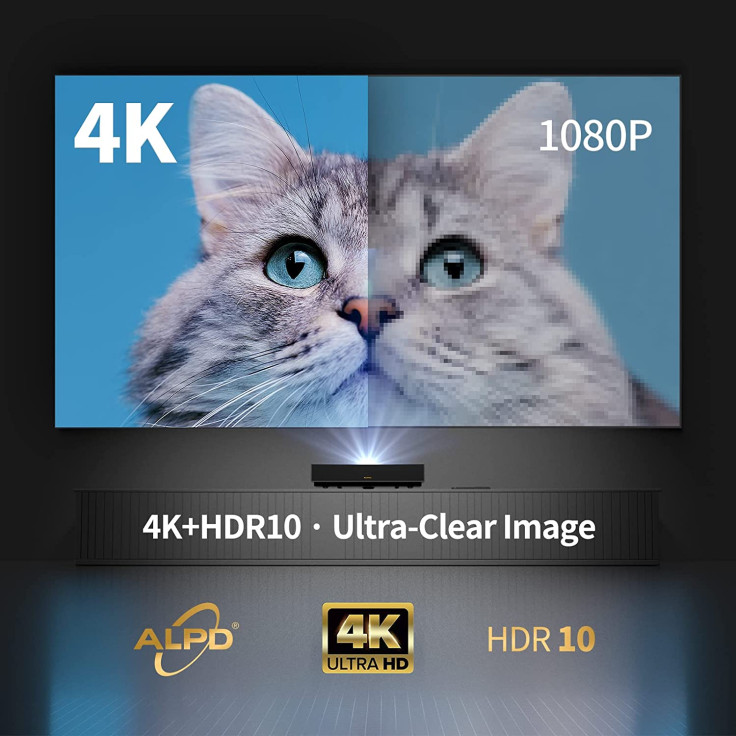 According to the product manufacturer's website, the device performs best on a level surface. It can easily be mounted on a regular TV stand, especially if you are using it as a TV replacement. No need to buy an additional console to support this.
When setting up the device for the first time, a level surface does help in the keystone correction using the 4-point or 8-point adjustments. You might have to try both to see the best results for your display. You may notice warping if you are not using an ALR screen, especially if the wall you are projecting on is not entirely flat. If you have an ALR or CLR screen, this should not be a problem.
If you opt to mount the projector on a ceiling, the WeMax Nova Smart Projector transforms into a great companion for movie-watching or gaming. Just make sure you set the correct mode for your purpose, as there is a stark difference between movie and game mode and your choice may make or break your experience with the projector. With everything set up properly for family use, the display is comparable to the quality of content projected by devices twice its price.
When using Chromecast, one thing to take note of is that it does not save where you left off.
Other technical specs of the Wemax Nova Smart Projector are as follows:
Resolution - 3840 x 2160 (4K UHD)
Light Engine - ALPD Laser
Throw Ratio - 0.233:1
Display Size - 80 - 150"
Hardware/Video/Audio
Focus - Manual Focus
Keystone Correction - 8 Point Keystone Correction
HDR - HDR10
CPU - T962X-H
RAM - 2GB DDR3
Storage - 32GB
Bluetooth - 4.1/BLE
WiFi - 2.4/5GHz
WeMax Nova Smart Projector: The Best 4K Laser Projector For Its Price
The WeMax Nova Smart Projector is a good option if you are looking for a TV replacement that does not compromise quality. For a price that is less than $3000, you get streaming quality comparable to higher-end short-throw laser projectors. Installing and using the laser projector poses few problems, but you do need to make sure you are choosing the right settings for your viewing or gaming needs.
One thing to beware of: Projecting 4K on a wall may sometimes result in glares, so if you have the budget to spare, invest in an ALR screen. With this set-up, you are maximizing the potential of your 4K laser projector, and the price of the projector and the screen would still be more cost-effective compared to investing in a higher-end TV that takes multiple people to set up.
With the best 4K laser projector for its price, you can watch, stream and play to your heart's content. Learn more about the WeMax Nova Smart Projector here.
© Copyright IBTimes 2022. All rights reserved.
FOLLOW MORE IBT NEWS ON THE BELOW CHANNELS