Pasha P183, 'The Russian Banksy,' Dies At 29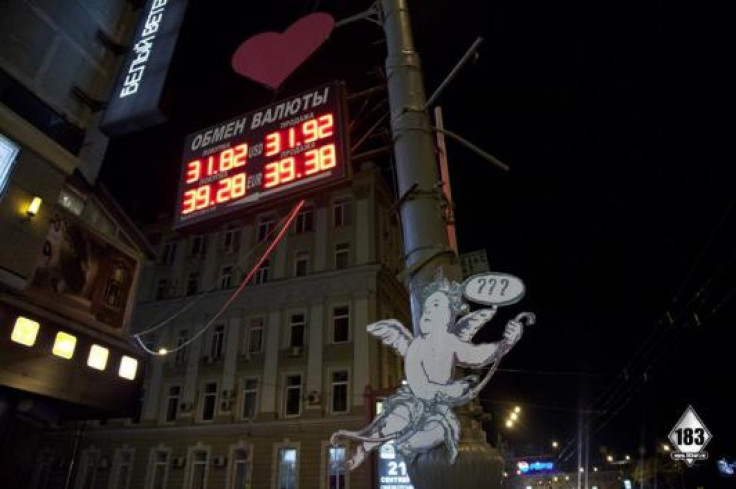 Pasha P183, a street graffiti artist widely known as the "Russian Banksy," was found dead in Moscow on Monday at the age of 29.
According to the Associated Press, the Teatralnoye Delo theatrical production company was the first to announce his death. At the time of his death, Pasha P183 was working on creating scenery for their musical "Todd." Teatralnoye Delo did not release any further information about Pasha P183's identity or the circumstances of his death.
One of Pasha P183's most recognizable works was a giant pair of glasses created in the snow, using a street light to help complete the image. The work can only be seen correctly from certain angles, creating an almost interactive street art installation. Other subjects of Pasha P183's work include protesters and imposing figures of authority.
Very little information is known about Pasha P183's personal life, even after his death. His personal website reveals (in Russian) that Pasha P183 was born in Moscow in 1983 and that he held degrees in both communicative design and law. Other than that, the site says notoriously little about his personal identity.
Despite his attempts to remain anonymous, Pasha P183 didn't exactly shy away from the public eye. The artist gave interviews to the Guardian, Russia Today and other news outlets to explain the "anarchist" perspective behind his street art.
"Put simply, I want to teach people in this country to tell lies from the truth and to tell bad from good. This is what our people still cannot do," Pasha P183 told Russia Today in a TV interview. The Associated Press notes that the artist wore a black balaclava during the interview to conceal his identity.
While Pasha P183 was dubbed the "Russian Banksy" by the Guardian and other media sources, Pasha P183 always claimed the similarities between Banksy and himself were merely coincidental and a product of their shared political goals.
"I fully understand that we both have a common cause, but I never sought to emulate him or anyone else," P183 told the Guardian in 2012. "I use the songs of people such as Yegor Letov and Konstantin Kinchev for inspiration -- not public figures."
"Todd," the musical Pasha P183 was working on at the time of his death, is currently playing in Moscow.
© Copyright IBTimes 2023. All rights reserved.