Planned Parenthood Slams Pope Francis Over Abortion Speech, Women's Rights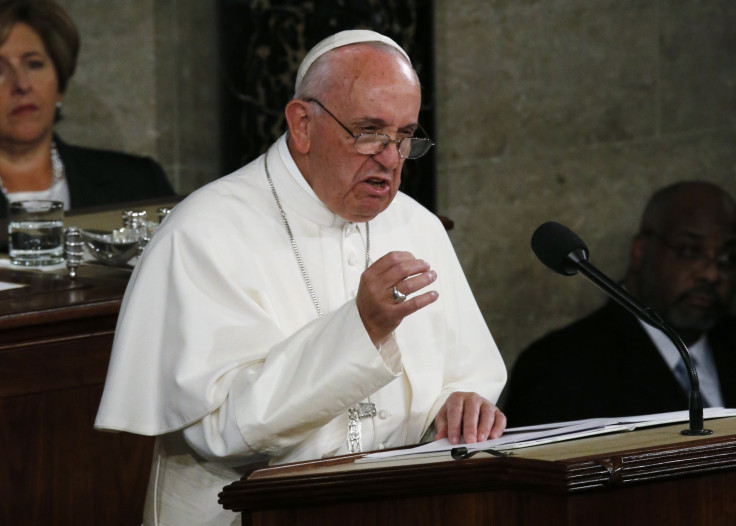 Planned Parenthood had harsh words for Pope Francis after the leader of the Roman Catholic Church championed life -- including before birth -- in his address to Congress on Thursday. Francis and the church are limiting women's rights by urging Catholics not to use contraception, said a spokesman for the women's health organization.
"Despite Pope Francis' progressive stance on climate change and economic equity, he has taken a back seat when it comes to reproductive health and women's rights," said Alexander Sanger, board member of the International Planned Parenthood Federation for the Western Hemisphere Region, in a statement Friday. "The pope and the Catholic Church must acknowledge the fact that 99 percent of Catholic women use contraception and have abortions at the same rate as other women. His pursuit to stifle contraception access reduces women to basic purveyors of biological materials and denies them the right to plan their own families. The pope has to listen to what women want, and women all over the world want access to contraception."
Francis obliquely referenced abortion during his historic speech to Congress -- the first for a pope. "I cannot hide my concern for the family, which is threatened, perhaps as never before, from within and without," the pope told the crowd of legislators, Supreme Court justices and multiple presidential candidates.
The Catholic Church forbids the use of contraceptives and abortions. Francis, however, recently told priests they could absolve women who confess to "the sin of abortion" during the church's coming Year of Mercy if they seek forgiveness with a "contrite heart."
Francis said in January that families are under threat from efforts to "redefine family" and a culture that lacks "openness to life."
Abortion access has been under attack in recent years in the United States by conservative lawmakers. Roughly one in three American women will have an abortion in the first 12 weeks of pregnancy, data indicates.
© Copyright IBTimes 2023. All rights reserved.