Campaign 2016: Hillary Clinton Says She Is Unaware Of Big Money That Oil And Gas Companies Have Given Her And Family Foundation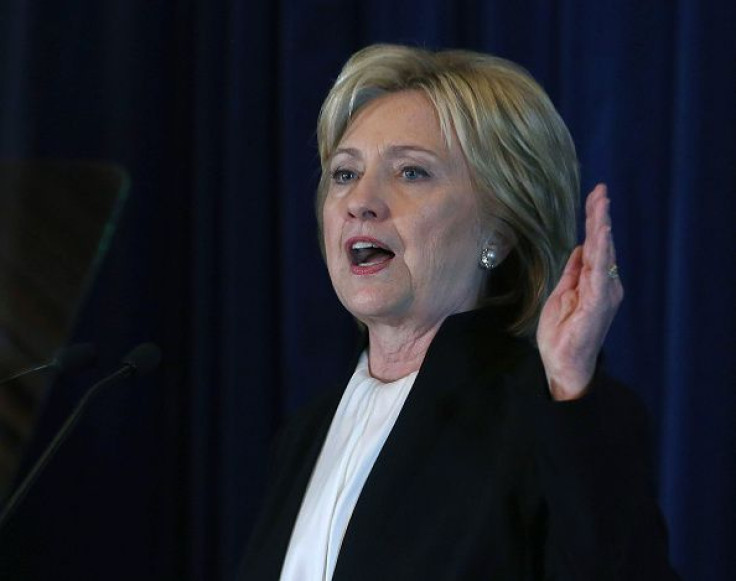 Hillary Clinton expressed surprise Wednesday when a voter at a town hall in Iowa demanded she stop taking money from the fossil fuel companies. "Well, I don't know that I ever have," Clinton said. "I'm not exactly one of their favorites."
The former secretary of state — who had been pressed on the same topic at an event this summer — made those comments despite her long history of accepting millions of dollars of campaign and philanthropic money from energy companies and lobbyists and in spite of her concurrent moves as a government official to help the fossil fuel industry. Indeed, while Clinton asserted this week in Iowa that she is "not in favor of drilling off our coasts," as a senator, she broke with Democrats such as then-Sen. Barack Obama to vote to expand offshore drilling in the Gulf of Mexico.
While Clinton remains the front-runner for the Democratic presidential nomination, she has faced pressure from the left from Vermont's independent senator, Bernie Sanders, and former Maryland Gov. Martin O'Malley. Both Sanders and O'Malley signed a pledge in July to "neither solicit nor accept campaign contributions from any oil, gas or coal company." Clinton has offered a plan to greatly expand renewable energy usage, but she did not sign the pledge.
Oil and gas companies have contributed more than $700,000 to Clinton's campaigns throughout her political career, according to data compiled by the Center for Responsive Politics. In 2008, she was the seventh-largest recipient of oil and gas campaign cash in the entire Congress. Meanwhile, oil giant ExxonMobil has given at least $1 million to the Clinton Foundation and $2 million to its event arm, called the Clinton Global Initiative, according to the Wall Street Journal. ExxonMobil has contributed $16.8 million to Vital Voices, a nonprofit that Clinton co-founded to empower women, the paper reported.
In her 2016 bid, Clinton has relied on a slew of current and former advocates for the oil and gas industry for fundraising support — including Tony Podesta, the brother of Clinton's campaign chair, John Podesta. As recently as this year, Tony Podesta has lobbied for BP, the company responsible for the Deepwater Horizon oil spill in the Gulf of Mexico, the worst environmental disaster in U.S. history. He has also lobbied for a company part-owned by ExxonMobil. Podesta has raised over $130,000 for Clinton's campaign, according to federal election records.
As a senator, Clinton voted twice in favor of expanding offshore drilling in the Gulf of Mexico and to end restrictions on drilling off the coast of Florida. During her time leading the State Department, the agency signed the "U.S.-Mexico Transboundary Hydrocarbons Agreement" — a deal it said would help energy companies expand offshore drilling in the Gulf of Mexico. Clinton said the pact would "promote the safe, efficient and equitable exploration and production of cross-boundary reservoirs."
In September, Clinton announced her opposition to the controversial Keystone XL pipeline, which has since been rejected by the Obama administration. When Clinton was secretary of state, however, the department approved plans for a pipeline to transport tar-sands oil from Canada.
On Wednesday, discussing the issue of donations from the fossil fuel industry, Clinton appeared to dismiss the notion of rejecting checks based on donors' ties — although she previously promised to stop taking contributions from private prison lobbyists.
"Individuals who might have some connection to whatever industry, I'm not going to do a litmus test on them," she said. "I don't think there's a lot that support me; but the companies don't, because they know that I'm going to be very adamant about moving us toward clean, renewable energy.
© Copyright IBTimes 2023. All rights reserved.