Hillary Clinton 2016: DC Lobbyists Set To Raise Cash For Hillary Victory Fund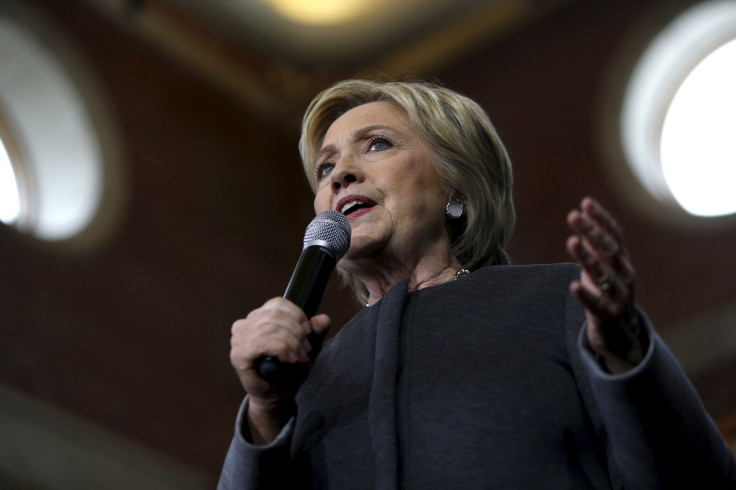 The Democratic National Committee's recent move to end its ban on contributions from federal lobbyists was widely seen as a boost to Hillary Clinton's campaign, which has ties to the Washington lobbying community. Clinton already appears to be taking advantage of the shift.
On Mar. 21, Clinton campaign chairman John Podesta and a handful of lobbying titans are scheduled to host a fundraiser for the Hillary Victory Fund, a joint fundraising account for the Clinton campaign, the DNC and 32 state parties. According to an invitation obtained by the Sunlight Foundation, Podesta's co-hosts include Steve Elmendorf, Jeff Forbes and Susan Brophy — all of whom were government officials before becoming lobbyists at top D.C. firms. The event with Podesta — whose brother is a corporate lobbyist and fundraising bundler for Clinton — follows a recent fundraising blitz by Clinton in which her campaign raised money from financial, energy and other industries that expect to have business before the next president.
The DNC's prohibition on lobbyist donations was instituted in 2008 at the behest of then-presidential candidate Barack Obama, who told voters: "They will not fund my party." Clinton's current Democratic primary opponent, Vermont Sen. Bernie Sanders, has pushed her to demand the DNC reinstate the lobbyist contribution ban. Clinton is already the top recipient of money from lobbyists in the 2016 campaign, the New York Times reported.
One of the lobbyists headlining the upcoming event, Elmendorf, donated $33,400 to the Hillary Victory Fund in October, months before the DNC said publicly it had lifted its contribution ban. A former chief of staff to then-Democratic House leader Richard Gephardt, Elmendorf is registered to lobby for Wall Street mega-bank Citigroup and entertainment and media company News Corporation.
Records show that Elmendorf previously lobbied for Goldman Sachs — a firm that's been criticized by Sanders, and which paid Clinton $675,000 in speaking fees. (She has refused to release transcripts of those speeches.) Elmendorf also lobbied Congress on behalf of the Colombian government to pass the Colombia Free Trade Agreement — a deal that Clinton opposed before pressing lawmakers to support it in her role as secretary of state. Elmendorf has raised $172,320 worth of donations for Clinton's campaign, according to Yahoo.
Both Elmendorf and Forbes — a founding partner at Forbes-Tate — have represented telecom giant Verizon as it's fought the Obama administration's net neutrality rules, which would prevent internet providers from blocking or slowing access to some websites.
Though Clinton bragged that drug companies dislike her, her supporter Forbes — a former chief of staff to Democratic Sen. Max Baucus — lobbies for Pharmaceutical Research and Manufacturers of America (PhRMA), the primary trade association representing the industry in Washington. In 2011, PhRMA paid Bill Clinton $200,000 for a speech while the organization was lobbying the Hillary Clinton-led State Department. PhRMA has pressed for the proposed 12-nation Trans-Pacific Partnership. Clinton and her staff supported the pact, but she reversed her position after becoming a presidential candidate, and she now opposes the deal.
Brophy, a managing director at the Glover Park Group, has lobbied the Obama administration and Congress for banking giant JPMorgan Chase. She's also advocated for energy company Exelon on federal environmental rules. Records show that Brophy and Elmendorf have worked with the National Football League in its lobbying on issues related to player safety. Brophy's biography says she worked as a top White House staffer in the Clinton administration, as well as a staffer to two Democratic lawmakers on Capitol Hill.
The Hillary Victory Fund event also lists Ann Castagnetti as a co-host of the event next month. Her husband, David, is a co-founder of Mehlman Castagnetti, where he's represented clients like Walmart. Clinton was once a Walmart board member, and the company's heir donated $353,000 to the Hillary Victory Fund. Castagnetti lobbied lawmakers for Valeant Pharmaceuticals, which disclosed Monday it's being investigated by the Securities and Exchange Commission.
While joint fundraising committees are designed to collect donations and split them among their designated beneficiaries, the Washington Post recently reported that "states have yet to see a financial windfall" from the Hillary Victory Fund, even as it's been a boon to Clinton and the national party.
© Copyright IBTimes 2023. All rights reserved.