Obamacare Architect Kathleen Sebelius Questions Proposed Healthcare Insurance Mergers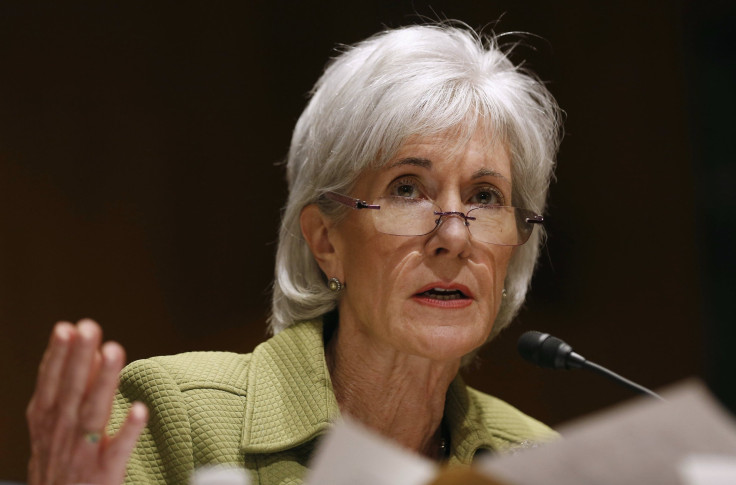 One of the key architects of President Barack Obama's Affordable Care Act is raising questions about the potential consequences of two giant healthcare insurance mergers that could affect millions of Americans now facing rising premiums. In an interview this week with International Business Times about the pending Anthem-Cigna and Aetna-Humana mergers, former Health and Human Services Secretary Kathleen Sebelius asserted that mergers have tended to reduce competition and raise costs for consumers.
"I am concerned about the possibility that mergers of these companies will lead to less competition which in historic perspective means higher prices and fewer choices," said Sebelius, who before serving in Obama's cabinet was a Kansas insurance commissioner and governor. "To go from five major insurance companies to three insurance companies is a dramatically different playing field across the board, so this will impact every state, every population, just given the size of these mergers."
The two mergers, which were announced in 2015, are now undergoing reviews by both federal and state regulators charged with making sure they do not restrict competition and harm consumers. Sebelius said that "part of the premise of the Affordable Care Act" was to engender the kind of competition that mergers can threaten.
"Creating a marketplace structure and encouraging additional companies to come into the market [was] certainly part of the overall strategy" of the Affordable Care Act, she said. "Competition actually is a great price lever, and competition gives not only more choices to consumers but typically better prices to consumers."
Executives for the companies have argued that the mergers will bring greater efficiencies and cost savings, ultimately benefiting consumers.
"It's going to increase choice, not decrease choice. It's going to increase affordability, not decrease affordability," said Cigna CEO David Cordani, who Bloomberg News says could reap a personal $58 million windfall if the deal goes through, depending on the personnel changes at the new company. That payout is second only to the $131 million that could be made by Aetna's CEO Mark Bertolini, who told congressional lawmakers in September that a merger "will enable us to offer more consumers a broader choice of products and access to higher quality and more affordable health plan options."
Sebelius is no stranger to the supercharged regulatory debates around healthcare mergers: as Kansas insurance commissioner in 2002, the Democrat blocked Anthem's proposed acquisition of Kansas Blue Cross Blue Shield in what at the time was seen as a precedent-setting case . Back then, she said the transaction "would cost Kansas businesses, small employers and families millions of dollars." Campaigning on the issue in her first successful bid for governor, she called Anthem "an aggressive, for-profit holding company whose primary objective is to beat its national competitors" -- which, she said, "may be fine for Anthem, but it's simply wrong for the health care and economic security of the people of Kansas." (Anthem challenged her move in a lawsuit and won an initial victory, only to see it overturned by the state's Supreme Court, which backed Sebelius).
Fourteen years later, Anthem has only grown bigger: It went on to merge with Wellpoint, and now stands to become the single largest health insurer in American history — with 53 million customers — if its acquisition of Cigna is approved. That proposed transaction was supported by the company's shareholders, just as it was by Cigna's shareholders — and just as Aetna and Humana shareholders supported their separate merger.
Sebelius, however, said that shareholders and regulators face different questions when they consider approving mergers.
"Overwhelmingly the shareholders have signed off on this with all four companies, and so they clearly are confident that these mergers will produce more profitable insurance companies," she said. "What the regulators want to know — and it sort of gets flipped — is what happens to consumers? Is this bad or good for consumers? And they are not necessarily the same answers."
Following an IBT investigative report last week, consumer and ethics watchdog groups have criticized Connecticut Democratic Gov. Dan Malloy for appointing a former longtime Cigna lobbyist to the regulatory position now leading 26 states' review of the Anthem-Cigna deal. Sebelius said that in general, questions about potential conflicts are "appropriate."
"There's always a concern about whether there is conflict or whether there are interests involved," she said. "The connection with the specific company involved is maybe a little unusual, but it is not at all unusual to have a state regulator who actually has been deeply involved in the industry and it does bring a level of expertise. I think it is appropriate to ask, and I'm sure this question will be asked all along, are there any conflicts? Are consumers going to be adequately represented?"
She added that regardless of the controversy over the Malloy administration's appointment, others in Connecticut such as U.S. Sen. Richard Blumenthal — a former state Attorney General — have in the past made sure that mergers get the scrutiny they need.
"I don't think there are any shortage of people who will be engaged and involved in the Connecticut situation," she said.
© Copyright IBTimes 2023. All rights reserved.